Tripura teachers claim trauma
The ad hoc schoolteachers' services were terminated by a Supreme Court order against faulty recruitment rules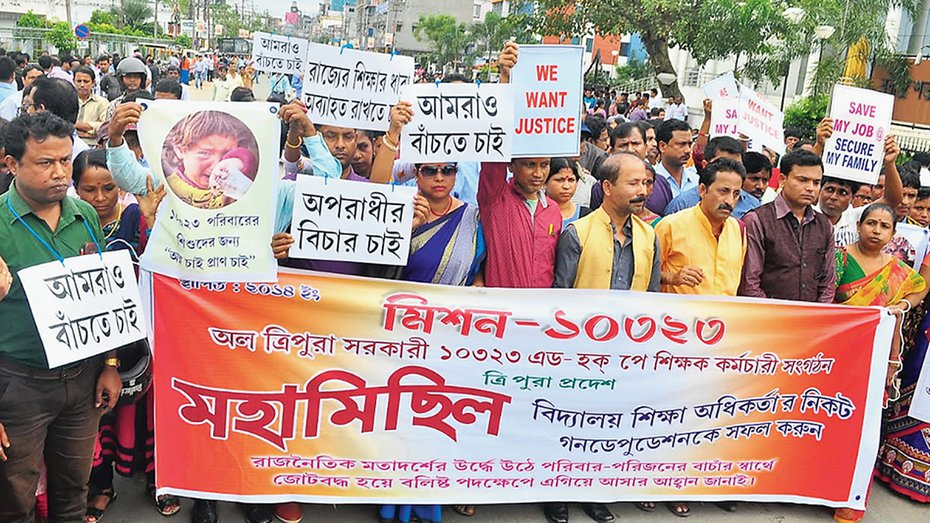 ---
Agartala
|
Published 29.12.19, 07:22 PM
|
---
The 10,323 ad hoc schoolteachers in Tripura on Sunday claimed that so far 40 of them had died of trauma.
The teachers' services were terminated by a Supre-me Court order against faulty recruitment rules. The 10,323 teachers include gradu-ates, post-graduates and under-graduates who were inducted in different phases since 2010.
The teachers were asked to retire after December 31, 2017, according to the top court verdict. In November last year, the Supreme Court, however, granted them a one-time final extension till March 2020.
The All Tripura 10323 Ad hoc Teachers Employees Organisation on Sunday orga-nised a "condolence meeting" for their dead colleagues in front of Rabindra Shata-barshiki Bhawan.
The president of the organisation, Bimal Saha, told the media: "More than 40 teachers passed away unable to bear the pressure and trauma of losing their job so soon and many have become seniles. For the deceased, we organised this condolence meeting. The decisions of Tripura High Court and the Supreme Court are totally inhuman. We believe that the BJP-IPFT government of the state will provide 'died-in-harness' financial help for families of the deceased schoolteachers and adopt a resolution to end our crisis. We appeal to everyone to stand by us."
Before coming to power in the state, the BJP promised it would bring a "permanent solution" for the 10,323 ad hoc teachers if the party was voted to power.
"We will organise a demonstration at Jantar Mantar in New Delhi by the end of January, demanding punishment to those responsible for the teachers' livelihood crisis," Saha said.