Tripura CM Biplab Kumar Deb seeks Niti help
Deb hoped the inland water transport project would make Tripura a gateway to the Northeast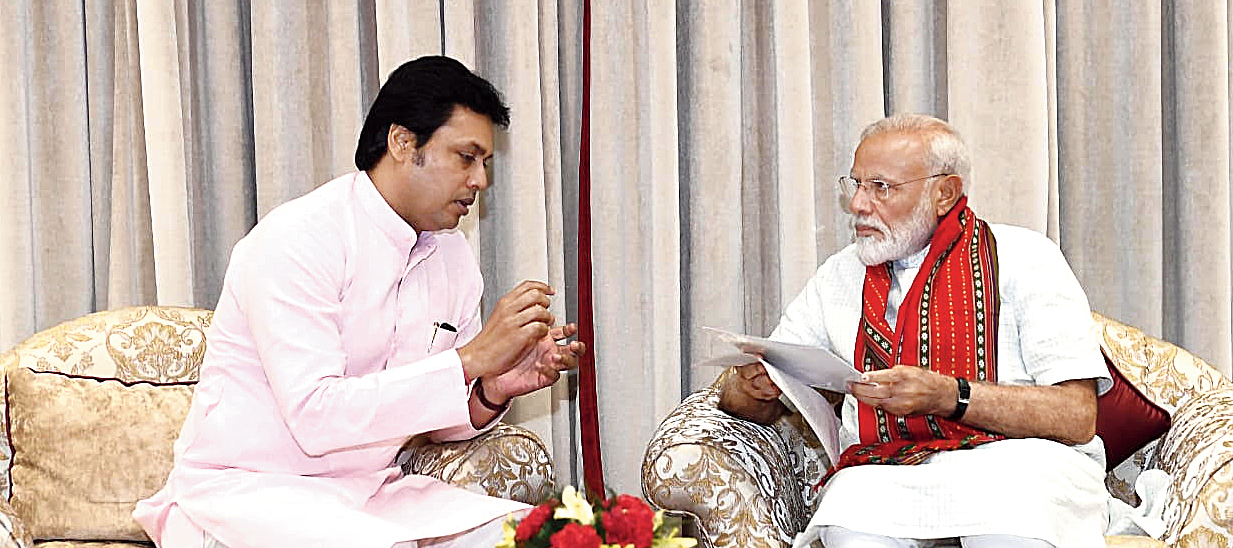 ---
|
Agartala
|
Published 16.06.19, 06:52 PM
---
Tripura chief minister Biplab Kumar Deb on Saturday claimed that the state was among the best five in the country in respect of e-PDS and supply chain management.
A directorate of information and cultural affairs release said on Sunday that the chief minister stressed on inland water transport, development of tourism and aviation sector and expedition of Hira (highways, i-ways, railways and airways) in the state during the Niti Aayog governing council meeting in New Delhi on Saturday.
Speaking at the meeting chaired by Prime Minister Narendra Modi, Deb said, "The state would benefit if the existing aviation guidelines are amended to facilitate private operators to increase the frequency of flights. There is an urgent need to operate direct evening flights from Delhi to Agartala and vice-versa to help doctors and health experts, central government officials and private investors, among other passengers, save time."
Deb also hoped the inland water transport project would make Tripura a gateway to the Northeast. "This project may be expedited by declaration of the Gomati river as Indo-Bangladesh protocol route. South district may play a significant role in this context. In order to boost tourism, the tourism ministry may construct a ropeway connecting Matabari (Tripurasundari temple) and Chhabimura, famous for its rock carving on mountainside," the note said.
Deb also said public sector companies should be allowed to spend 10 per cent of their CSR funds in the northeastern states.
The chief minister also requested the ministry of petroleum and natural gas to set up a high-level committee consisting of members from the state government, the ministry and the ONGC Tripura Power Company to suggest a course of action as the Palatana power project was completed and waiver of VAT was causing substantial loss to the exchequer.
Deb also said Tripura faces more floods than other states. "We received 44 per cent more rainfall than normal in 2017. In 2018, there were severe floods. The State Disaster Response Force could not provide immediate response due to lack of funds. Hence, regular and continuous support is needed from the Centre as floods are a recurring phenomenon in the state. Therefore, the annual allocation for SDRF in Tripura may be enhanced, as it is limited to Rs 38 crore, including the state's share, presently," the release said.
The chief minister also said there are five or six perennial rivers in the state, which have in the last 30 years caused floods almost every year. The state government has been spending or spent huge funds from the state disaster response fund, he said. Hence, he requested assistance to construct permanent cemented embankments. To accomplish this, Niti Aayog may depute a high-level team to study the problem and recommend a special package for five to seven years, Deb said.