TET-qualified youth in Assam seek permanent jobs
41,000 TET-qualified youths have been 'engaged' on contract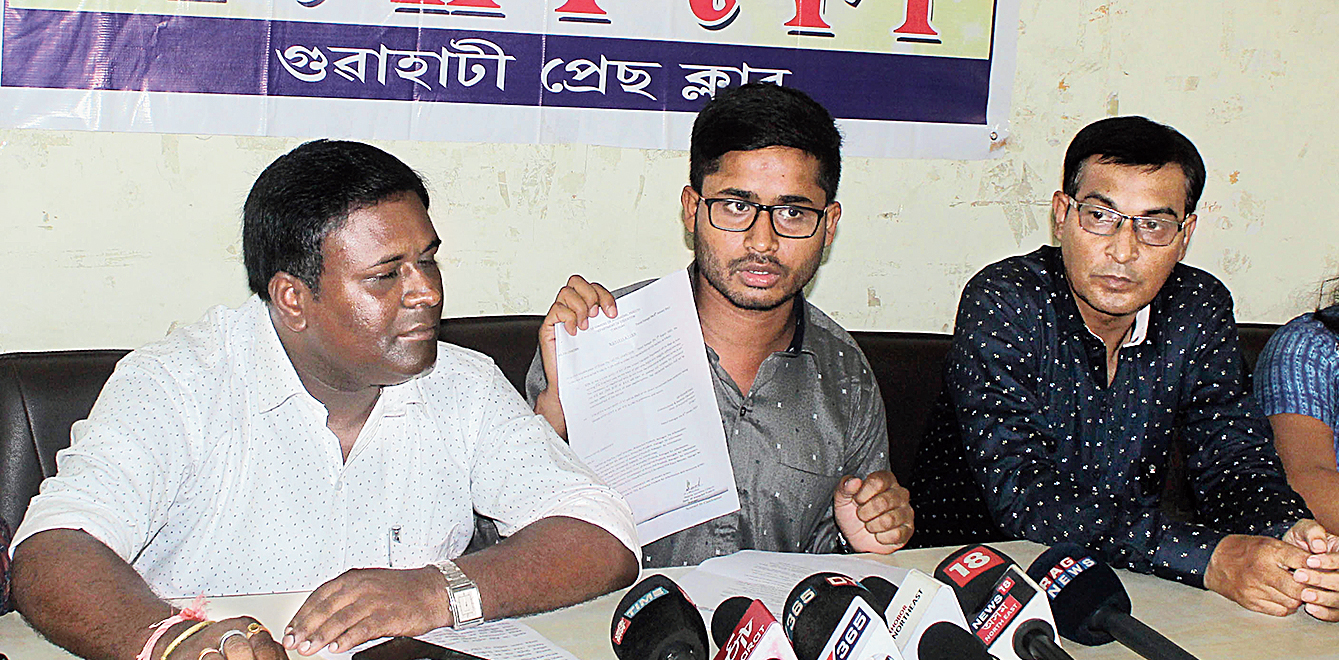 Mirajul Rasid (centre) addresses the news conference in Guwahati on Sunday.
Picture by UB Photos
---
Guwahati
|
Published 16.06.19, 06:52 PM
|
---
An association representing Teacher Eligibility Test-qualified primary teachers in Assam on Sunday demanded the state government to regularise their jobs following the education minister's alleged comparison of TET qualification with a driving licence.
Around 41,000 such teachers are working on contract under Axom Sarba Siksha Abhiyan (SSA), which works on a mission mode.
The association, Sodou Axom TET Uttirna Sikshak Samaj, threatened to gherao Dispur on June 29 in support of their demand. "The government must regularise the TET-qualified teachers. Otherwise, we are ready to go on democratic protest," said Mirajul Rasid, general secretary of the association.
The association condemned education minister Siddhartha Bhattacharya's comparison of TET qualification with a driving licence on June 13. Bhattacharya had made the comparison in an interview of All India Radio while trying to explain that passing the TET was just an eligibility criteria for a teacher.
"An education minister who does not know how to respect the teacher community will push the education system to the brink of destruction," a statement of the association said.
The education department has been clarifying from time to time that passing the TET examination does not guarantee a job and the 41,000 TET-qualified youths have been "engaged" on contract.
The Assam Rajyik Prathamik Sikshak Sanmilani, a primary teachers' association of the state, said Bhattacharya should withdraw his statement.
Many TET-passed teachers, offended by Bhattacharya's comparison, have started using the prefix "driver" in their user names on social media (similar to the chowkidar campaign by the BJP ahead of the Lok Sabha election) to lodge their protest.
The Sanmilani said the education department had promised them on June 19 last year to regularise the jobs of contractual teachers in a phased manner. "It is a failure of the education department that it has not regularised a single teacher in the past year," said Ratul Chandra Goswami, general secretary of the organisation.
The Sanmilani said it would meet chief minister Sarbananda Sonowal within three days and intimate him about the developments.
The organisation vowed to offer all possible support to the TET-qualified teachers' demand for regularisation of their jobs.
The Dhubri district unit of the All Assam TET Teachers' Association also "strongly" condemned Bhattacharya's statement and staged a protest on Sunday morning.
"The minister has not only hurt our sentiments but also humiliated those who are working as drivers for their livelihood," said Mossraff Hussain, president of the Dhubri unit of the association.
In support of their several demands, including regularisation of their jobs, the association has decided to stage a sit-in in front of the deputy commissioners' offices across the state on Tuesday.
Additional reporting by Mukesh Kumar Singh in Dhubri