Teenagers overcome poverty to post stellar HSLC results
Firm on mission, school topper illuminates path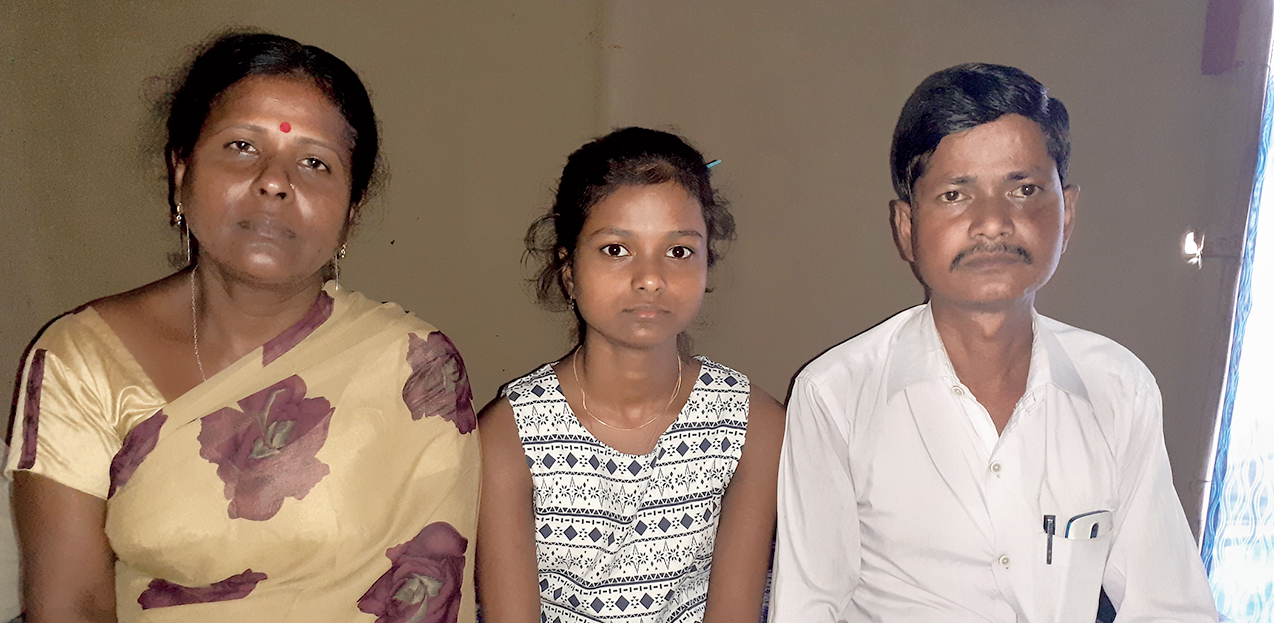 ---
---
True to her aspiration, Tamanna Khatun studies with diligence and teaches with dedication.
The 16-year-old, who has topped Doomdooma Girls' High School in the High School Leaving Certificate examination 2019 with 84.5 per cent marks, has a mission — to help eradicate illiteracy from the country.
When this correspondent reached her two-room rented house at Barman Patty on Ambika Giri Path here in Tinsukia district of Upper Assam on Friday, she was teaching dozens of little children. "I want to become a teacher to help achieve 100 per cent literacy in the country. APJ Abdul Kalam and Swami Vivekananda are my ideals. I will take admission in Hoonlal Higher Secondary School here in the arts stream," she said.
Tamanna secured a total of 507 (out of 600) with 93 per cent marks in mathematics, 91 in social science, 80 in Assamese, 81 in science, 84 in geography and 78 in English. "My teachers helped and encouraged me a lot and the school provided financial help and extra books," she said.
Yet, the path of success was not easy for Tamanna. Her father, Abdus Subhan, a tailor, who hails from Karimganj district in Barak Valley, said, "I hardly earn Rs 200 a day. I could not afford tuitions, computer or bicycle for her. If she had got these facilities, she could have done better."
Tamanna has walked the 2km to her school every day for the past eight years — initially Doomdooma Balak Prathmik Vidyalaya (classes I to V) and then Doomdooma Girls' High School (classes VI to X), both located at Bulbuli Aarandhara Path. She was not a beneficiary of the government scheme that provides a bicycle or Scooty to promote girls' education as she was unable to submit below the poverty line card.
Her mother, Salma Begum, said, "Tamanna is a voracious reader. She has read hundreds of books. Since we can't afford to buy them, she borrows. She likes to read children's books. Ruskin Bond is her favourite writer. Either she reads or she teaches."
Principal Sangita Borkakoty said, "Our teachers were always ready to help her. She has a creative mind. I wish her all the best." Landlord Ajay Kunwar said, "Bhal sowali (good girl). She likes to teach children. Her future is bright."
Doomdooma Municipal Board chairman Dulu Aarandhara, vice-chairman Kapil Pandey and circle officer Pankaj Nagbonshi have extended their greetings to her. Many people have visited and congratulated her.
Altogether 62 students from Doomdooma Girls' High school had appeared for the HSLC exam this year, of whom 65.07 per cent passed and six got first division. Doomdooma has three examination centres — Doomdooma A, B and C and their respective pass percentages are 42.6, 65.4 and 77.91.
Among the government schools here, Doomdooma Bangiya Vidyalaya registered a pass percentage of 86.7, Hoonlal Higher Secondary School 70.5 and Jawahar Hindi English High School 60. In the district, 6,309 (55.22 per cent) of the 11,426 candidates passed.