The Assam government, the 175th battalion of the CRPF, villagers and relatives paid tributes to martyr and "risky job lover" Sunil Kalita, a soldier of the 209 Cobra Battalion who was injured fighting the Naxalites in Jharkhand on May 28.
He was being treated in hospital and died at AIIMS in New Delhi on Thursday.
On Saturday, his mortal remains were taken to Palara village under Kamalpur Assembly constituency in Kamrup district where the last rites were performed with full state honours.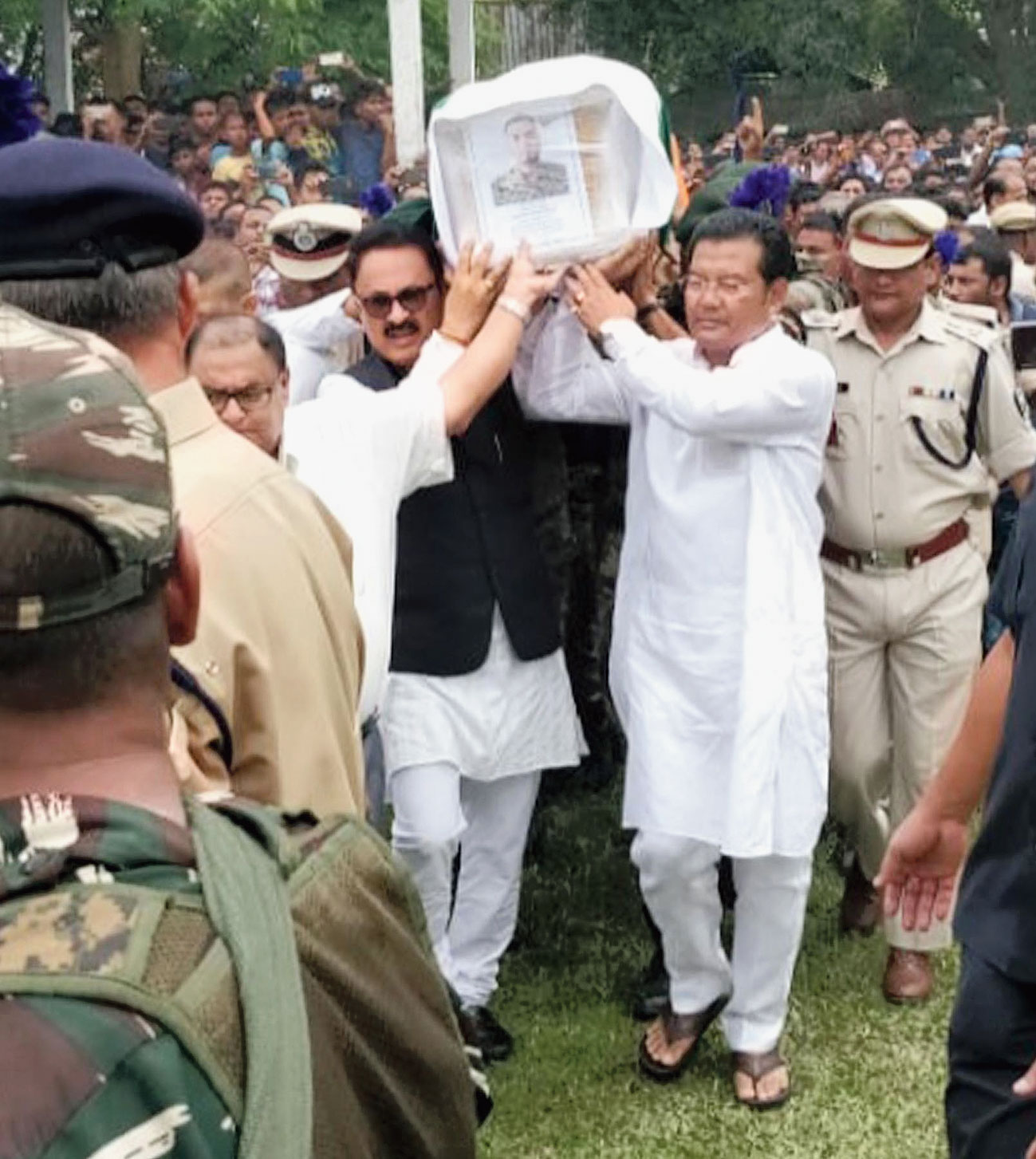 Assam's panchayat and rural development minister Naba Kumar Doley carries the coffin of Sunil Kalita. Pictures by Kulendu Kalita and UB Photos
His body was brought to Lokpriyo Gopinath Bordoloi International Airport in Guwahati on an IndiGo flight on Friday. Senior officials of the state government and officers of the CRPF took part in the wreath-laying ceremony at the airport. The body was kept overnight at Narayana Super Specialty Hospital morgue in Amingaon.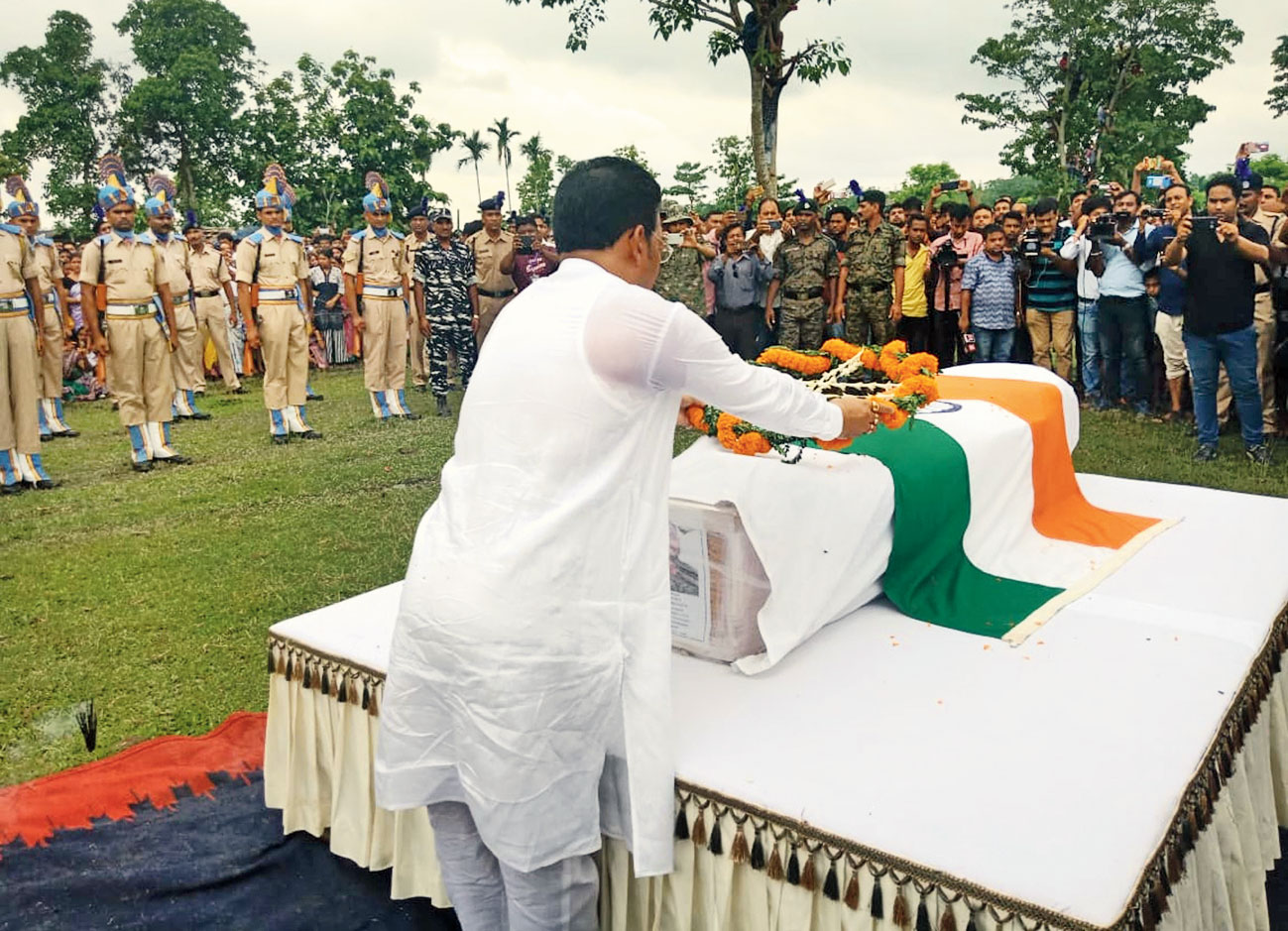 Doley lays a wreath and jawans lead the procession at Kamalpur on Saturday. Pictures by Kulendu Kalita and UB Photos
A large number of people from all walks of life on Saturday bade a tearful farewell to their departed soul.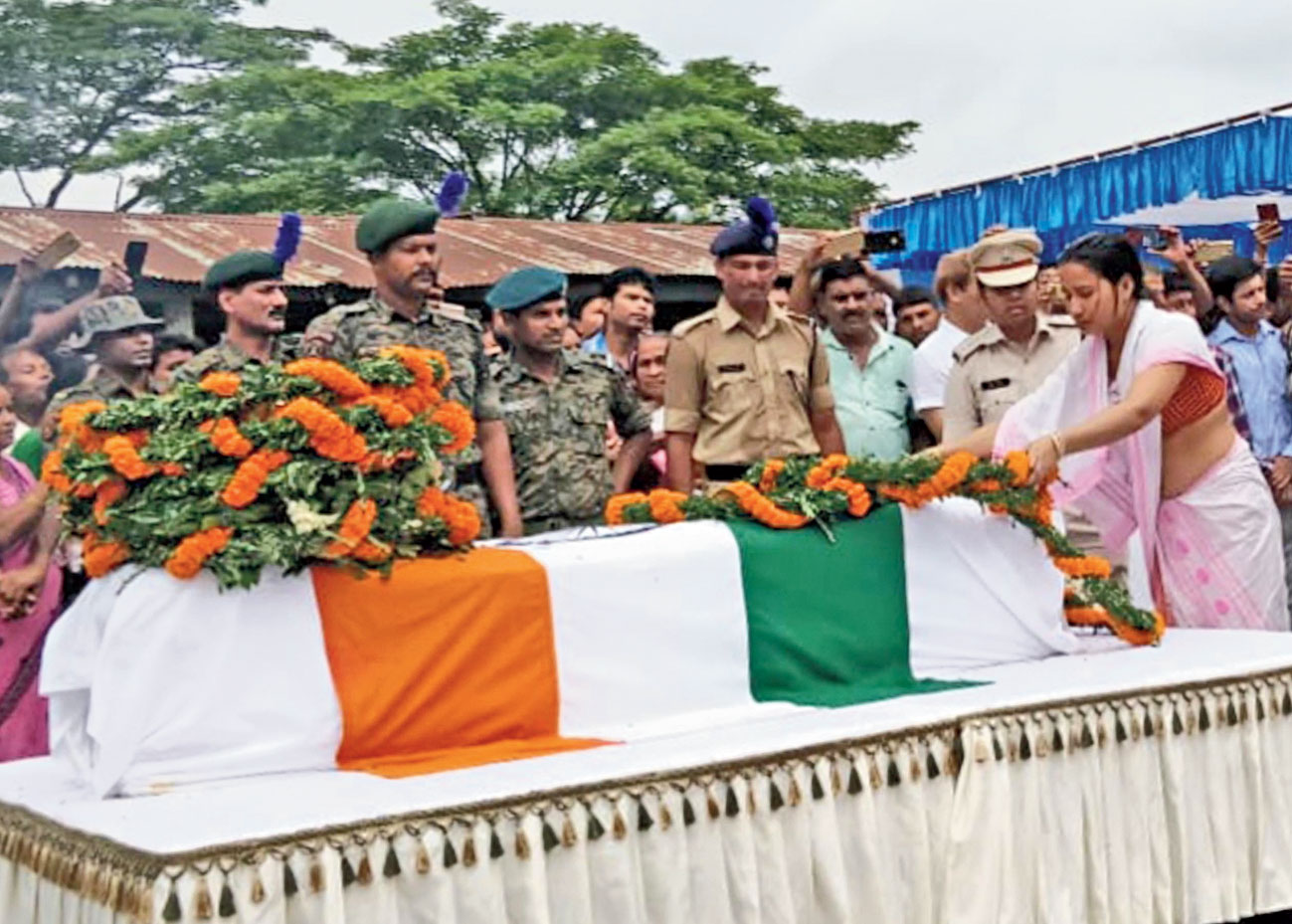 The slain jawan's wife pays tribute Pictures by Kulendu Kalita and UB Photos
Panchayat minister Nava Doley, Kamalpur MLA Satyabrat Kalita, the deputy inspector-general, CRPF, J.P.K. Ray, the deputy inspector-general of state police, Brajen Jeet Singha, deputy commissioner of Kamrup Kamal Kumar Baishya, commandant of 175th Batalliion Mahesh Kumar, commandant of 210 Cobra battalion Chhotelal, Kamrup superintendent of police Partha S. Mahanta, as well as Santosh Kumar and M.S. Rathore, both second-in-command of 175 CRPF Battalion, Manoj Singh, deputy commandant of 175 Battalion, jawans of 175th battalion, thousands of villagers and relatives of the martyr were present at the cremation ground to pay tribute to the jawan.
On Friday, Dilip Saikia, MP of Mangaldai constituency visited Kalita's home and assured his wife and his father that the state government would help in every way and try to provide a job to his wife.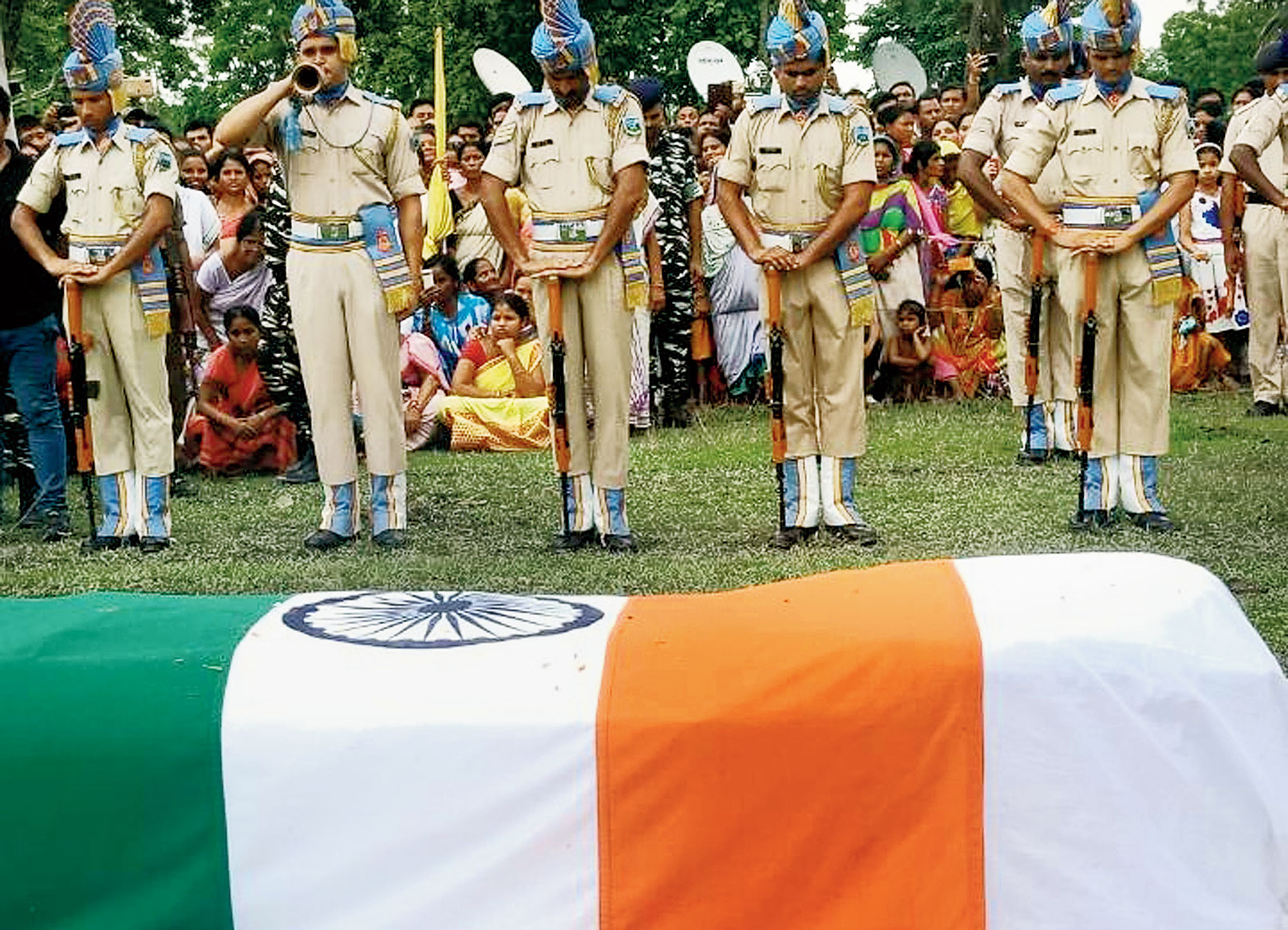 CRPF personnel give Kalita a gun salute. Pictures by Kulendu Kalita and UB Photos
The martyr's friend, Jayanta Kalita, of the same village said he was very friendly to everyone. "Villagers and those who know him will never forget his smile and help. Sunil always used to say 'risky job is my favourite game'," he recollected.
Hemanta Kalita, another friend, said he never missed Rongali Bihu celebrations in his village, but this time he could not come home. He had said he would come by taking leave from June 1, and host give his wedding reception party. Kalita had got married on April 10 this year.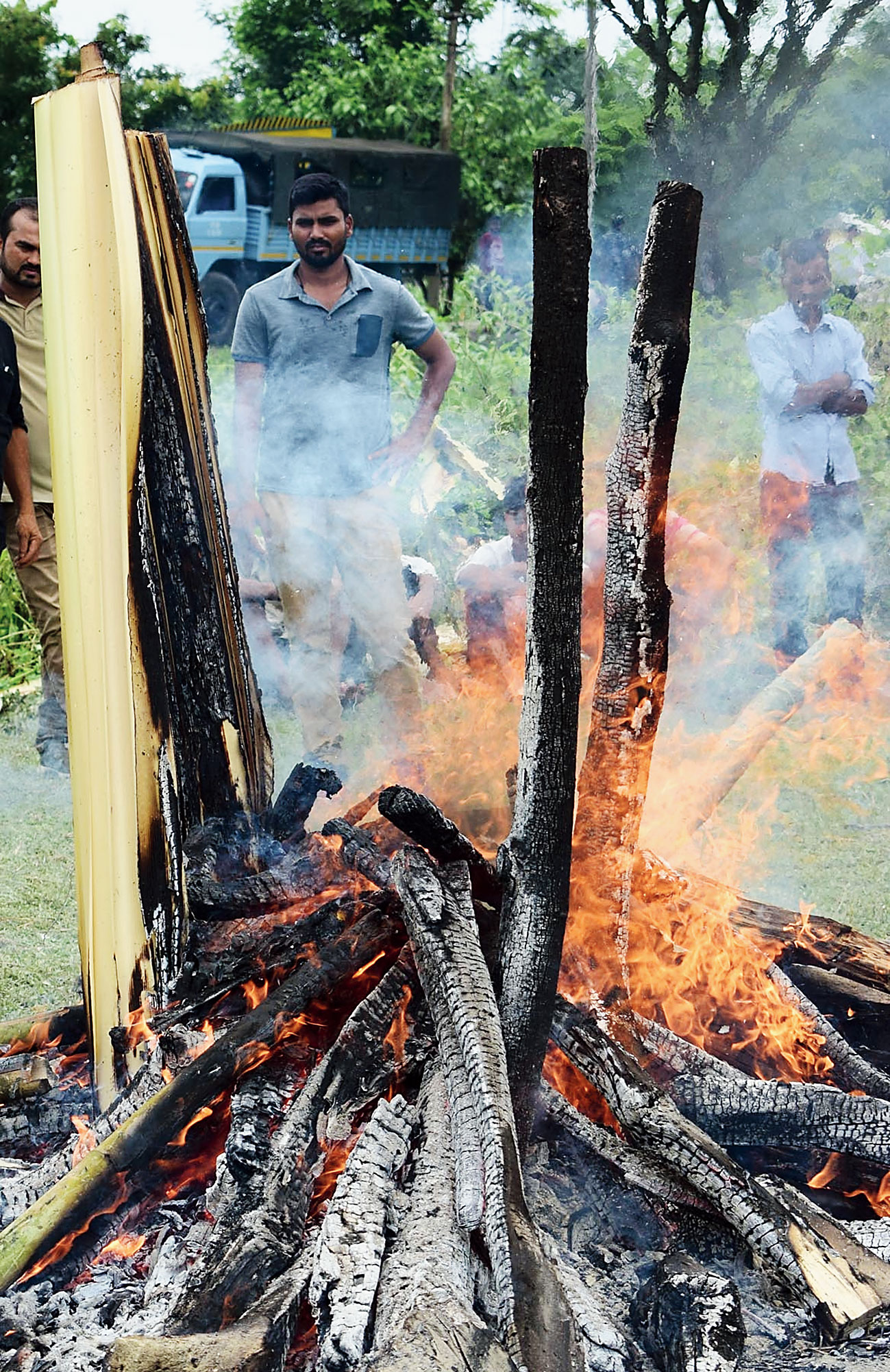 The funeral pyre. Pictures by Kulendu Kalita and UB Photos
Kalita's friend Mijanur Rahman, who was injured in the same incident, came on Saturday from Jharkhand and took part in his colleague's last rites.
Mijanur said they got permission for leave from June 1 and were preparing to come home. "Suddenly on May 28 he was injured and the 209 Cobra Battalion lost one more brave soldier.