Stellar performance in HSLC exam
Daughter of a fisherman and vegetable vendor swims against the tide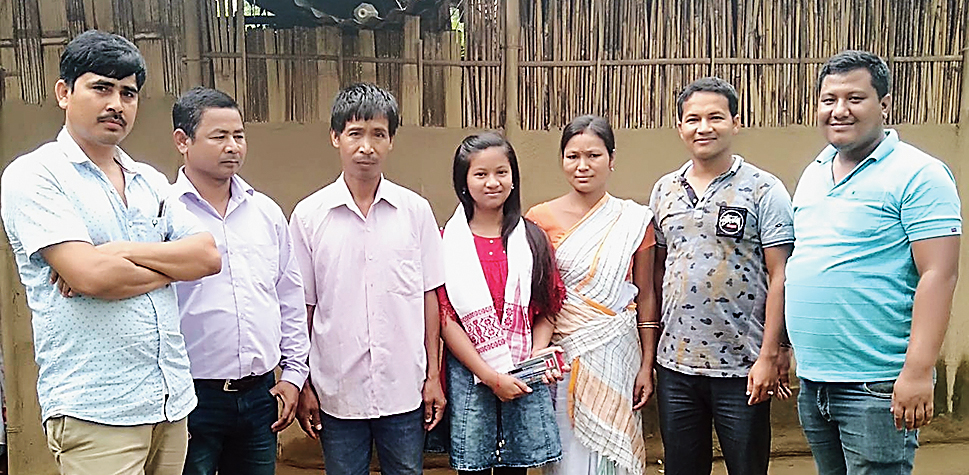 Pranali Neog with her parents, teachers and well-wishers.
Picture by Manoj Kumar Ojha
---
Doomdooma
|
Published 19.05.19, 10:25 PM
|
---
She proved that poverty is never an obstacle if there is determination to achieve success.
Pranali Neog, 16, daughter of Bhugen Moran, a fisherman, and Ukha, a vegetable vendor, has secured 90.33 per cent marks in this year's High School Leaving Certificate (HSLC) examinations conducted by Board of Secondary Education, Assam (Seba). She got 98 in mathematics.
"I am happy with my result. I am indebted to my parents, elder sister, teachers and neighbours who helped me. I want to study science and become a doctor. As my parents cannot afford the expenses for higher education, I request to the education department of the Assam government and the NGOs to help me," Pranali told this correspondent.
They are residents of Vishnupur — about 30km from here and 54km from Tinsukia.
"I go for fishing in the Brahmaputra and return after a week or a fortnight, to sell fish in the local market. Being the father of five children, including four daughters, life is a struggle as it is almost impossible to provide them with basic needs along with notebooks and stationeries," Moran said.
Pranali is a student of Kordoiguri Madhya Engregi Balika Vidyalaya. "My eldest daughter studies in Doomdooma College. Pranali is my second daughter. My other two daughters are studying in classes VII and VI. My son, the youngest of the five siblings, go to an Anganwadi school. Pranali's success has made us happy though she is worrying about her higher secondary education," Moran said.
Her mother Ukha, who is a vegetable vendor, said: "I go to a nearby forest to collect xaak-pasoli (leafy vegetables). I have a makeshift shop in the village market where I go in the evening. Pranali has seen days of extreme poverty, but she never demanded anything. She owns only a pair of pair of clothes. Sometimes we go to bed without food, but she has a lot of patience."
Ghanakanta Moran, a teacher of Reflection Coaching Centre, said: "We know her family lives in penury. We provided her free food and coaching last year. Pranali is a well-behaved and hard-working girl. She is also an excellent Bihu dancer and a voracious reader."
Mamoni Gogoi, the headmistress of her school, said: "It is a moment of happiness and immense pleasure for all of us. She is a needy girl. Since childhood she has been studying here. Our school was set up in 1975, but it is yet to be provincialised. The government should take steps to regularise the school so that the teaching staff can work more effectively and enthusiastically."
Teachers, intellectuals and government officials have extended their warm wishes to Pranali. Jyoti Moran, an intellectual, felicitated her with a cheque for Rs 5,000.
The villagers of Vishnupur are landless. On March 29, 1992, a devastating flood in the Brahmaputra washed away the neighbouring Sumarijaan-Rongajaan village. Eighty families, comprising around 500 villagers, shifted to a safe place. They are still awaiting patta (land right) on the lands where they now reside. Most people in that village are either farmers or fishermen.