Slim chances of AGP, BPF victory: BJP
Assam BJP president says the probable election result should be been seen as a victory of the BJP-AGP-BPF alliance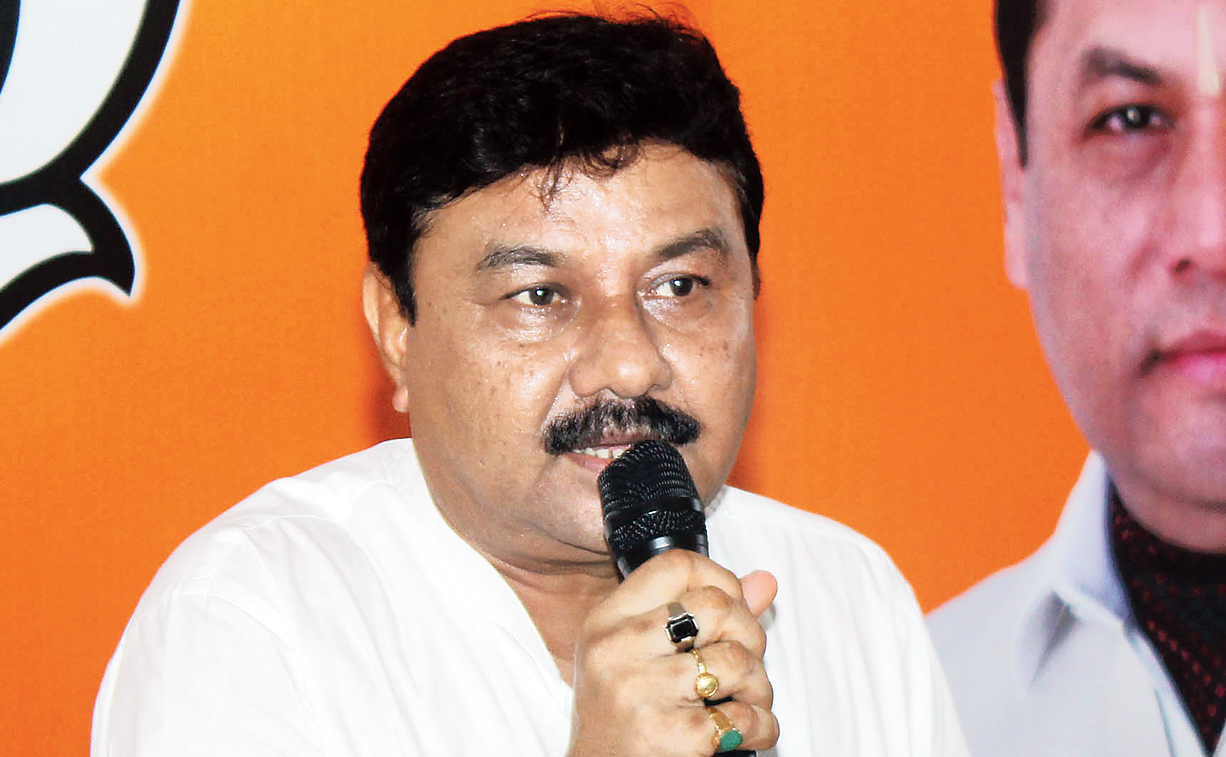 Ranjeet Kumar Dass speaks at the news meet.
(UB Photos)
---
Guwahati
|
Published 19.05.19, 10:26 PM
|
---
Assam BJP president Ranjeet Kumar Dass on Sunday said their alliance partners, the AGP and the BPF, are likely to draw a blank in the four Lok Sabha seats they had contested.
Dass, however, claimed that the BJP will win all the 10 seats where it had fielded candidates in Assam.
Of the 14 parliamentary constituencies in Assam, the BJP had conceded three seats to the AGP and one to the BPF.
"According to reports received from our 25,500 booth-level committees across the state, we do not see any chance of our ally AGP winning the Dhubri and Kaliabor seats and the BPF in the Kokrajhar seat. Even in the Barpeta seat, the chances of the AGP candidate winning appears to be slim," he said.
According to him, AGP candidate Kumar Deepak Das could win from Barpeta only if the AIUDF candidate gets less than 2.5 lakh votes. He said Das will get around 5,45,000 votes out of 14,52,213 votes polled in Barpeta.
According to the assessment done by the BJP, AGP candidate for Dhubri Zabed Islam will get only 4,75,000 votes out of 16,82,711 votes polled, AGP candidate for Kaliabor Moni Madhab Mahanta will get 6,60,000 out of 14,21,500 votes polled while BPF candidate for Kokrajhar Pramila Rani Brahma will get 4,70,000 votes out of 14,68,112 votes polled.
Though Dass claimed that there was a seamless transfer of votes among the alliance partners in all the constituencies, he believes the prospect of the AGP and the BPF candidates winning would have been more if they had contested the elections on a BJP symbol.
He said the probable election result should not been seen as BJP's gain or AGP's loss but as a victory of the alliance.
If the AGP failed to win a single seat, dissidence is likely to grow in the regional party against its leadership.
There has been discontent within the AGP ranks over its tie-up with the BJP for the Lok Sabha polls because of the latter's support to the Citizenship (Amendment) Bill, 2019. Several leaders and workers, including former chief minister Prafulla Kumar Mahanta, have openly criticised this decision.
The BJP state president, however, feels that the bill was not an issue in the elections.
"In the 2014 Lok Sabha polls, we took lead in 69 Assembly segments and this time, we will lead in more than 70 Assembly constituencies," Dass said.
He said the BJP will contest the municipal elections in the state, which will be held after six months, alone and is confident of winning the municipal polls.