Sit-in for Bodo rights
United Bodo People's Organisation demands an autonomous council for the Bodo Kachari tribe living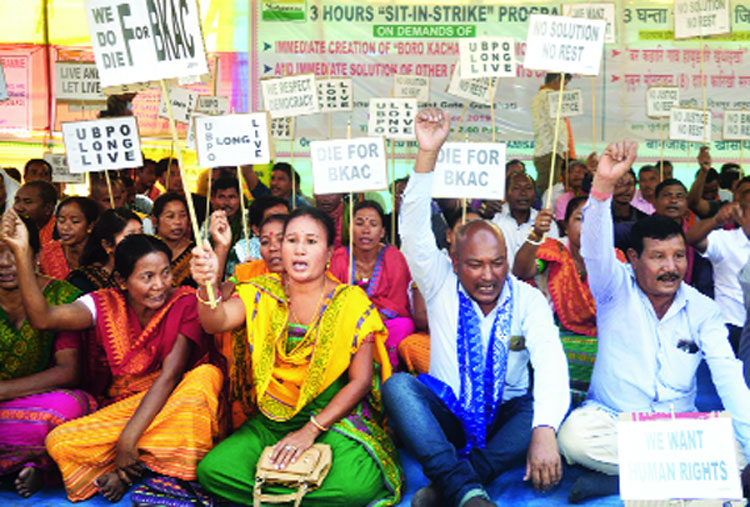 ---
|
Guwahati
|
Published 04.12.19, 10:14 PM
---
The United Bodo People's Organisation on Wednesday staged a demonstration at Dispur Last Gate here, demanding an autonomous council for the Bodo Kachari tribe living outside the Bodo Territorial Areas District.
Organisation general secretary Anil Basumatary said a sizable number of Bodo Kachari villages have been excluded from the Bodo Territorial Council.
"There are also thousands of other villages of different tribes, which are excluded from their respective autonomous councils. These excluded villages are deprived of their rights and privileges for which we demand Bodo Kachari Autonomous Council with certain modifications so that every Bodo Kachari resident and village is included within the purview of the council," Basumatary said.
He also demanded inclusion of the Bodo Kachari people living within the geographical area of Karbi Anglong and Dima Hasao autonomous districts in the Scheduled Tribe (Hill) list according to Clause 8 of the BTC Accord, 2003.
"We also demand that the state government grant permanent land deeds to the Bodo Kachari families under the provision of the Scheduled Tribe and Other Forest Dwellers (Recognition of Forest Rights) Act, 2006 with immediate effect," said Basumatary.
He demanded that chief minister Sarbananda Sonowal restore the alienated land by certain communities and ancestral territories of the tribal people within the "tribal belt and blocks" and urged Dispur to enforce provisions of Chapter X of the Assam Land and Revenue Manual, 1886 (amended in 1947) in letter and spirit.
The organisation also submitted a memorandum with Sonowal during the strike, demanding creation of a separate directorate for the Bodo-medium education in the state, besides demanding provincialisation of primary, middle and high schools established in Bodo medium.
"We demand the authorities create posts for subject teachers in Bodo MIL (modern Indian language) at the higher secondary schools. An arrangement must be there for conducting special Teachers' Eligibility Test in Bodo medium," Basumatary said.