Shillong relives Tagore's visit
Centenary ushers in Brookside celebrations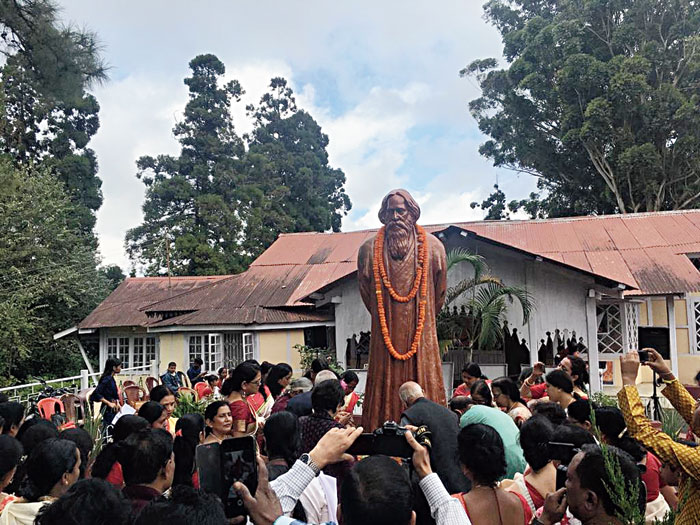 ---
|
Shillong
|
Published 11.10.19, 07:35 PM
---
The centenary of Nobel laureate Rabindranath Tagore's first visit to this hill station was commemorated here on Friday.
Tagore had first arrived in Shillong on October 11, 1919 with his family and stayed for 20 days at Brookside bungalow in Rilbong locality. His subsequent visits were made in 1923 and 1927.
Brookside came alive with "Tagore and his family" on Friday as a group enacted his maiden visit to the city. The function was organised by the Indian Council for Cultural Relations (ICCR) in collaboration with the Meghalaya art and culture department.
Prof. J.B. Bhattacharjee, former vice-chancellor of Assam University, said at the function organised at Brookside, "When the Jallianwala Bagh Massacre happened, Tagore was very disturbed and he renounced his knighthood. The Britishers had great respect for Tagore but he knew that the renouncement would not be taken lightly by the British government, so he wanted to stay away from Bengal."
Other speakers also recounted Tagore's maiden visit. Prof. U.R. Bhattacharjee, a Tagore scholar, said the bard had stayed in the 18-room bungalow at Brookside, which was owned by one K.C. Dey, a divisional commissioner under the then British government, for 20 days. It was at Brookside that Tagore had written letters to his friends, describing his stay, including the Diwali celebrations held on October 23, 1919.
Although Bengal had hill stations like Darjeeling and Kalimpong, Tagore chose Shillong for his brief stay.
Former minister Manas Chaudhuri called for translation of the bard's major works into Khasi to popularise the Nobel laureate among the indigenous population. "We need to take Tagore to different communities. Khasis do not know much about him. I feel the ICCR should get Tagore's classic works translated into Khasi," he said.
Chaudhuri wondered what Tagore's stand would be today when the country is wracked by a debate on nationalism versus patriotism. "Tagore was not a nationalist but a patriot. He was a humanist par excellence," he said.
In 1923, during his second visit to Shillong, the bard had stayed at Jitbhumi, Rilbong. During his third and final visit in May-June 1927, Tagore had stayed at Sidli House in Upland Road, Laitumkhrah.
He wrote Rakta Karabi, Shesher Kobita and Shesh Chithi with Shillong as the backdrop.