Sand mining threat to dyke
Sources said truckloads of sand are extracted daily from Brahmaputra riverbed in Maijan area and this has been going on for years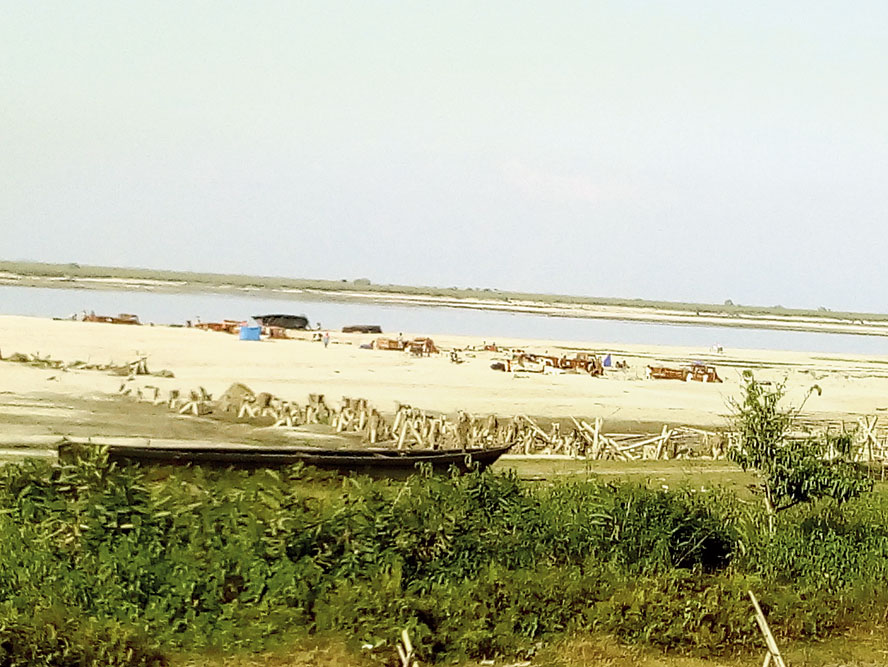 Sand mining in a riverbed at Maijan
Picture by UB Photos
---
Dibrugarh
|
Published 05.02.20, 06:55 PM
|
---
The protection dyke in Upper Assam's Dibrugarh town is facing serious threat from alleged illegal sand mining at Maijan.
Sources said truckloads of sand are extracted daily from the Brahmaputra riverbed in the Maijan area and this has been going on for years. "Everyday, 10 to 15 trucks loaded with sand pass through the Maijan road under the nose of the district administration but they remain mute spectators. In many other places also illegal sand mining has been going on unabated but the authorities fail to take action," a source said.
Sand mafias allegedly run the illegal business in nexus with some forest officials and the illegal extraction of sand is most rampant at Maijan, Mohanaghat and Jokai in Dibrugrah district, sources said.
Residents and environmentalists have raised concern about the illegal sand mining.
Ram Mohan Lal, an elderly resident, said, "Illegal sand mining poses a serious threat to ecology and the dyke. If the department concerned doesn't take action against sand mafias, then one day Dibrugarh will go under water."
A source said, "The illegal mining goes on openly. Police and revenue circle officers have not taken any action. There is a nexus between some officials and the sand mafias," a source alleged.
Following a series of orders by the National Green Tribunal in 2018, the ministry of environment, forests and climate change had released guidelines to check illegal sand mining in the country.
The Enforcement and Monitoring Guidelines for Sand Mining 2020 released last month include direction to states to carry out river audits, put detailed survey reports of all mining areas online and in the public domain, conduct replenishment studies of riverbeds, constantly monitor mining with drones, aerial and ground surveys and set up dedicated task forces at the district level.
Dibrugarh forest ranger Nareswar Das said, "Our team has been monitoring the illegal sand mining problem. We will take steps to stop illegal mining at Maijan and other places in the district."