Royal Bengal tiger sighted in Ripu reserve forest
The place where the tiger has been camera trapped is 3km from the India-Bhutan international border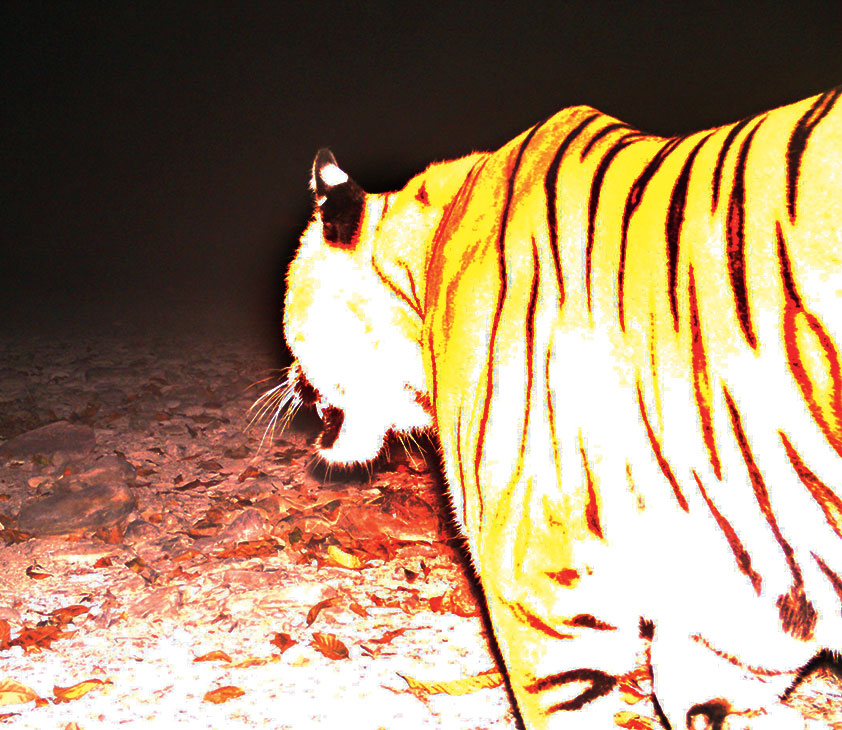 First photograph of a royal Bengal tiger at Ripu reserve forest
Telegraph picture
---
Guwahati
|
Published 27.02.20, 08:17 PM
|
---
The sighting of a royal Bengal tiger for the first time in Ripu reserve forest, which is outside the core area of Manas National Park, has brought cheer to animal activists.
The place where the tiger has been camera trapped is 3km from the India-Bhutan international border and is in the buffer area of Manas.
The camera trapping was done by WWF in association with Manas tiger reserve authorities. Green Forest Conservation volunteers of United Forest Conservation Network based in Kachugaon helped in the exercise too.
"From a very bad state of early 2000, multiple efforts have been made to revive this area. In spite of disturbance and illegalities, there are some areas, which still exist with dense forest cover and connectivity with Phibsoo wildlife sanctuary of Bhutan," a WWF official said.
"There were a few unofficial tiger sighting records that exist in these areas. Following this information, the team deployed camera traps in nine strategic locations (single unit/location) under the Kachugaon and Sarfan ranges of Ripu. On February 5, a single royal Bengal tiger's photo was captured. We are expecting more such information from our field survey," the WWF official told The Telegraph on Thursday.
Amal Sarma, the field director of Manas, said, "This is heartening news as the area where the tiger has been spotted is outside the core area. It would be better if the area is included in the national park area."
Forest officials said Ripu-Chirang was first notified as a reserve forest in 1927 and the best quality sal (Shorea robusta) was supplied to the erstwhile British empire from the forest.
It used to have a tramline for carrying water and timber from the forest, which was unique to the country.
A source said the proposal for declaring the Ripu Chirang reserve forest as a protected area has been long pending, with the Wildlife Institute of India first proposing the area fit for inclusion in a sanctuary in 1988.
"If Ripu-Chirang becomes a sanctuary, the important conservation link between Buxa tiger reserve-Phipsu wildlife sanctuary-Royal Manas National Park (in Bhutan)-Manas National Park will be restored and preserved," the source added.
"This will give a boost to the Transboundary Manas Conservation Area too. All it needs is effective steps to be taken for the conservation of the area," a wildlife expert said.