Rain hits life in Arunachal
Tree collapses, dents three autos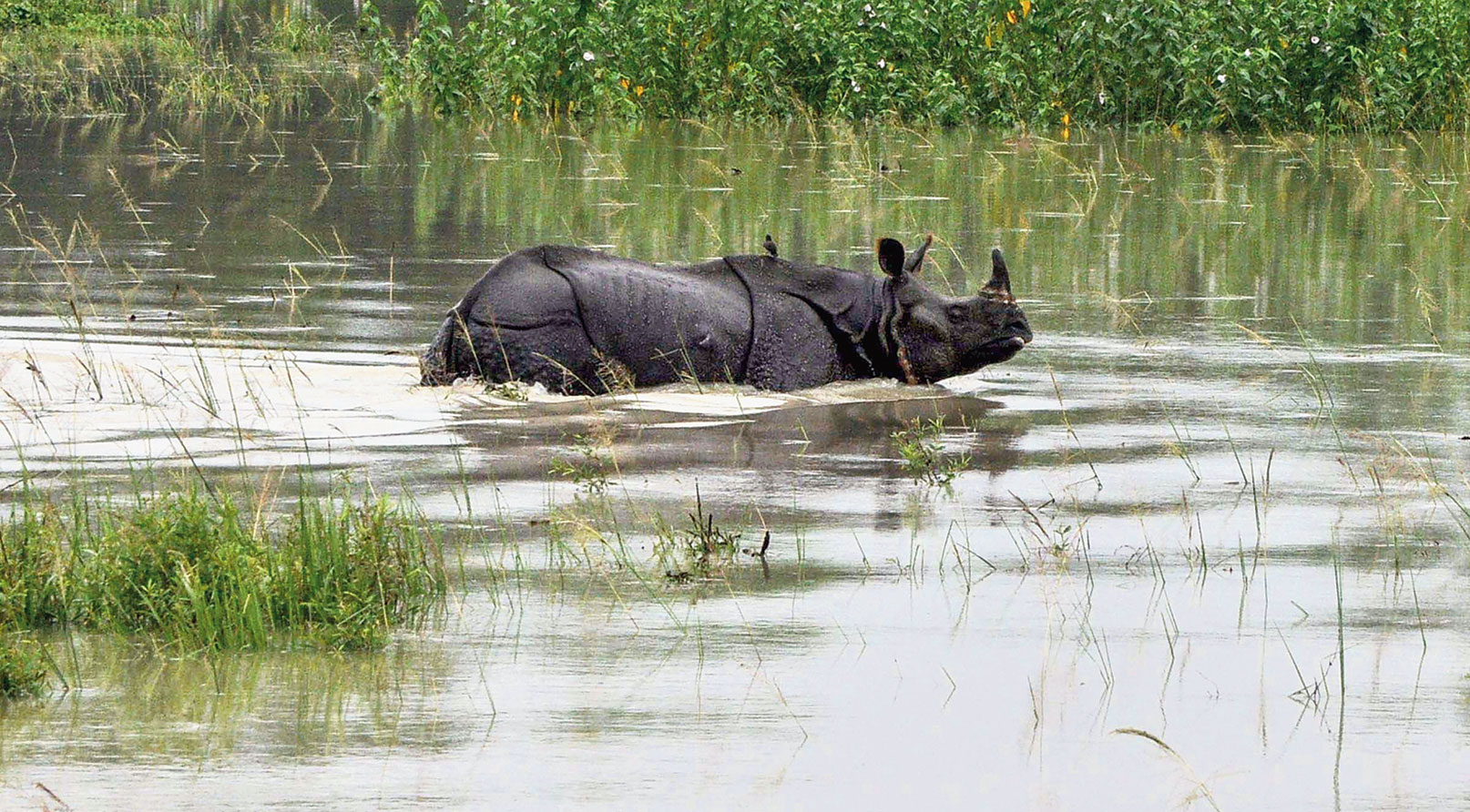 A rhino negotiates floodwaters in Pobitora wildlife sanctuary in Morigaon district of Assam.
(PTI)
---
Pasighat
|
Published 11.07.19, 07:54 PM
|
---
Incessant rain over the last four days has affected normal life here. Roads are blocked by uprooted trees and landslides in the mountainous region of Arunachal Pradesh. The floods have impacted water supply lines and snapped power supply.
The East Siang district administration has issued a directive to residents in East Siang, especially those in and around the Siang river near PI Line, Jarku, Jarkong, 2 Mile, Berung, Jampani and low-lying or downstream villages under Mebo subdivision. The district administration has also asked all the departments to remain alert for tackling natural calamities.
Additional deputy commissioner (headquarters), Pasighat, Tatdo Borang, said the Siang river has not crossed the danger level.
"However, we have already alerted our officers and departments concerned and have also selected some evacuation sites in case of any emergency situation. We are requesting all people not to collect driftwood from the Siang river bank as these provide a natural protection against erosion. We have seen people defying orders, but we appeal to our conscious citizens to discourage such attempts," Borang added.
The district administration has directed people not to go for fishing in the Siang.
Waters of all other rivers and rivulets are swelling due to incessant rainfall. The water supply pipeline near Silluk village under Mebo subdivision, passing through the Sukan Nolah, a seasonal river, was also damaged on Thursday. This may affect water supply to Silluk and other villages.
The Siku, Sisar, Taratamak, Tolon Korong/Paglanadi are in spate and likely to cause more damage if the rain continues. Tree collapse: An autorickshaw driver sustained serious injuries and three autorickshaws were totally crushed after a cassia tree collapsed on Thursday following heavy rain around 8.45am at Mirmir Tin-ali near the All India Radio station here.
According to auto stand secretary of Mirmir Tin-ali, Tayong Siram, the tree fell suddenly on the auto stand, choking flow of traffic along the arterial CC Road.
"If it happened on a non-rainy day, the situation would have been more dangerous as several autoricksaws are parked under the big tree. Due to heavy rain over the last four days, particularly incessant rain since early this morning, there was no rush of passengers. There were no auto drivers at the auto stand either.," Siram added.
Bajong Pertin, the injured person, was immediately rushed to Bakin Pertin General Hospital, Pasighat. He had two stitches and was released. "Autorickshaws belonging to Bajong Pertin, Orik Megu and Gogom Tayeng were damaged," Siram said. Till reports last came in clearance of the road was under way.
A washerman, Pawaru Prasad, who originally hails from Uttar Pradesh said he had planted the tree that collapsed on Thursday in August 1983. The tree was planted as there were no shady trees around the location in those days.