Pressure groups halt mining hearing
Protesters are wary of the mining site as there are about 17 villages in and around the site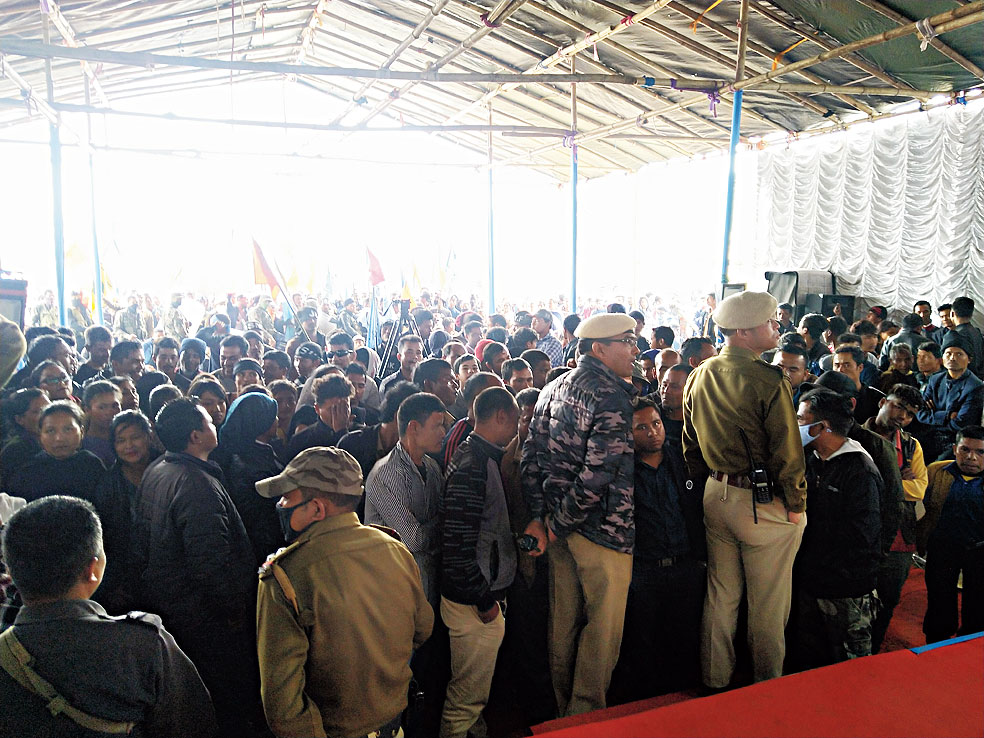 People at the public hearing at Lumshnong on Thursday
Telegraph picture
---
Shillong
|
Published 30.01.20, 07:04 PM
|
---
The second public hearing in Meghalaya's East Jaiñtia Hills to garner views on the proposed limestone and shale mining project of a cement company could not be held on Thursday following stiff opposition from pressure groups.
The Meghalaya State Pollution Control Board had proposed to hold the public hearing after Star Cement Meghalaya Ltd wanted to set up the limestone and shale mining project in over 42.05 hectares at Brishyrnot village.
The first public hearing on October 19 also could not be held at Brishyrnot because of opposition.
On Thursday, the public hearing was scheduled at Lumshnong village, about 5km from Brishyrnot.
However, the East Jaiñtia Hills district administration had to call off the hearing even before it could begin because of protests from activists of a pressure group who did not allow the hearing to be held, a source said.
"No fresh date for the public hearing has been fixed as it has now been indefinitely postponed," the source added.
Star Cement Meghalaya had proposed a maximum annual production of 2.507 million tonnes of limestone and 0.217 million tonnes of shale per annum from the mining lease area of 42.05 hectares.
According to the proposal, mining of the minerals would be done by opencast mechanised method with drilling and blasting.
The company has a cement clinker plant of capacity 1.75 million tonnes per annum at Lumshnong village.
The Brishyrnot mine will be a source of limestone for Star Cement Ltd and Star Cement Meghalaya Ltd for clinker manufacturing.
Groups like the Khasi Students' Union of Narpuh circle had objected to the proposed expansion of the mining lease by the cement company. It had noted that the proposed area was near the Narpuh wildlife sanctuary and close to the Lukha river.
Protesters have been insisting that the distance of the Lukha is only 1.38km from the proposed mining site while the Um Lunar river borders the eastern boundary of the site. Another river, the Umso Nallah, is adjacent to the northern boundary of the mining site.
The group has also contended that the proposed project site is located at a distance of 1.46km from the Narpuh wildlife sanctuary while the mine lease boundary is around 0.25km from the eco-sensitive zone of the sanctuary.
Besides, the protesters are wary of the mining site as there are about 17 villages in and around the site.
However, Brishyrnot residents had issued a no-objection certificate to the firm.