Prepaid cabs from LGBI to rest of North East region capitals
Airport authorities said the taxi service would also connect Bhutan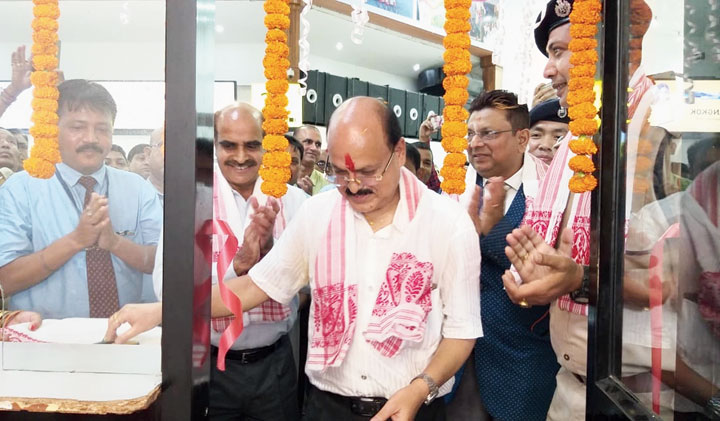 MLA Ramendra Narayan Kalita inaugurates the service at LGBI Airport in Guwahati on Thursday.
Picture by UB Photos
---
Guwahati
|
Published 03.10.19, 07:12 PM
|
---
 Prepaid taxi service covering the entire Northeast has been launched from Lokpriya Gopinath Bordoloi International (LGBI) Airport here on Thursday.
The taxi services were inaugurated at the airport by Guwahati (West) MLA Ramendra Narayan Kalita, Airports Authority Of India (AAI) regional executive director Sanjeev Jindal, airport director Ramesh Kumar, and other officials of the state police department.
Addressing the media about the new taxi services in his constituency, Kalita said it was a historic move by the AAI and the police department where a prepaid service for the passengers travelling through Guwahati airport has been launched for the first time in the Northeast.
"The launching of this prepaid taxi service will help boost tourism, provide jobs to local people and benefit passengers coming to Assam and the Northeast as Guwahati is a door for tourism in the state and one should get services right at the airport for all types of conveniences," he said.
Along with connecting with the capitals of the northeastern states, the prepaid taxi service is also scheduled to cover small distances of upto 0.5km. Airport authorities said the taxi service would also connect Bhutan.
Jindal, while expressing concern for the local taxi drivers and tour operators, said, "Their interests will also be kept in consideration as they are also one of the main stakeholders in operating the cab services for Guwahati airport. It will offer competitive rates and a healthy atmosphere for all taxi drivers with ample space for extending services to other locations. The AAI will also provide basic amenities to taxi operations at the parking area like seating shed, toilets, drinking water and assistance booths."
"I request the taxi drivers, tour operators and stakeholders concerned to keep the parking area clean. We have witnessed over 27 per cent growth in the passenger movement from this airport and there are lots of opportunities for further growth here," Kumar said.
"As international flights have started their services from LBGI Airport, more cabs will be added according to the requirement and timing of the flights," he said.
A pre-paid taxi service booking counter is available at the arrival area of the airport and the taxi can be booked and hired from the city side of the arrival gate, a press release said.