Power struggle in Manipur NPP
According to expelled president Thangminlien Kipgen, the party is in the process of splitting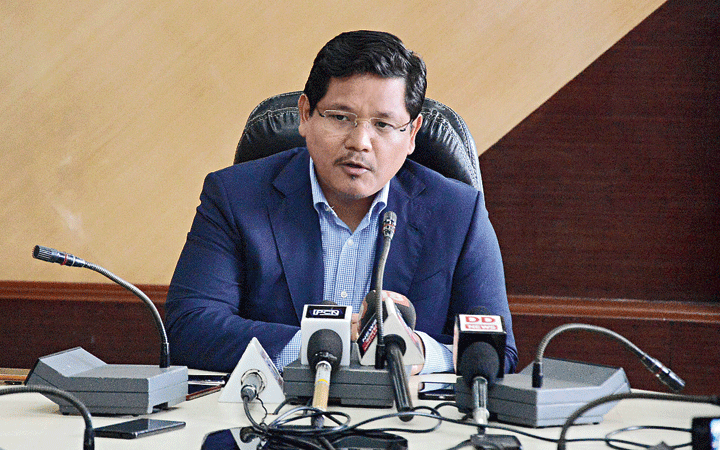 Meghalaya chief minister Conrad K. Sangma
File picture
---
Guwahati
|
Published 19.09.20, 02:37 AM
|
---
The National People's Party (NPP) unit of Manipur is headed for a split, according to its expelled president Thangminlien Kipgen.
Kipgen, who was expelled by NPP national president and Meghalaya chief minister Conrad K. Sangma on August 26 for allegedly going ahead with the Manipur unit's election in violation of party constitution, told The Telegraph on Friday that it is in the process of splitting.
"There is an elected president and they have nominated an interim president (Manipur tribal affairs minister N. Kayisii)," said Kipgen.
There are also two party offices in state capital Imphal, with the new one launched by Conrad on September 12.
A former MLA and minister "having" influence in Manipur politics, Kipgen, 67, has responded by expelling Kayisii and then deputy chief minister Yumnam Joykumar Singh, for six years for allegedly indulging in anti-party activities, taking the fight to the national leadership which has expelled him and put in his place an interim president for smooth functioning of the state unit.
The NPP's Manipur unit last hit the headlines in June when four party MLAs, all ministers in the N. Biren Singh-led coalition government, made an attempt to unseat the ruling dispensation along with the Opposition Congress just before the Rajya Sabha polls on June 19. The NPP state unit had "backed" the decision of the MLAs to pull out. They, however, returned to the government fold after meetings with the central leadership of the NPP and the BJP. The four ministers are now with the NPP national leadership.
Kipgen, while justifying his action was carried out according to the party's constitution, is trying to turn the battle for the state unit as a battle to protect the NPP's legacy.
"The NPP president (Conrad) is trying to project his father, former Lok Sabha Speaker late P.A. Sangma, as a founder of the party. He is trying to usurp the NPP's legacy. This is unacceptable to us and we will not tolerate," he said.
NPP sources said that Kipgen is likely to move the Assembly Speaker against Kayisii and Joykumar requesting to declare them as unattached members. They said that leading state organisations could support Kipgen in his fight to protect the NPP's legacy.
According to Kipgen, the NPP was founded in 1989 by late K. Brajamohan Dev Sharma. It had two MLAs in 1990, one in 1995, three in 2007, none in 2012 and four in 2017. According to Kipgen, Sangma enrolled into the NPP in 2012 and was elected its national president on September 15, 2012.
Kipgen said in a statement on September 9 that Conrad was trying to own the NPP by projecting his father as its founder by unscrupulous means.
"Now it seems the NPP is the property of Conrad which is unfortunate and a mockery of the people of Manipur as a whole," Kipgen said.
Kipgen said his term as president was to end August 26 and not in April as claimed by Sangma. He said he was issued a showcause notice on August 20 directing him to respond within 15 days but "was expelled unconstitutionally on August 24". He also said that there is no provision for an interim president in the party constitution and the letter appointing Kayisii was not issued on the NPP letterhead.