PM prod to IIT-G on disaster study
Modi was addressing the 22nd convocation of the premier institute of the Northeast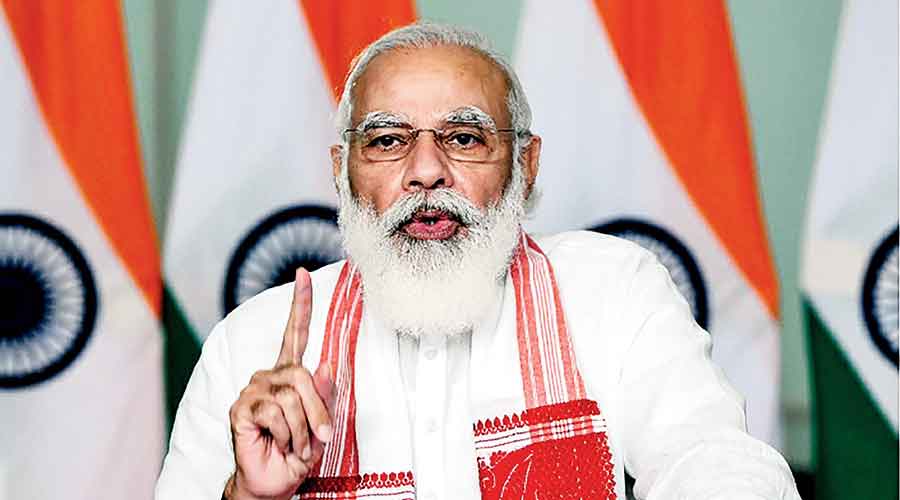 ---
|
Guwahati
|
Published 23.09.20, 12:45 AM
---
Prime Minister Narendra Modi on Tuesday urged IIT Guwahati to establish a centre for disaster management and risk reduction so that it can provide expertise in not only dealing with the disasters in the region but also turn these disasters into opportunities.
Addressing the 22nd convocation of the premier institute of the Northeast on Tuesday in virtual mode, Modi said the region was full of possibilities but also faces disasters, natural and man-inflicted, such as flood, erosion and industrial mishaps.
Appreciating IIT Guwahati, established in 1994, for its contribution in checking the spread of Covid-19 and being the first IIT to have introduced a two-year research program on e-mobility and for leading the integration of science and engineering in all BTech courses, Modi issued the appeal.
"I request IIT Guwahati to start a Centre for Disaster Management and Risk Reduction. The Centre should provide expertise to deal with disasters in the region and also turn these into opportunities. I also request IIT Guwahati to start a Centre for promotion of Indian Culture," the Prime Minister said.
Modi's plea to establish the disaster management centre is not without reason, said officials. Floods and erosion are taking a heavy toll in the region. Most state governments spent their time in tackling these disasters.
This year floods have claimed 117 lives in Assam since May 22, affecting 30 of the 33 districts. Erosion, on the other hand, has washed away about 8,000sqkm of the state's total geographical area of 78,438sqkm since 1950, affecting around 10 lakh people so far.
"Amid flood and erosion, Assam has had industrial disasters such as the May 27 gas well blowout in Baghjan, affecting thousands of locals as well as the ecology. The situation in Baghjan has not yet been permanently resolved. As such, local expertise to deal with such recurring situations is welcome," said an official.
As many as 1,803 students received their degrees through the online mode, including 300 PhDs at the convocation. Modi urged the students to think about how their research can be linked to the possibilities of development of the Northeast.
Urging the youth to be future ready and future fit because their dreams and aspirations will shape the future of India, Modi said the Northeast region is the centre for India's Act East Policy and gateway to its relations with Southeast Asia.
"The mainstay of relations with these countries have been culture, commerce, connectivity and capacity. Education is going to be another new medium of engagement and IIT Guwahati can become its major centre. This will also give the northeast a new identity and new opportunities will also arise here," the Prime Minister said, while mentioning the government's efforts to develop infrastructure in the region.
Union minister for education Ramesh Pokhriyal, Sanjay Dhotre, Union minister of state for education, Assam chief minister Sarbananda Sonowal and IIT Guwahati director T.G. Sitharam addressed the convocation.
Modi also used the convocation to highlight the benefits of the National Education Policy 2020 aimed at "meeting the needs of the 21st century and to make India a global leader in science and technology".
"The NEP 2020 has been made multi-disciplinary and offers flexibility of choosing various courses and allows multiple entry and exit points. It also proposes a National Research Foundation for better coordination with all funding agencies for research and funds for all disciplines, be it science or humanities. The NEP allows foreign universities to set up their offshore campuses in India, which would give global exposure to Indian students," Modi said.