PM Modi promises progress in Arunachal Pradesh
Airports, railway lines, highways and roads, electricity were among focus areas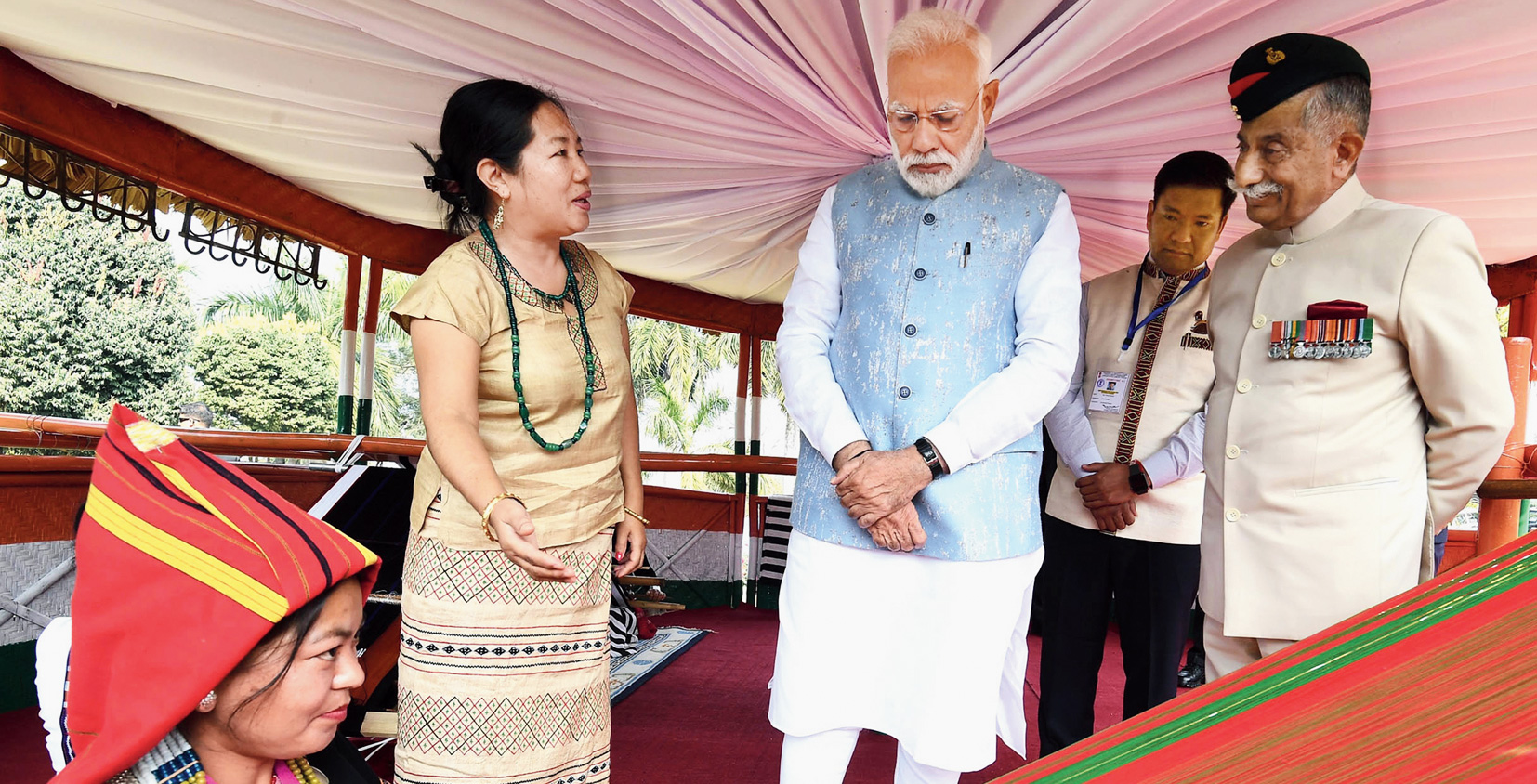 Modi watches a weaving machine at work at the Raj Bhavan in Itanagar.
UB Photos
---
Itanagar
|
Published 09.02.19, 07:04 PM
|
---
Amid protests against the Citizenship (Amendment) Bill, 2019, Prime Minister Narendra Modi on Saturday visited Arunachal Pradesh capital Itanagar and laid the foundation stone of many schemes and inaugurated several projects worth over Rs 4,000 crore.
This was Modi's third visit to the state as Prime Minister.
Modi on Saturday digitally laid the foundation for a greenfield airport at Hollongi, a film and television institute at Jote, Sela tunnel and approach road in Tawang, seven 132kV and 24 33kV sub-stations under a comprehensive scheme for strengthening transmission and distribution system.
He also inaugurated the retrofitted airport at Tezu, 110MW Pare hydro-electric plant, 50 health and wellness centres and launched Arun Prabha — a dedicated Doordarshan channel for Arunachal Pradesh. He declared 100 per cent household electrification under the Saubhagya scheme.
Addressing a mammoth gathering after the inauguration ceremony at Indira Gandhi Park here, he said the laying of foundation stones and inauguration of developmental projects will not only improve connectivity but also strengthen the power sector.
He said the previous governments neglected Arunachal Pradesh and added that the allocation of Rs 44,000 crore fund to the state is double the amount provided by previous regimes.
"A new India will only grow at its fullest power when the Northeast is at a rapid pace of growth. The central government is committed to preserve and develop the culture, language of Arunachal Pradesh and the region," he said.
"Two airports are being inaugurated in the state today. Tezu airport was built over 50 years ago. However, no government intended to connect the people of this state with other parts of the country. We have expanded the airport by spending around Rs 125 crore," he said.
Modi said the Northeast has a huge tourism potential. "Arunachal Pradesh's beauty can mesmerise people. There is potential for new employment avenues for the state's youths," he added. "Arunachal Pradesh is India's pride and gateway, and I assure you that we will not just ensure its safety and security, but also put it in on a fast-track towards development."
The Prime Minister said airports, railway lines and more trains, highways and roads, electricity are just a few examples of development in the state and the Northeast.
Meanwhile, the Arunachal Pradesh Congress carried out a demonstration-cum-protest rally against the Citizenship (Amendment) Bill, 2019, here ahead of Modi's visit.
Carrying placards and black flags and shouting slogans against Modi and chief minister Pema Khandu, hundreds of Congress leaders and workers took to the streets from Rajiv Bhawan before they were stopped by the police and paramilitary forces.
The Congress workers later also launched black balloons from Niti Vihar and DDK Colony areas while Modi was addressing the people.
The Rajiv Gandhi University Students Union also boycotted Modi's visit.
Wearing black attire, students took out a rally on the campus on Saturday morning and later also burnt an effigy of Modi.