Pleased with NRC outcome: Assam CPM
CPM said social organisations, political parties should lend a helping hand to the Indians who have been left out of NRC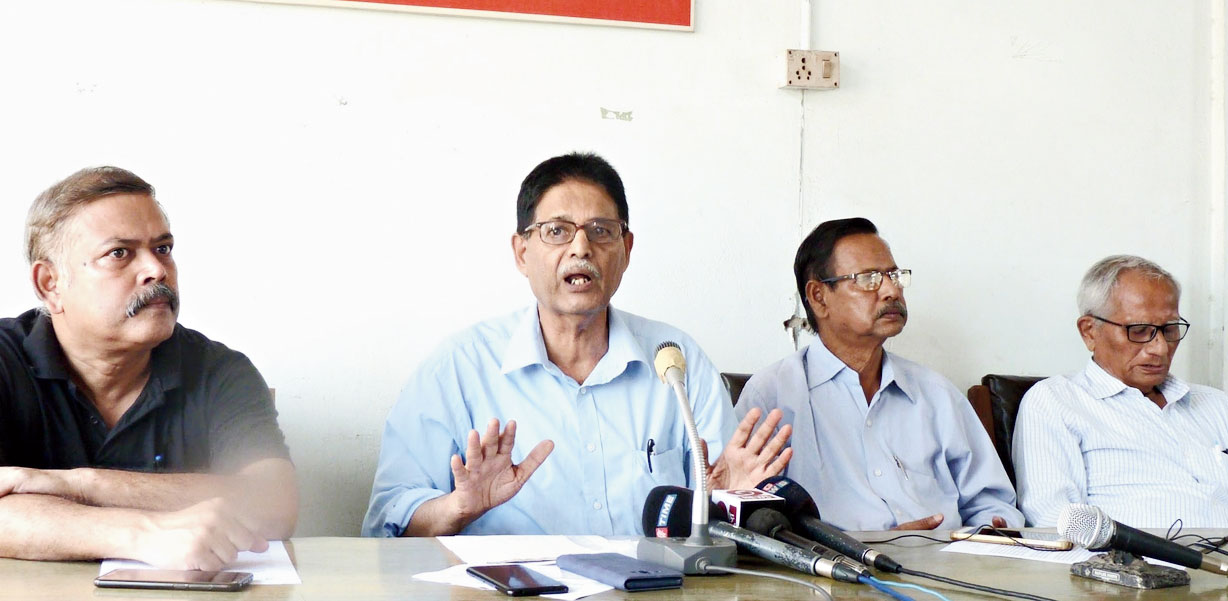 CPM members address the news conference in Guwahati on Tuesday.
Picture by UB Photos
---
Guwahati
|
Published 03.09.19, 09:16 PM
|
---
The Assam unit of the CPM said it is pleased with the outcome of the final National Register of Citizens and does not regard the exercise as futile.
"NRC has seen the light of the day because of the hard labour of 52,000 employees and patience of the people of Assam. We urge the government to provide the 3,11,21,004 people whose names have been included in the list with identity cards as soon as possible. The government should also consider ways to scrutinise the names left out in the draft NRC but included in the final one because of human error," CPM Assam secretary Deben Bhattacharya said.
"A large number of people left out of the final NRC are Indians. Even people who followed the rules and regulations set by authorities to get their names included in the NRC are left out. People who have their own legacy data and who have been declared Indians by the foreigners tribunals have also been left out. Most of them are women. The government should initiate steps to ensure their inclusion," Bhattacharya said.
The CPM said social organisations and political parties should lend a helping hand to the Indians who have been left out of the NRC.
"The government should offer free legal aid to those in need. Moreover, we are of the opinion that instead of trying those left out of the NRC in foreigners tribunals, which are quasi-judicial in nature, they should be tried in proper judiciary," he said.
The Assam CPM said the state BJP government has been involved in a serious communal conspiracy on the NRC issue.
"It is very disappointing that the same BJP government in the state which was taking credit for the NRC exercise is now distancing itself from it. While at the Centre, the external affairs and home ministry has regarded the exercise as scientific and non-discriminatory, the state government is of the view that the names of lakhs of foreigners have been included in the NRC. This hate politics against Muslims in the name of foreigners in Assam by the government will land them in grave danger," he said.