Plantation drive to give gibbons a chance for survival
Environment activists appeal to forest department to save endangered species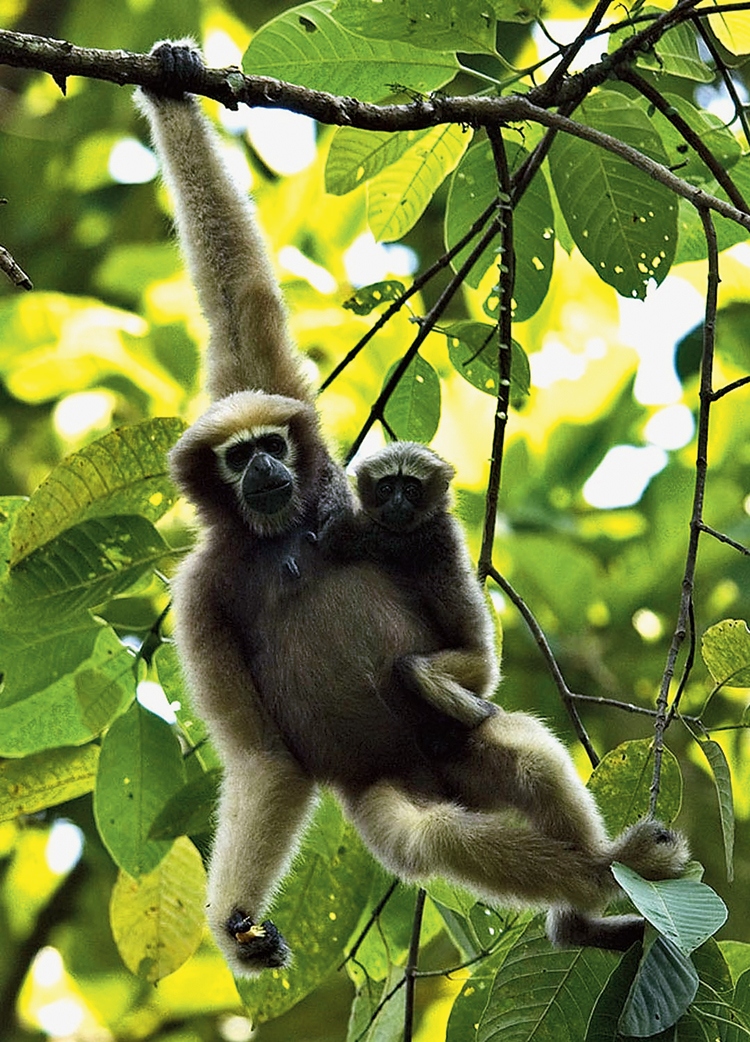 ---
---
Environmentalists and nature lovers have urged the Assam forest department to take proper safety measures for the rare hoolock gibbon found in Dibru-Saikhowa National Park after the death of a black gibbon that came into contact with a high-voltage electric cable.
Expressing concern over the unnatural death of the gibbon, Devajit Moran, the secretary of Green Bud, an NGO, told The Telegraph, "I urge the state forest department to take proper safety measures as the number of hoolock gibbons is dwindling by the day. We will also hold a meeting with villagers to discuss conservation measures."
Four villages of Barekuri block — Digal Haku, Nau-Motapung, Puroni-Mota Pung and Lesenga Tarazan — had 37 gibbons in 2016, which dropped to 23 in 2018 and, according to villagers, only 12 can be seen now.
The villages falls under Tinsukia wildlife division and are a part of the Dibru-Saikhowa National Park.
"The hoolock gibbons have been living in the Barekuri area for the last 26 years and suddenly their population is dwindling. We have discussed strategies for their conservation and increase in population. The youths of the village are doing everything to protect the species. We will undertake an afforestation programme to link the villages to Bherajan forest.We will also undertake a plantation drive," he said.
"This is the third death of a black gibbon of electric shock. We had appealed to the forest department earlier to do something in this regard. It is feared that gibbons will be one of the next group of animals to face global extinction," Moran said, adding that a few local youths are working for the conservation of the hoolock gibbon.
In 2015, the International Union for Conservation of Nature (IUCN) had declared the year of the gibbon to raise awareness about the threats that gibbons face.
Florian Magne, who runs a wildlife rescue unit that works for the conservation of western hoolock gibbons, at Tura in Meghalaya, wrote on Facebook: "I am sending these pictures (of the dead black gibbon) to animal rights activist Maneka Gandhi for further enquiries. Best teams of veterinary doctors can save life of gibbons in such (electric shock) situations."
A hoolock gibbon (Bunopithecus hoolock) is a gentle, harmless animal unless provoked or teased.
There are at most 500 of the species spread across eastern Assam, parts of Arunachal Pradesh, Nagaland and Tripura. The largest troop, of 125 apes, is at Gibbon wildlife sanctuary near Jorhat town in central Assam.
Some hoolock gibbons reside in Dihing Patkai wildlife sanctuary that straddles Tinsukia and Dibrugarh districts of Upper Assam.