Pepa, dhol rhythms bridge political divide
It was a grand display of tradition on the first day of Rongali Bihu
Assam chief minister Sarbananda Sonowal speaks to a girl during the Rongali Bihu celebrations at Latasil playground in Guwahati on Sunday.
UB Photos
---
Guwahati
|
Published 16.04.19, 06:58 PM
|
---
The notes that make up the songs of Bihu or the steps that move in unison to these tunes know no political affiliation.
When the dhol and pepa rang out across the state over the past two days, the spirit of Rongali Bihu called out all sections and communities, including political parties, without any distinction.
BJP-AGP alliance candidate Queen Oja and Congress candidate Bobbeeta Sharma, who are contesting from Gauhati Lok Sabha seat, set aside their political rivalries on Goru Bihu and performed a Bihu dance together at the Latasil Bihu ground. Sharma displayed her Bihu dance moves as Oja clapped along with the beat of dhol.
"We have put electioneering on hold on this day. In the spirit of Rongali Bihu we are setting aside our political affiliations and have come together," Sharma said.
Former chief minister Tarun Gogoi, always on the lookout for a chance to shake a leg, broke into an impromptu jig with the Bihu nasonis (dancers).
It was a grand display of tradition on the first day of Rongali Bihu, on the eve of the first day of the Bohag month, heralding advent of the Assamese New Year.
Goru Bihu rituals were performed at Chandmari bihutoli. Mukoli Bihu dances were organised on an open ground at Judges Field.
Rituals, including washing of cows, were performed at Chandmari bihutoli. Three cows were garlanded with vegetables as women chanted: "Lao kha, begena kha, diney diney barhi ja. Maar khoru, baper khoru, toi hobi bor goru (eat gourd, eat aubergine, grow day by day. Father is small, mother is small but you will be a big cow)."
Rain and a thunderstorm all of a sudden on Sunday morning could not dampen Bihu spirit.
The ground at Judges Field turned muddy, but that did not deter people who turned up in large numbers to enjoy Mukoli Bihu organised by the All Guwahati Students' Union.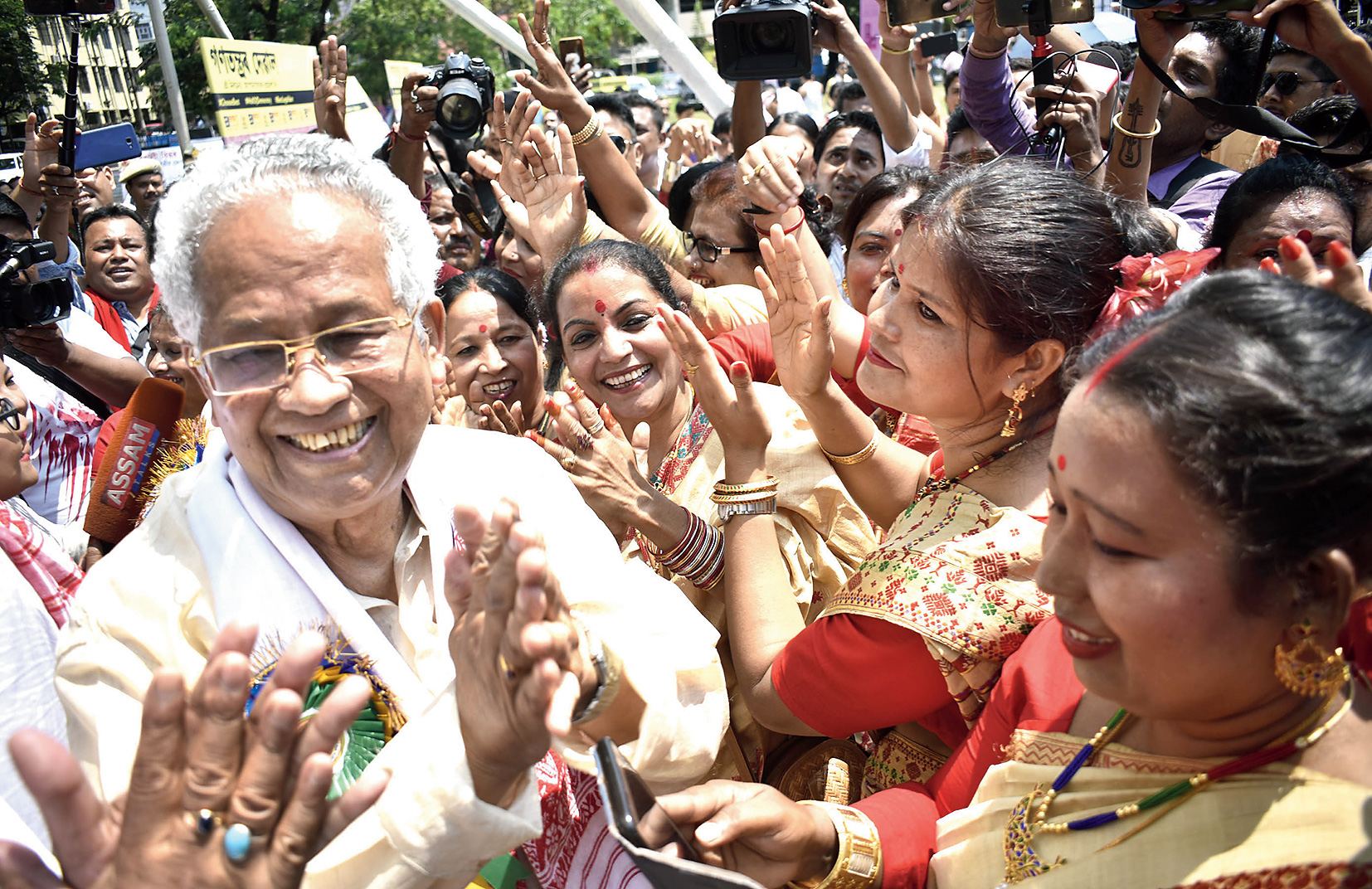 The AASU leadership, including its president Dipanka Kumar Nath, general secretary Lurinjyoti Gogoi and chief adviser Samujjal Bhattacharjya were present at Judges Field along with other dignitaries.
Nath appealed to people to be vigilant against forces conspiring to destroy Assamese identity and culture.
Competitions for the best Bihu dancers for Bihu Rani and Bihu Kuwori were organised at the Latasil bihutoli on Tuesday.
A free multi-speciality health camp, organised by the Latasil Bihu Sanmilan in association with Excel Care Hospitals, Sri Sathya Sai Alumni of Assam, Sri Sathya Sai Seva organisation (Assam, Meghalaya and Arunachal Pradesh) and Sri Sathya Sai Trust (Assam and NER), had a large number of people availing the facility.
Musical chairs for children were also organised. Singer Zubeen Garg is scheduled to perform in the evening.
On Tuesday evening, a special attraction at Chandmari was Minister Ahi Ase (Minister is Coming) — a play with a social message in consonance with the election fever in the state.