Opposition walks out after session begins
The Congress legislators staged a sit in at the entrance of the House over their demands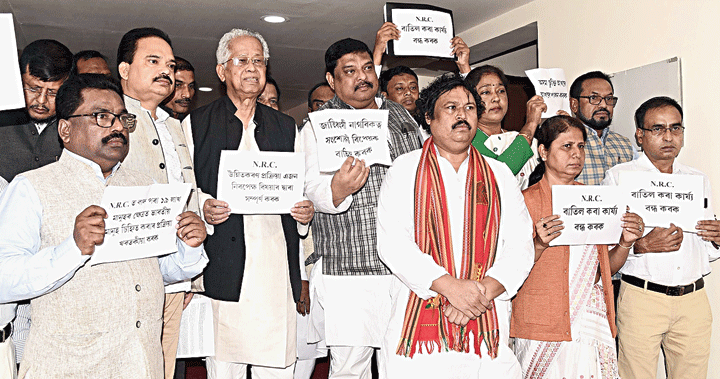 Tarun Gogoi and other Congress MLAs protest in the Assembly on Thursday.
Picture by UB Photos
---
Guwahati
|
Published 28.11.19, 07:54 PM
|
---
The Opposition members on Thursday staged a walkout on the first day of the winter session of the Assam Assembly, protesting against the Centre's plan to scrap the final National Register of Citizens (NRC) in Assam and table the Citizenship (Amendment) Bill in Parliament again.
As soon as the oath-taking ceremony of the four newly elected legislators — Bijoy Malakar (Ratabari), Rajen Borthakur (Rangapara), Nandita Handique (Sonari) and Rafiqul Islam (Jania) — got over, the Congress and the All India United Democratic Front (AIUDF) members demanded that issues like the NRC and citizen bill be discussed. The session began with the oath-taking ceremony.
Citing rules of the House, Speaker Hitendra Nath Goswami told the Opposition legislators that he would allow the discussion only after question hour.
The Opposition members refused to sit down and rushed to the well holding placards and shouting slogans like "Inquilab Zindabad", "Implement Assam Accord in toto" and "Jai Aai Asom".
Amid sloganeering by the Opposition members, some BJP legislators shouted "Bharat mata ki jai." After some time, the Opposition members staged a walkout. Later, the Congress legislators staged a sit in at the entrance of the House over their demands.
"We have been forced by the Assam government to stage the protest. Had the state government opposed the bill like in Meghalaya, Manipur and Mizoram, this situation would not have arisen. If the Centre passes the CAB, the Assam Accord will become irrelevant. People of Assam will not forget us if we remain silent at this time," said former chief minister Tarun Gogoi.
Besides Gogoi, senior Congress leaders like Rakibul Hussain and Ajanta Neog took part in the protest. But leader of the Opposition Debabrata Saikia skipped it. "There was a decision earlier to stage the walkout. I was there till the walkout. I am not aware about the rest of the events," Saikia said, when asked by reporters about his absence. Saikia recently faced a revolt from a section of party legislators who sought his replacement.
Cabinet minister Himanta Biswa Sarma later hit back at the Opposition. "Badruddin Ajmal, Rakibul Hussain and Nazrul Islam are happy with the NRC. We are not. It has now become apparent on whose behalf Prateek Hajela (state NRC coordinator) had prepared the NRC," he said.