Only media harps on bill: Sarma
Protests on, AASU torch-lit rally today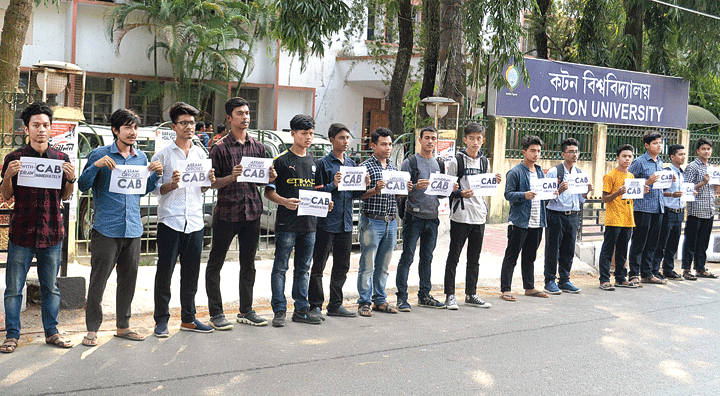 Students of Cotton University protest against the citizenship bill;
Picture by UB Photos
---
Guwahati
|
Published 20.11.19, 08:37 PM
|
---
Referring to the BJP's electoral success in Assam despite the party's push to pass the bill in Parliament, Sarma said, "The panchayat and Lok Sabha elections have already revealed the truth. The 2021 Assembly election will reflect the same."
Hitting back at AASU for its statement that passage of the bill in Parliament would help lakhs of Hindus from Bangladesh enter Assam, "rendering the indigenous people of the state second class citizens", Sarma said, "Are we first class first citizens in Baghbor or Jania now? We would like to see an AASU convention in Baghbor or Jania."
Both Baghbor and Jania constituencies in Barpeta district of lower Assam are dominated by immigrant Muslims.
"Let Prime Minister Narendra Modi and Union home minister Amit Shah do whatever they want for the good of the country and Assam. We will continue to have faith on them," he added.
The KMSS said the BJP and the RSS would have to seek forgiveness of the people of Assam for bringing the bill. It claimed that BJP members in Assam, who were supporting the bill, were doing so under pressure.
"No one in Assam who has links with the BJP is supporting the bill wholeheartedly," KMSS adviser Akhil Gogoi said and claimed that anyone who supports the bill in Assam was not a true Assamese. He urged every organisation in the state to take the initiative to oppose the bill even if it had ties with the BJP.
AASU said it would organise a statewide torch-lit procession against the bill along with 30 organisations of various communities on Thursday. It reiterated that it would never accept the bill.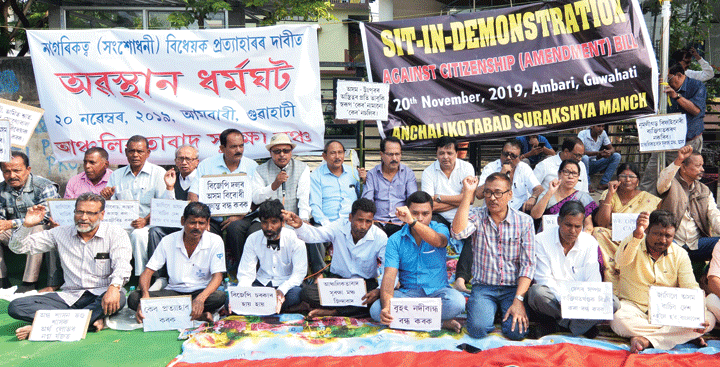 North East Democratic Alliance (Neda) convener and Assam cabinet minister Himanta Biswa Sarma on Wednesday said barring journalists, no one in Assam, including the Asom Gana Parishad (AGP), talked about the Citizenship (Amendment) Bill.
Sarma's statement comes at a time when the Centre has announced its intention to table the contentious bill in Parliament and amid protests by various organisations, including the North East Students' Organisation (Neso), across the region.
"I come across the word CAB only when I talk to journalists. Every day, I reply to at least 3,000 WhatsApp messages. None of them contains the word CAB. I talk with other people but no one talks about CAB. Only when I talk with you, I hear the word," Sarma, a strong advocate of the bill, told reporters here.
"We do not talk about CAB with the AGP also," Sarma said, adding that the bill did not come up when BJP and AGP ministers held a three-hour cabinet meeting on various schemes on Tuesday.
On Wednesday too, organisations like the All Assam Students' Union (AASU), Krishak Mukti Sangram Samiti (KMSS) and the Asom Jatiyatabadi Yuba Chatra Parishad (AJYCP) protested against the bill across Assam.
The day also witnessed Union home minister Amit Shah push the bill in Parliament. He told the Rajya Sabha that Hindu, Buddhist, Sikh, Jain, Christian and Parsi refugees, who were discriminated on the basis of religion in Pakistan, Bangladesh and Afghanistan, should get Indian citizenship and that is why the bill is needed.