NRC-excluded continue to protest
Forum backs migrant Hindus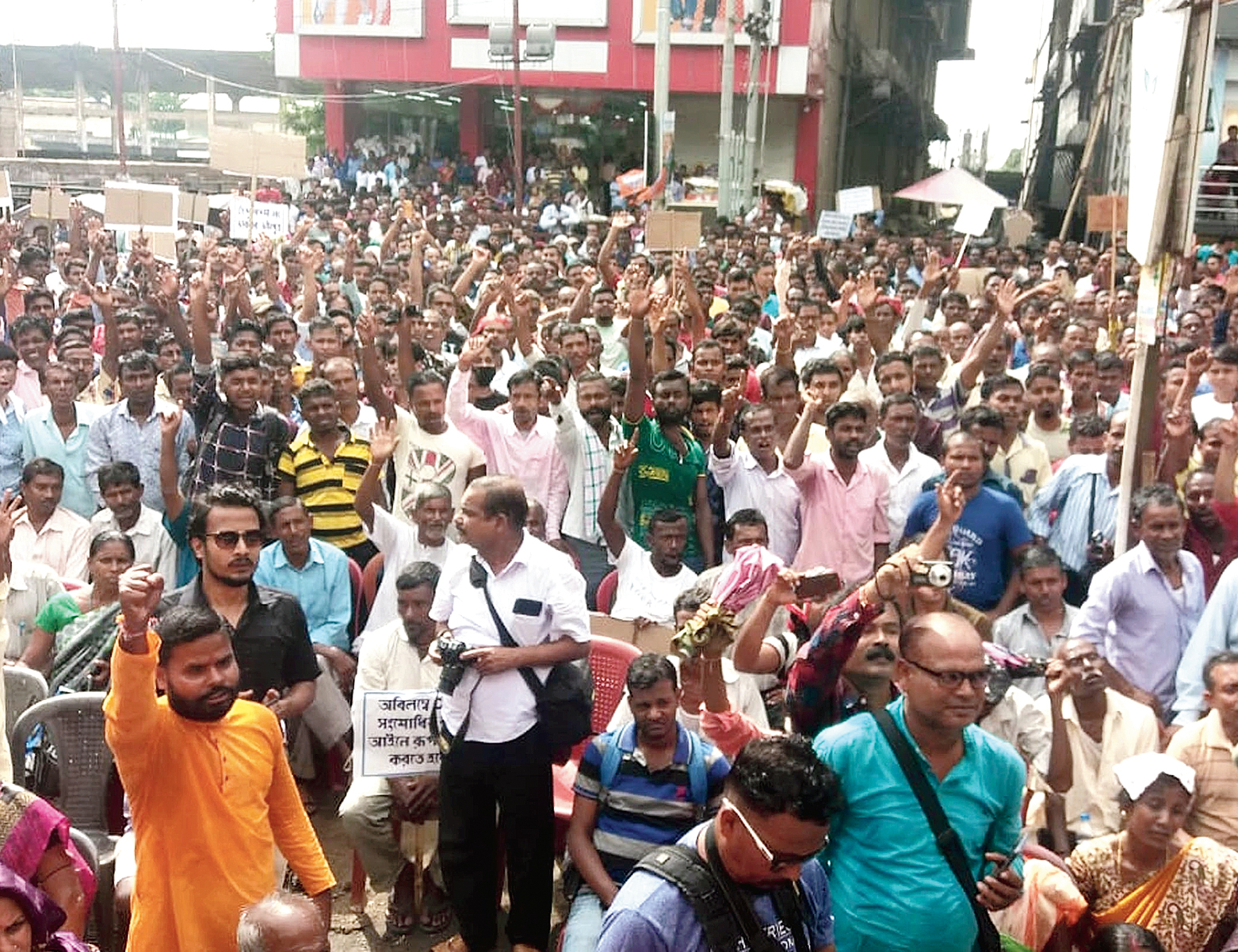 ---
---
The North East Linguistic & Ethnic Coordination Committee staged demonstrations in the Barak Valley districts of Cachar, Karimganj and Hailakandi in south Assam on Tuesday to push for their seven-point charter of demands, including unconditional citizenship to Hindus who came to India from neighbouring countries owing to religious persecution.
The protesters submitted a memorandum to President Ram Nath Kovind, Prime Minister Narendra Modi, Union home minister Amit Shah, chief minister Sarbananda Sonowal and governor Jagdish Mukhi through the deputy commissioners of the respective districts on the precarious and miserable condition of the religious minorities in Pakistan and Bangladesh who had to settle in India in the aftermath of Partition and Bangladesh War.
The memorandum, signed by the committee's general secretary, Kankan Narayan Sikidar, said about 14 lakh "persecuted minorities" were affected by the NRC.
It said the final NRC published on August 31 appeared to be replete with errors as newer instances were coming to light each day about foreigners being included and eligible persons being excluded from it. It said it would not accept the final NRC.
It pointed out that during the NRC update, refugee cards and documents from neighbouring states were rejected by NRC officials, though these were mentioned in the standard operating procedure, making the situation worse.
It demanded unconditional citizenship for Hindus who came to India from Pakistan and Bangladesh following religious persecution, their inclusion in the NRC and implementation of the Centre's notification dated September 7, 2015, regarding safeguarding religiously persecuted Hindus. It alleged that the notification was implemented in all the states, barring Assam.
The notification was issued under the Foreigners Act, 1946 and the Passport (Entry into India) Act, 1920, and its provisions were applicable in the entire country.
The memorandum demanded passing of the Citizenship (Amendment) Bill after some rectification to provide relief to Hindus.
It said the committee would not tolerate imposition of any kind of reservation in Assam under Clause 6 of the Assam Accord.
It demanded proportionate representation of various linguistic communities and ethnic groups in the high-level committee, constituted by the Centre to examine the feasibility of implementation of Clause 6.
It also demanded that "persecuted" linguistic and ethnic communities, including Bengali Hindus, be considered indigenous people as they are citizens of undivided India. It demanded release of all religiously persecuted minorities from detention camps in Assam.
The agitation was supported by several organisations, including the Akhil Bharatiya Vidyarthi Parishad (ABVP), RSS, Bajrang Dal and the Hindu Jagaran Mancha.
The committee's adviser, Subhrangshu Bhattacharjee, claimed that more than 30,000 people converged for the demonstration in the three districts.