Northeast continues to simmer over CAA
Torchlight rallies in Assam's Dibrugarh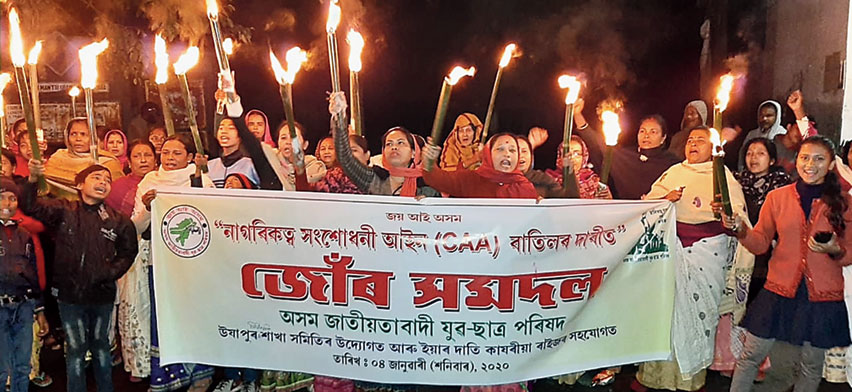 Activists take part in the torchlight rally in Duliajan on Saturday
Picture by Pradip Kumar Neog
---
Duliajan
|
Published 04.01.20, 08:44 PM
|
---
Activists of the Asom Jatiyatabadi Yuba Chatra Parishad (AJYCP), All Assam Students' Union (AASU), Sadou Asom Matak Yuba Chatra Sanmilan and Brihottar Asomiya Mahila Manch took out a torchlight rally in this town in Dibrugarh district on Saturday night, demanding scrapping of the Citizenship (Amendment) Act.
Nearly 500 people marched from BX Colony Gate to Pepoltol Tiniali, 5km away.
The protesters shouted slogans like "Minister Rameswar Teli murdabad", "MLA Terosh Gowala murdabad", "BJP government murdabad", BJP sarkar huchiar (BJP government beware) and "Scrap CAA from Assam".
AJYCP's Dibrugarh unit publicity secretary Pranjal Rajkonwar said, "We will not accept CAA. If the BJP-led government at the Centre does not withdraw this controversial law, the protests in Assam will grow more vigorous."
"If somehow the Supreme Court hearing on CAA on January 22 ends in an adverse order, then the entire Northeast will burn," he warned.
On the other hand, AASU's Duliajan unit president Bubul Talukdar said protests should be organised peacefully and democratically and appealed to the people of Assam to put up "a united fight against this contentious law".
He said democratic protests would continue until Assam was exempted from the law.
AASU Duliajan unit secretary Dipankar Gogoi alleged the BJP-led governments at the Centre and the state have not respected the people's sentiment and "forcefully tabled the Act".
Brihottar Asomiya Mahila Manch secretary Ranu Tamuly criticised the governments at the Centre and the state and said they would continue their protests in conjunction with the legal fight against CAA in the Supreme Court.
The AJYCP's Naoholia, Bokuloni and Ushapur units also took out torchlight rallies in their respective places.
Protest through words
Writers must protest against the Citizenship (Amendment) Act through their literary works, poet and dramatist Sanjit Mahanta said on Saturday.
The author said the present turmoil across the state pertaining to the anti-CAA movement calls for a separate genre of literary works, similar to that of proletarian literature, which will be a "history for the upcoming generation".
Sanjit, known as Alex Di Figo, in the world of Assamese literature, has penned nearly 25 books on drama, biography, poetry and short story, among others.
"The ongoing anti-CAA movement has brought both our rational and emotional sides together. The Act redefines citizenship on religious lines and poses threat to the identities of Assam's indigenous communities. The battle this time is different. The writers should take a positive role by penning down their thoughts and feelings in a rationalistic manner. The history of the past was tempered and selectively noted but the history of the present will remain unfettered and untampered," he added.
"Writers are always independent. They enlighten people and set them free from the realms of darkness. This is their only politics," Sanjit added.
Additional reporting by Shajid Khan in Udalguri