Noise reprieve for Tinsukia students
When the wedding season coincides with examinations, noise pollution becomes an issue with students trying to concentrate on their studies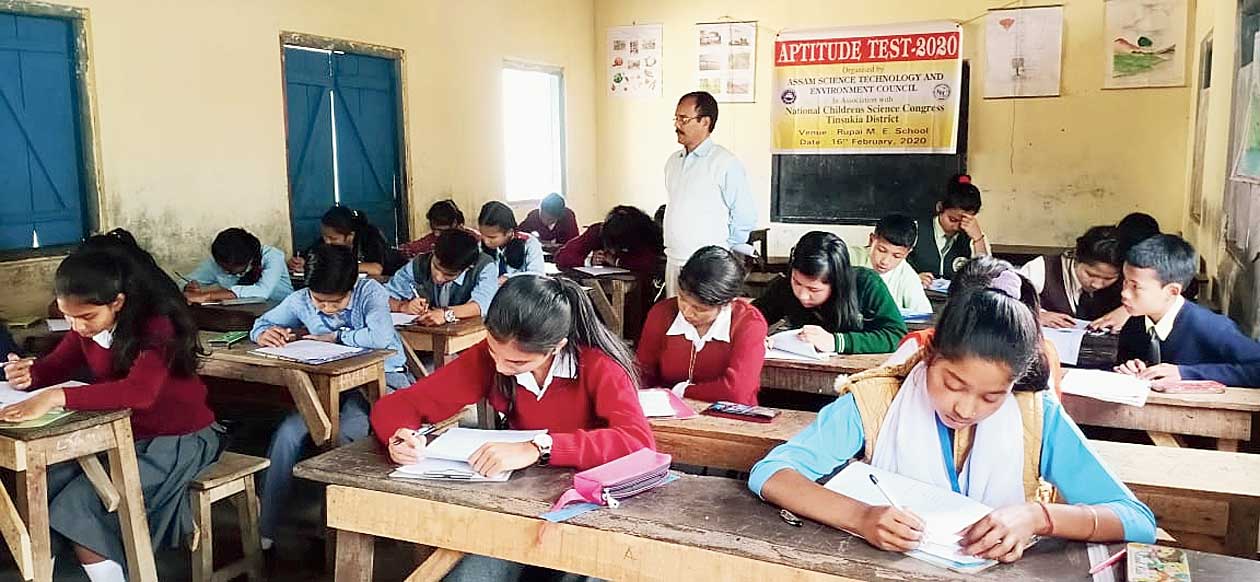 Students appearing in examination in Tinsukia on Tuesday.
Picture by Manoj Kumar Ojha
---
Doomdooma
|
Published 18.02.20, 06:56 PM
|
---
Tinsukia seems strangely silent these days, but all for a good cause.
When the season of weddings coincides with examinations, noise pollution becomes an issue with students trying to concentrate on their studies.
However, not so in Tinsukia where the people of this Assam district decided to go easy on the music and revelry so the children can study in peace. "We read in The Telegraph (Plea for noise-free exams, February 14) and called an immediate meeting in our village auditorium. All the villagers quickly agreed that sound systems will not be used till the matric and other examinations are over. Three marriage ceremonies have been held since the examination began but all without drums and music, which is our tradition," Mridul Tanti, the village headman of Beesakopie village in Tinsukia told The Telegraph.
The Telegraph had published a report on Tuesday in which The Assam Tea Tribes Students' Association and All Adivasi Students Association of Assam had appealed to the government to ensure zero noise pollution at the class X examination centres conducted by the Board of Secondary Education of Assam (Seba). They had also appealed to the people to take stock of noise pollution in their areas.
"If the students do not get a peaceful atmosphere at home or hostels, it is impossible to focus. Their preparations will be affected and performances will be poorer. We should be aware these things," Binay Dubey, a central committee member of the All Assam Students Union, said.
Reports said noise pollution has increased alarmingly in the recent years.
An experimental study revealed that the noise level exceeds the prescribed noise standards set by the Central Pollution Control Board of India (CPCB, 1998).
The result of the analysis suggests that the maximum equivalent noise levels are in the morning and minimum at midday. Noise pollution is now one of the most significant environmental issues not only in the large cities of Assam also in the semi-urban and rural areas.
Altogether, 3,58,446 students are appearing for the HSLC and Assam High Madrassa (AHM) examinations, which commenced from Monday in 860 examination centres amid tight security.
Suhay Sarma of Phillobari in Tinsukia said, "I have only one daughter who was married off recently in Guwahati. The ceremony was held at my residence and we avoided all those things which could create noise pollution and disturb the students' preparations for examinations. Ultimately, it is the question of not only their future but our nation also."
People are avoiding noisy celebrations whether it is a wedding anniversary, birthday, marriage ceremony or other ceremonies across the district.