Mizoram gets first women's prison
Construction began on a 2,611.03 square metre plot in November 2015 with Rs 1,306.95 lakh funds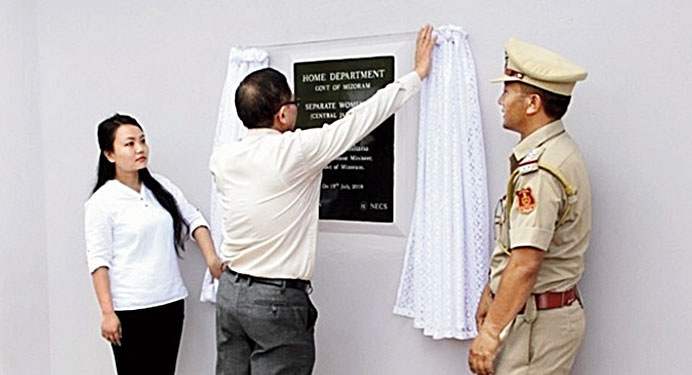 ---
|
Aizawl
|
Published 20.07.19, 08:33 PM
---
Mizoram got its first women's prison on Friday.
A home department official on Saturday said the state's first central women's prison was inaugurated by home minister Lalchamliana at Tanhril near Aizawl. A programme on pilot intervention for drug treatment services among inmates was also launched.
Lalchamliana said jails should not be viewed only as a place for punishment but a rehabilitation centre or correctional home.
The minister thanked the previous Congress government, led by former chief minister Lal Thanhawla, for taking the initiative to construct the prison.
The construction began on a 2,611.03 square metre plot in November 2015 with Rs 1,306.95 lakh funds received from the DoNER ministry. It was completed in August last year.
Surrounded by a concrete wall, the prison has various blocks, including the administrative block, convicted prisoners' block, classified prisoners' block, isolation cell block, recreation hall, medical block and staff quarters.
Officials said the Mizoram government will also provide drug treatment services to the inmates through its pilot intervention programme.
Social welfare secretary Zoramthangi Hauhnar said a study, conducted by her department in 2017, showed that a majority of jail inmates were youths in the age group of 28.
While 66 per cent of the inmates were drug addicts, 87.9 per cent used various types of drugs.
Fourteen per cent of inmates suffer from mental illness caused by drugs, 9.3 per cent from hepatitis and 2.8 per cent were diagnosed with tuberculosis, she added.
An official said the pilot intervention programme will be launched in three phases — counselling for inmates on mental illness due to drug abuse, counselling on relapse and follow-up where the inmates will be given guidance through outreach workers and peer educators after their release from jail.