Mizo Zirlai Pawl unhappy over state government stand
L. Ramdinliana attacks Mizoram government for not taking concrete steps to oppose the Citizenship (Amendment) Bill, 2019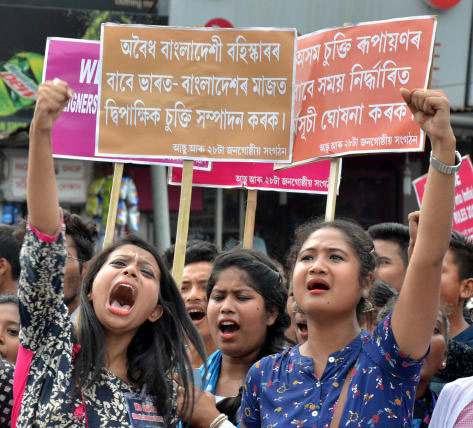 Activists at a rally to oppose the bill
The Telegraph File Picture
---
Aizawl
|
Published 11.02.19, 09:04 AM
|
---
The Mizo Zirlai Pawl (MZP) on Sunday slammed the state government for not taking concrete steps to oppose the Citizenship (Amendment) Bill, 2019.
MZP president L. Ramdinliana said the state government was not showing its concern at a time the civil society organisations in the state and the Northeast were raising their voice against the proposed legislation. He expressed disappointment over its laxity in calling a meeting involving all political parties and stakeholders over the bill.
Renthlei claimed that chief minister Zoramthanga had promised to take a united stand against the bill when they met him before Republic Day. "While the bill is about to be tabled in the Rajya Sabha this week, we are very disappointed the state government not only failed to convene a meeting but also make any effort to oppose the bill," he said.
Renthlei reiterated the bill, if enacted, would be harmful for a small state like Mizoram "where there are a large number of illegal migrants".
He said the MZP under the initiative of the North East Students' Organisation (Neso) had staged a massive protest against the bill to ensure it is scrapped.
The MZP president also said it will continue to oppose the bill to ensure it is defeated in the Rajya Sabha and asked the people of the state to extend support.
Neso finance secretary Ricky Lalbiakmawia said a team of student leaders recently met leaders of the Congress and other non-BJP parties in New Delhi to garner support against the bill. He said the BJP-led NDA government at the Centre was firm on introducing the bill in the Rajya Sabha on February 12 or 13.
Lalbiakmawia also alleged the BJP is trying to "buy some MPs" to get their support for passage of the bill.