Meghalaya seeks stronger measures
Conrad said the state government would approach the Centre with all measures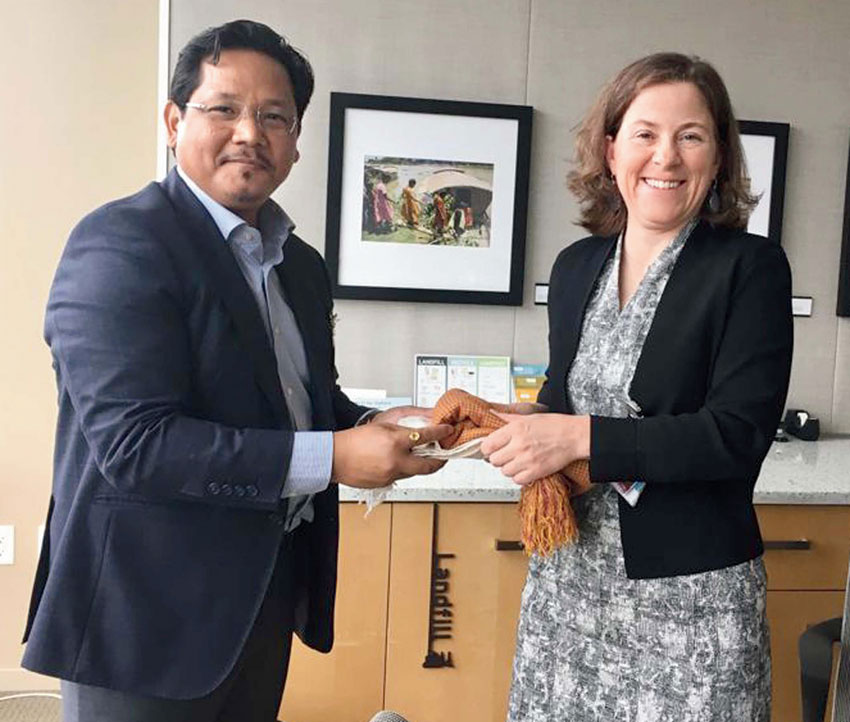 Conrad K. Sangma wants to protect the state Meghalaya, from CAB on Tuesday
The Telegraph Picture
---
Shillong
|
Published 10.12.19, 07:30 PM
|
---
The Meghalaya cabinet on Tuesday decided to approach the Centre to impress upon the need to have more strong measures to protect the state in the wake of the passage of the Citizenship Amendment Bill in Lok Sabha, and defended the stand taken by Tura MP Agatha K. Sangma in Parliament.
"We will apprise Union home minister Amit Shah and the government of India as a whole on the need to have more strong measures to address concerns of the state," chief minister Conrad K. Sangma told reporters after the cabinet meeting on Tuesday evening.
Stating that the bill has been a matter of concern since last year as there was no discussion and consultations, Conrad, however, said now the Centre has brought in some provisions in the amendment bill that have addressed the concerns related to the state.
"However, we want more measures, and we will approach the Centre on this, as well the governor to approve an ordinance related to the amendment of the Meghalaya Resident Safety Security Act, 2016," he said.
He said most of the areas in the state are exempted from the present bill, which has changed from the earlier one tabled in Lok Sabha in 2018.
"Therefore, the MDA government as a whole we have agreed to push for more measures and urge the Union government to consider the request of the state government to have more measures that will address concerns of the state. We all agreed that whatever the case may be, we will work in unison as coalition partners," Conrad said.
On the stand of Tura MP Agatha K. Sangma who supported the bill in Lok Sabha, the chief minister said Agatha supported as certain provisions have been incorporated in the present bill, and the MP was very clear that, "We want more provisions to be included in the bill for the interest of the whole Northeast."
He also said the fear that Bangladeshis will be flooded will not happen, as the power lies with the state government to decide on the applications related to citizenship with the cut-off date of December 31, 2014.
Stating that the bill is an emotional issue, Conrad said the state government would approach the Centre with all measures.
On the allegations that the Tura MP has betrayed the state by supporting the bill, he said, "It depends on how one looks at it. We need to get to the facts."
The cabinet has also decided to recommend to governor Tathagatha Roy to approve the imposition of administrator's rule in the Khasi Hills Autonomous District Council (KHADC) on the ground of instability and fluid political situation in the council.