Massive eviction in Amchang forest
Dispur carried out a massive eviction drive in Amchang reserve forest here today, following a Gauhati High Court order. Two persons were arrested.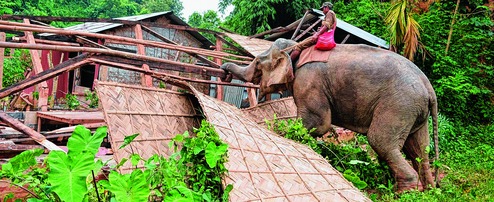 ---
Guwahati
|
Published 26.08.17, 12:00 AM
|
---
Guwahati, Aug. 25: Dispur carried out a massive eviction drive in Amchang reserve forest here today, following a Gauhati High Court order. Two persons were arrested.
Deputy conservator of forests (publicity) Narayan Mahanta told The Telegraph that 283 houses were dismantled, clearing about 200 hectares of forestland. Around 2,000 people were affected. The drive will continue till the entire wildlife sanctuary is cleared of encroachments, he added.
Police and Kamrup (metro) district administration assisted the forest department in the eviction drive.
Illegal settlers were evicted from places like Botaghuli, Nabajyoti Nagar, Kangkan Nagar and Yousuf Nagar, which are allegedly located inside the wildlife sanctuary, amid protests. Many of the protesters claimed to be indigenous people living there since 1998 after losing their homes to floods and erosion in Majuli, Lakhimpur and Dhemaji districts.
This is the second reserve forest after Kaziranga National Park where eviction drive was carried out in the state. In Kaziranga too, eviction was carried out in September last year following a Gauhati High Court order. Two persons were killed and 17 injured, including 15 policemen, during the Kaziranga drive.
Today's drive was by and large peaceful, barring an incident of stone pelting in the evening. "We are poor people and don't have anywhere else to go. The government should have rehabilitated us at an alternative place before launching the eviction drive," said Debaram Taid, a daily-wage earner who hails from Jengraimukh in Majuli but was forced to settle here after his home was washed away in floods about 20 years ago.
"We are indigenous people and not Bangladeshis. If the government can provide land to illegal migrants from Bangladesh, why can't it do the same for us?" he asked.
Pupu Kumbang also demanded rehabilitation of the evicted families. "It would have been better if the government had shot us dead instead of demolishing our houses in this cruel manner," he said.
At Botaghuli, protesters formed a human chain to prevent eviction, which resulted in a minor scuffle. Some of them pelted stones, injuring a forest staff, Suresh Sharma. But the presence of a large number of security personnel prevented the situation from spiralling out of control.
The police arrested two persons at Botaghuli for allegedly attacking the eviction team in a bid to prevent the drive.
Kamrup (metro) deputy commissioner M. Angamuthu said the eviction started at 9am and till 4pm, around 283 structures were dismantled. The residents were asked to leave the forest area.
To carry out the eviction, four teams were formed with magistrates, officials of the forest and health departments, police, Assam Power Distribution Company Limited, State Disaster Response Force, and fire and emergency services. Two teams conducted the drive at Botaghuli and two behind the Veterinary College at Khanapara. Four elephants and eight excavators were used.
Angamuthu asked the teams not to damage/destroy encroachers' belongings and directed the police to use minimum force. "Many families vacated their houses without any resistance," he added.
City police commissioner Hiren Chandra Nath, chief conservator of forests D. Hara Prasad and joint commissioner of police Diganta Baruah were also present during the media briefing.
A survey carried out by the forest department in 2014 had found 1,114 households with a population of around 6,000 in 24 locations inside the wildlife sanctuary. Of its 78.64 square km area, around 500 hectares were under encroachment.
Krishak Mukti Sangram Samiti leader Akhil Gogoi demanded rehabilitation of all the indigenous people evicted today and stated that their livelihood and land rights must be protected at any cost.
Court stay
About three hours after the drive was launched, Gauhati High Court put an interim stay on eviction at Yousuf Nagar and Bojra NK village after a group of residents filed a petition claiming that the area falls under revenue land and not forestland.
The petitioners' counsel, Shantanu Borthakur, said the court directed the state government to maintain status quo and reply to the petition. The court fixed September 19 as the next date of hearing.
Borthakur said they have valid documents to substantiate their claim.