Manipur HC asks state, central govts to facilitate travel of Myanmarese nationals to Delhi
They had "illegally" entered Moreh to escape possible persecution by military junta following the February 1 coup in neighbouring country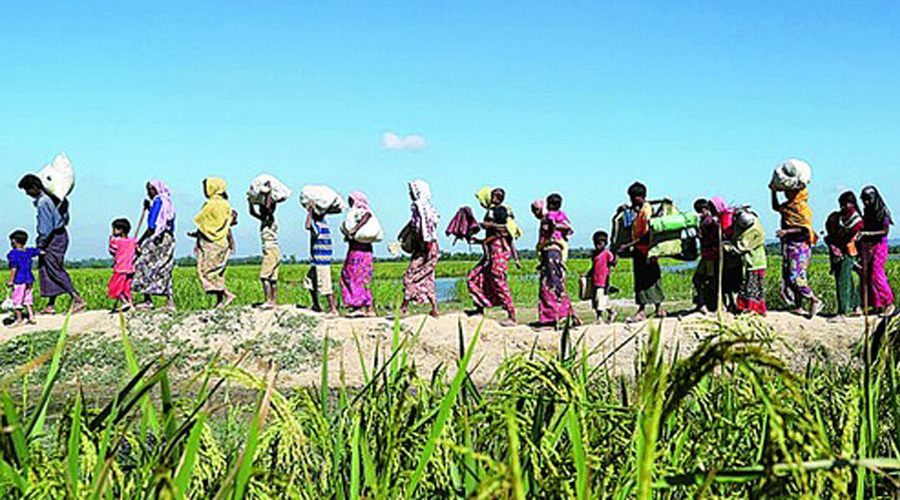 ---
Guwahati
|
Published 04.05.21, 02:57 AM
|
---
The High Court of Manipur on Monday directed the state and central governments to facilitate the travel of seven Myanmarese nationals to New Delhi "without any obstruction" to enable them to avail "suitable protection" from the United Nations High Commissioner for Refugees (UNCHR).
Dubbing the seven as "asylum seekers", a division bench comprising Chief Justice Sanjay Kumar and Justice Lanusungkum Jamir passed the order while dealing with a petition filed by human rights advocate Nandita Haksar requesting their safe passage to UNCHR's office in Delhi.     
The seven — four adults and three children — had "illegally" entered Moreh in Manipur, bordering Myanmar, to escape possible persecution by the military junta following the February 1 coup in the neighbouring country. Three of them are journalists.
The court said: "Some of them seem to be in possession of their passports but in any event, their details and particulars have been noted by the Immigration authorities of our country. There shall accordingly be a direction to the Foreigners Regional Registration Office (FRRO) at Imphal airport to immediately provide them with temporary identification cards to enable them to travel to New Delhi by air, if such identity proof are necessary. The state and central governments shall facilitate their travel to New Delhi and shall not cause any obstruction."
The same bench had on April 20 directed the BJP-led Manipur government to provide a safe passage to Myanmar nationals "in hiding" in Moreh to Imphal but also prevented the state or central government from taking any "coercive action" against them till further orders.
The refugees had sought the help of the petitioner (Haksar) as they feared they would be sent back to Myanmar by the Assam Rifles as they had come without proper travel documents.
The Union ministry of home affairs had directed the authorities of the border states in the northeast and the Assam Rifles, which mans the Myanmar border, to check the flow of illegal migrants coming into India from Myanmar, through a letter dated 10.03.2021.
The petitioner had pointed out that this communication did not draw a distinction between a 'migrant' and a 'refugee'.
The Manipur government had on March 29 said they would come to the aid of Myanmarese nationals who had illegally entered the state, leaving the Myanmarese "handicapped" in approaching the court on their own.
The court in its order observed that the seven Myanmarese individuals in question are "not migrants", as normally understood, but are "asylum seekers". 
"They did not enter our country with the clear-cut and deliberate intention of breaking and violating our domestic laws. They fled the country of their origin under imminent threat to their lives and
liberty. They aspire for relief under International Conventions that were put in place to offer protection and rehabilitation to refugees/asylum seekers. In such a situation, insisting that they first answer for admitted violations of our domestic laws, as a condition precedent for seeking 'refugee' status, would be palpably inhuman."
It also observed that though India has "no" clear refugee protection policy or framework, it does "grant" asylum to a large number of refugees from nearby countries.
"India usually respects the UNHCR's recognition of the status of such asylum seekers, mainly from Afghanistan and Myanmar.… Therefore, it would be essential for these seven Myanmarese persons to first approach the UNHCR at New Delhi and only thereafter, the Union of India would be in a position to take a call as to whether they can be granted refugee status and asylum in India, as was done earlier. In the alternative, the UNHCR would be at liberty to rehabilitate these people in host countries under the 1951 Refugee Convention. In either event, these persons cannot be made to face persecution, if not a threat to their very lives and liberty, by being deported to their home country."