Manipur euphoric after ILP implementation
Abolished in 1950, inner-line permit makes a comeback on Wednesday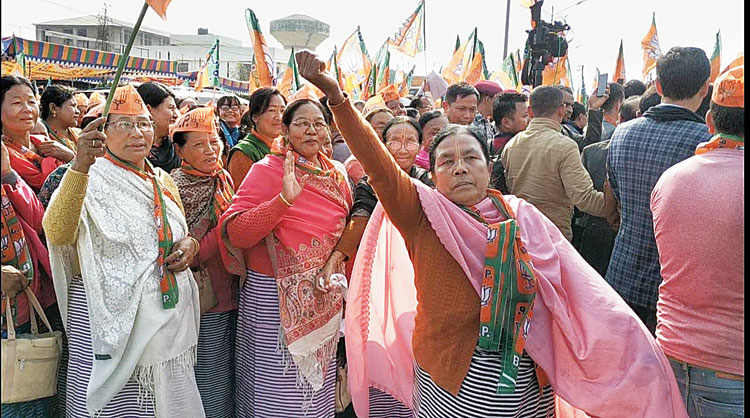 People in Imphal rejoice after the implementation of the ILP in Manipur on Wednesday.
Picture by Robert Sapam
---
Imphal
|
Published 11.12.19, 09:02 PM
|
---
 Manipur rejoiced with Parliament calling for implementation of inner-line permit (ILP) system to curb influx in the state.
Chief minister N. Biren Singh displayed the official Gazette of India Extraordinary Proclamation on Wedn-esday issued by the ministry of home affairs with assent from the President's office on the Adaptation of Laws (Amendment) Order 2019, regarding the ILP under Clause 2 of Article 372 of the Constitution.
Biren Singh made the formal announcement of ILP system in the state under the Bengal Eastern Frontier Regulation, 1873, at his office on Wednesday.
"There was a lot of confusion regarding issuance of an official statement regarding ILP, but I am proud today to say this and show people that the ILP system has become a reality," he said.
The landmark announcement by home minister Amit Shah on the floor of House regarding implementation of ILP system in Manipur, brought joy with the state government declaring a public holiday on Tuesday. However, most people stayed away from celebrations against the backdrop of the bandhs and protests in rest of the Northeast against the bill.
Indigenous people of the Northeastern states are scared that the entry of outsiders will endanger their identity and livelihood.
However, there were reports of a section of people taking to the streets performing thabal chongba (dance) .
The ILP came into effect in Manipur from Wednesday for the protection of indigenous people of the state.
Former chief commissioner of Manipur Himmat Singh abolished it in 1950.
There was anxiety on the state government's side regarding the ILP system as the bill was tabled in Parliament.
On Monday, commissioner of power, information and public relations and special secretary home Kh. Raghumani Singh, issued an order declaring that people should celebrate announcement of ILP in Parliament.
He suggested that photographs of Prime Minister Narendra Modi and home minister Amit Shah be displayed for implementation of the ILP system.
The general administrative department also issued an order by under secretary Sunanda Thokchom declaring a holiday on Tuesday in all government offices and institutions regarding "comeback" of the ILP in the state.
The Manipur People Against CAB withdrew its agitation on Monday.