Love & warmth for feathered friends
Green Bud on a mission to protect birds from severe cold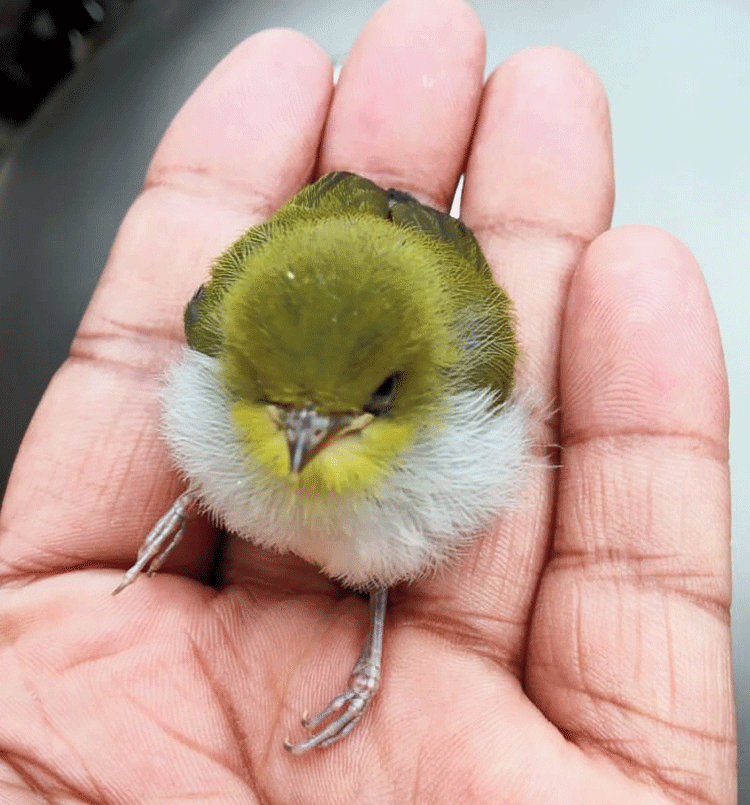 A rescued warbling white eye bird
Pictures by Manoj Kumar Ojha
---
Doomdooma
|
Published 28.12.19, 09:03 PM
|
--- Chirp! Chirp! Hurt in harsh winter? Do not worry. Green Bud is here.
Green Bud, a wildlife NGO, has come forward to rescue birds and animals in Assam and neighbouring Arunachal Pradesh hit by biting cold.
"In this harsh winter, we decided to help birds which fall off trees unable to bear the cold when the mercury is hovering around 10 degrees Celsius, which are hurt by trains or vehicles because of poor visibility due to fog and mist, which cannot locate their nests and fall prey to hunters. Deforestation worsens their condition," the organisation's secretary Devajit Moran said.
"So far, our team has rescued 24 warbling white-eye birds, seven Asian barred owlets, a black-backed forktail, a greater flameback, a white-breasted kingfisher, a hornbill, a common kingfisher and a black-hooded oriole from different parts of Upper Assam. We released them after proper treatment near the foothills of the Patkai mountain range and at Maguri and Motapung beels," he said.
Winter in the Northeast is severe this time. The mercury has slid by many degrees over the last fortnight and could dip further in the next few days. A cold spell is sweeping across Upper Assam and neighbouring Arunachal Pradesh.
Moran said: "We put on winter wears to protect ourselves from cold, but our winged friends, whose bodies are fragile, have to battle against extreme cold caused by climate changes and wanton felling of trees. The birds lose their natural habitat as a result of deforestation which poses a threat to the entire ecosystem.
"Our team has been working in some parts of Arunachal Pradesh also. They have rescued several squirrels, sparrows, Indian vultures, slow loris and monkeys in Lower Dibang Valley, Upper Dibang Valley, Namsai, Lohit, Anjaw, Tirap, Changlang and Longding districts," he added.
"I appeal to wildlife rescue and rehabilitation organisations and Wildlife SOS to protect birds and animals from this harsh winter, to save these poor creatures from death and help these innocent creatures brave the cold. I also appeal to the foresters to intensify their night patrol not only in the popular Kaziranga and Manas National Parks but in other reserve forests and parks as well so that wildlife smugglers and poachers cannot take advantage of the cold season," Moran said.
A senior forest official said their teams have intensified vigil in wintrt nights.
"Protection work demands regular patrol and we are doing our best," he said.