Sons defend country, parents labelled 'foreigner'
The association said it would challenge the local verification officer's report on the basis of which the tribunal had labelled them foreigners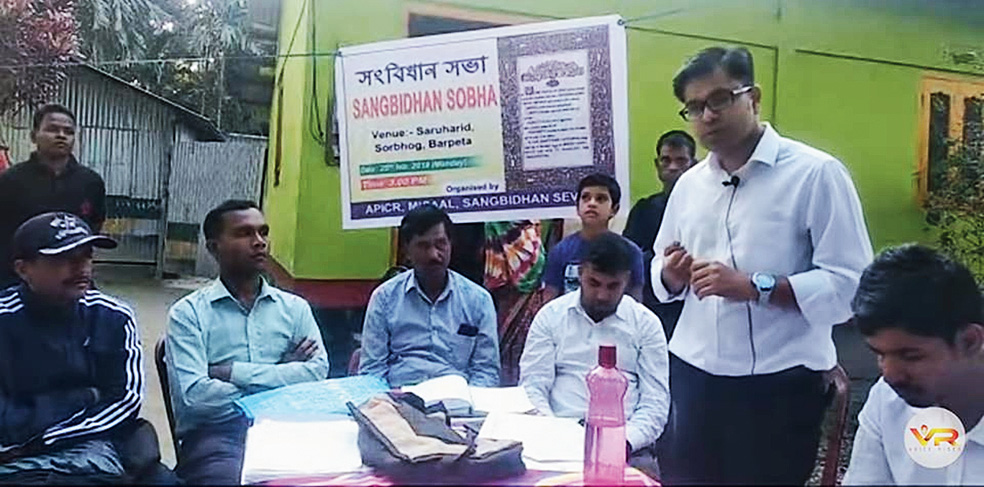 The sambidhan sabha at Saru Harid in Barpeta.
The Telegraph picture
---
Guwahati
|
Published 26.02.19, 06:57 PM
|
---
The Association of Protection for Indian Citizenship Rights, a lower-Assam based group, will take the legal route to help six families from Saru Harid in Barpeta district, who are labelled "foreigners" despite their sons serving in the defence forces.
The association said every year, 10 to 15 youths from the village join the army, CISF and CRPF. Yet six families whose members have served as jawans have been accused by a foreigners tribunal based on a reference case filed by the border police.
The association said it would challenge the local verification officer's report on the basis of which the tribunal had labelled them foreigners.
Association members and human rights lawyers, who organised a sambidhan sabha (constitutional session) in the village on Monday, said the cases were filed in 2003.
"We will challenge the LVO report in Gauhati High Court and we are even willing to take the matter to the Supreme Court. In 2003, a reference case was filed against the six families with members in the defence forces, based on the LVO report, and we want to challenge it in court," said Shajahan Ali Ahmed, APICR general secretary.
Azit Ali, 27, an army jawan posted in Delhi, said, "It was only a couple of days ago that we got to know that my entire family has been declared foreigners. I joined the army in 2012 and there was no problem surrounding my nationality then. Last year, when the final draft of the NRC came out, our names were put on hold. It was around February when I had come to my village on leave that we came to know that a case had been filed against us in 2003. We were told about it by the authorities. There was no notice served. My father attended the sabha on Monday."
Another prominent case is that of Sahidul Islam, a subedar who served in Baramulla and Siachen. Islam, who is posted in Calcutta, received a notice from foreigners tribunal 11 at Sarbhog in Barpeta district in October last year. A reference case was made against Islam and three of his family members in 2003.
"Islam is contesting a case at FT 11. The border police filed a case against him in 2003. The names of two of his brothers, who serve in the CISF and in the army, and their father who passed away in 2005, were also mentioned in the reference case," Ali Ahmed said.
In another case, naib subedar Abdul Halim, whose mother was accused of being a foreigner twice but later declared an Indian, has been asked to prove her citizenship again.
Saru Harid is proud to send its sons to join the army and paramilitary forces every year. Thus, the accusation of its inhabitants being "foreigners" really rankles. And justifiably so.