Letter to Ranjan Gogoi for help
Signatories include activists, scholars, writers, journalists, academicians, advocates, and students among others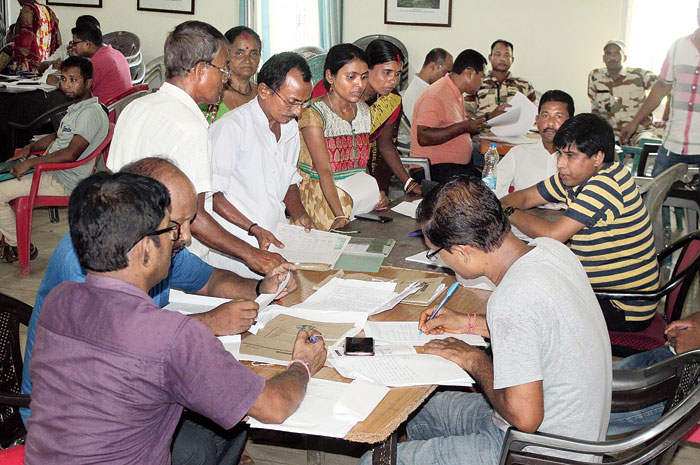 ---
Guwahati
|
Published 07.08.19, 07:35 PM
|
---
Around 131 personalities from Assam have signed a letter written to Chief Justice of India Ranjan Gogoi claiming the fresh notice for verification by the National Register of Citizens (NRC) authority was "suspicious" and "mischievous" and violating the apex court's direction.
The signatories include activists, scholars, writers, journalists, academicians, advocates, students and retired professionals, among others.
After multiple accidents involving vehicles ferrying applicants to Upper Assam towns for hearings and the death of an elderly woman owing to heatstroke in Nagaon while attending a hearing, the letter requested Justice Gogoi to direct the NRC authority to re-schedule hearings in convenient locations for those who were unable to attend them, provide a week's time for such applicants, to make the notices available online so that applicants working outside the state can access it and to direct the district administrations to provide boats and buses for transport of the applicants to the hearing venues.
"The NRC updating process is in its final stage and the Honourable Supreme Court of India has directed that there is no need to conduct sample re-verification. This direction was a great relief for the people of Assam and many of them moved back to their normal lives. Many people resumed their occupation in other states. Previously, all the notices issued by NRC were available online but this time, the notices are being served physically, sometimes those are delivered at the eleventh hour and thus making their lives more perilous," the letter said.
One of the signatories, former Sahitya Akademi awardee and litterateur Arupa Patangia Kalita said, "I signed the letter on humanitarian grounds. I am concerned about the people. Their lives have been made miserable." The letter on "Regarding the panicky situation created by suspicious and mischievous notices served to NRC applicants for re-verification by NRC authority in Assam" further said the people have been supporting the NRC update process and participating in the hearing and verification even at the cost of time, energy and financial resources and they are "still ready to go through further verification just for the sake of an error-free and a just NRC".
The letter pointed out that applicants, particularly those living in the riverine areas, besides having to deal with one of the worst floods in recent years and some still living in relief camps, will be unable to travel 500km to 600km to attend fresh hearings. The letter expressed doubt that many of these people will not be able to attend hearings.