KMSS prods Cong to intensify opposition against citizenship bill
Voices continue to rise in protest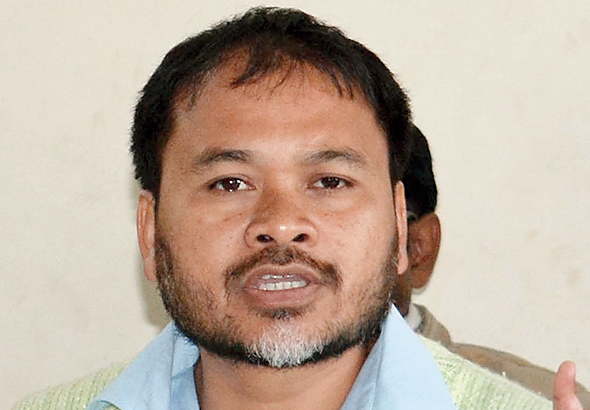 KMSS adviser Akhil Gogoi said the bill is the Congress's greatest opportunity to reach out to the people.
The Telegraph file picture
---
Guwahati
|
Published 13.01.19, 06:46 PM
|
---
The Krishak Mukti Sangram Samiti (KMSS) on Sunday told the Congress to get back its support base in Assam by fiercely opposing the Citizenship (Amendment) Bill, 2019, in the budget session of Parliament beginning on January 31.
KMSS adviser Akhil Gogoi told reporters that the bill is the Congress's greatest opportunity to reach out to the people. He said the party had failed to play a strong role in opposing the bill.
The Centre failed to table the bill in the Rajya Sabha on January 9 because of a protest by the Congress and other Opposition parties. The bill is likely to be tabled in the Rajya Sabha in the budget session.
"We have confirmed reports that the BJP is determined to table the bill in the Rajya Sabha in the budget session," Akhil said.
The bill seeks to amend the Citizenship Act 1955 to grant Indian nationality to people from minority communities — Hindus, Sikhs, Buddhists, Jains, Parsis and Christians — from Afghanistan, Bangladesh and Pakistan after six years of residence in India instead of 12 even if they do not possess any proper document.
The KMSS, along with 69 organisations, has been opposing the bill by creating public opinion against it, organising demonstrations, procession and hunger strike. The group also held a nude protest in front of Parliament.
Akhil will begin a 24-hour hunger strike from 2pm on Monday, the first day of Bhogali Bihu. Akhil said representatives of the 70 organisations will meet the leaders of Opposition parties in New Delhi to ask them to oppose the bill in the Rajya Sabha. "As the BJP could not go ahead with the Ram temple issue, it has now turned its focus on the bill. The BJP may even call a joint session of Parliament to pass the bill," he said.
Akhil requested the Srimanta Sankaradeva Sangha not to invite Prime Minister Narendra Modi for its upcoming annual session.
Akhil said the law-and-order situation in the Northeast will go beyond control if the bill is passed in Parliament. In Jorhat, chief minister Sarbananda Sonowal faced protests on Sunday for not opposing the bill. Sonowal had gone there to participate in a convocation ceremony of a private university.
Sootea BJP legislator Padma Hazarika, during a meeting in his constituency on Sunday, said, "I want implementation of the Assam Accord in toto. Everyone, no matter Hindu or Muslim, who has entered Assam after March 24, 1971, should go."
Hazarika said he was among those who suffered police torture for participating in the Assam Agitation. He said if required, he would protest in his party forum.