Jumbo back at Amchang after 16-hour ordeal
The six-year-old wild male tusker with an injured leg was on the road for about 16 hours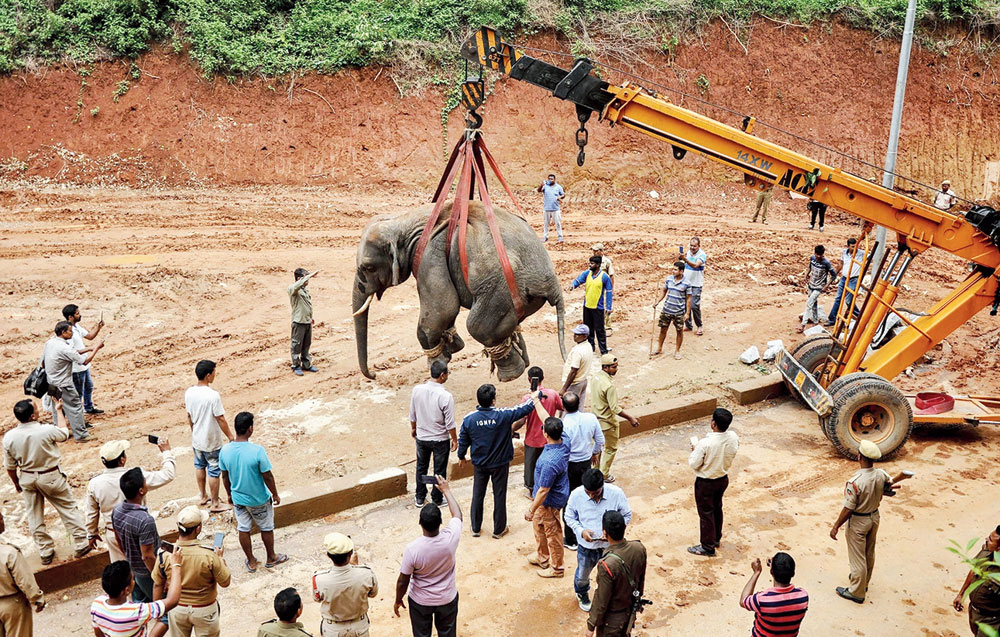 ---
|
Guwahati
|
Published 01.05.19, 06:40 PM
---
The wild elephant that strayed from Amchang wildlife sanctuary on Tuesday and strolled on the busy GS Road for several hours was captured and released in Amchang on Wednesday.
The six-year-old wild male tusker with an injured leg was on the road for about 16 hours, having covered about 20km after straying from Amchang around 5am on Tuesday, walking through Panjabari, Six Mile, VIP Road, Borbari, Hengerabari before reaching Ganeshguri on GS Road.
There was traffic snarls and public commotion when he travelled the 2km stretch from Ganeshguri to ABC. From ABC, forest personnel managed to turn him back towards Srinagar where he entered a residential campus. The elephant, however, did not harm anyone. He is believed to have come out in search of food.
Forest officials tried to tranquillise the elephant at Srinagar but the elephant did not lose consciousness.
He came out of Srinagar after midnight, walked through GS Road again and then took RG Baruah Road. Later, he was guided to the Assam zoo around 5am on Wednesday.
The forest officials treated the elephant in the zoo before tranquillising him again and carrying him in a truck to Amchang.
"The elephant was often seen around Narengi Army cantonment. He is familiar with humans," said a forest official.
Wildlife expert Bibhab Talukdar said curfew should have been imposed immediately (on Tuesday) to enable actual skilled personnel to help safely move the elephant to a safer place. "It is unfortunate we don't have a standard operating protocol despite having faced similar situations in the past," he said.
Assam has around 5,719 elephants.
Another wildlife expert, Rathin Barman, said, "It's our fault. We could not do anything about the encroachment in Amchang sanctuary and now this is the result. It will only turn worse if we don't save our forests."
Assam forest minister Parimal Suklabaidya thanked the officials of the forest department, Guwahati police, district administration and experts involved in the process of safe return of the elephant.
He has asked the department to find out why the elephant strayed from Amchang and take measures so that such incidents do not recur in the future.