Jadav Payeng moots annual weeklong lockdown celebration
'If people stay at home for a week, there will be less crowd on streets, less cars, less pollution'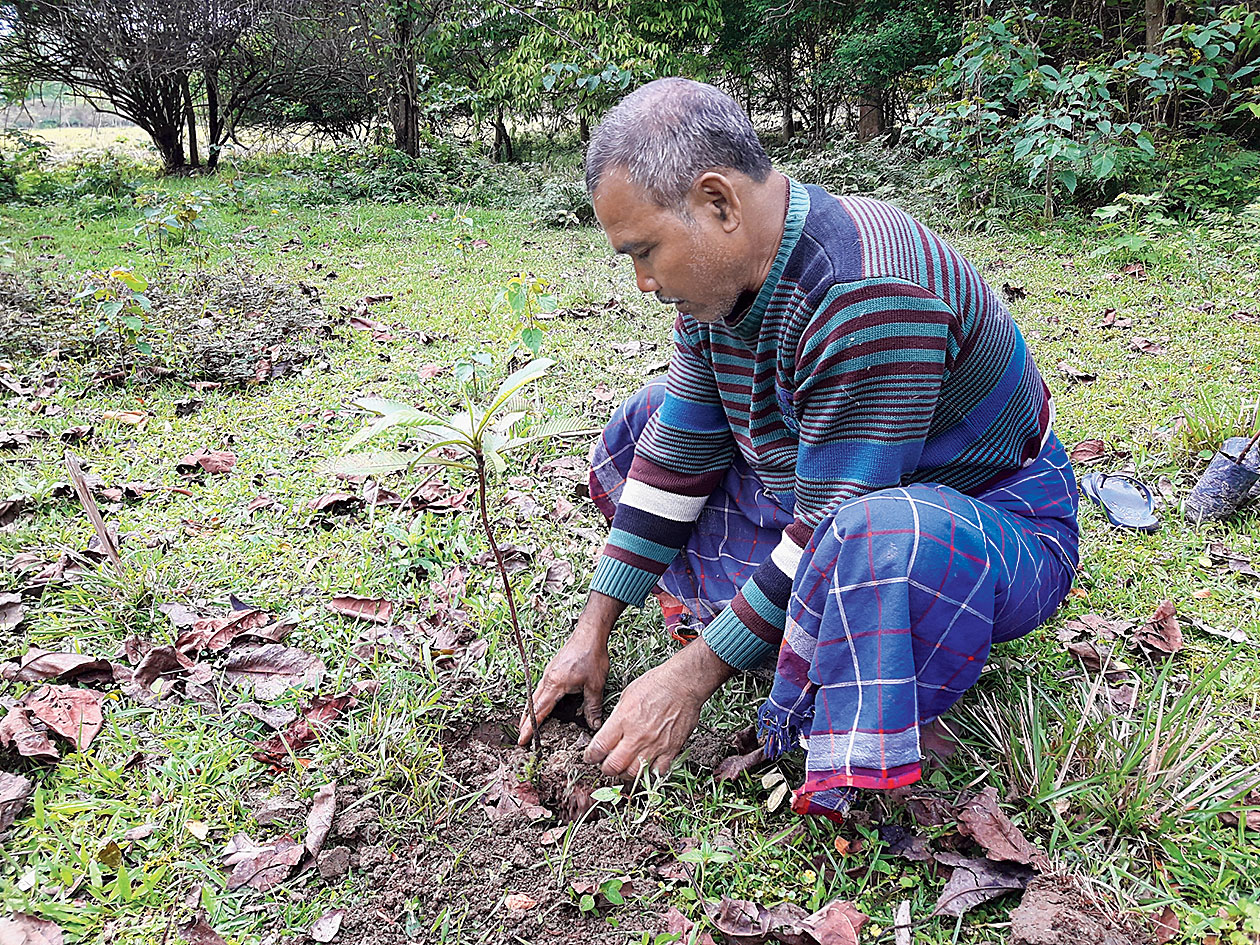 Jadav Payeng plants a sapling at Molai Kathoni on Wednesday.
Picture by Neelim Akash Kashyap
---
Nalbari
|
Published 22.04.20, 11:11 PM
|
---
Padma Shri Jadav Payeng, popularly as the "Forest Man of India", has appealed to the masses to observe a seven-day lockdown as an annual festival.
In his message on Earth Day on Wednesday, Payeng told this correspondent, "If citizens observe a 'lockdown festival' yearly, it will be a big step towards rejuvenating Mother Earth."
Earth Day is an annual event celebrated around the world on April 22 to demonstrate support for environmental protection.
First celebrated in 1970, it now includes events coordinated by the Earth Day Network in more than 193 countries.
According to Payeng, the festival may be seven-day long. He said this would be a different kind of festival where one would have to stay at home.
"If people stay at home for a week, there will be less crowd on streets, less cars, less pollution. This will give a chance for the environment to rejuvenate itself," he said.
Welcoming the nationwide lockdown, Payeng said, "The ongoing lockdown will help arrest spread of coronavirus, as well as will help to spread the greenery."
Payeng is an environment activist and forestry worker from Majuli island in Assam. He has planted trees on Molai Kathoni, a sandbar on the Brahmaputra, turning it into a forest reserve.
'This forest is my life. I plan to plant minimum 1,000 saplings at Molai Kathoni during the lockdown. I appeal to all to plant at least one sapling during this period. If every citizen plants a sapling, it will make nature more beautiful."
1963-born Payeng said he had planted 600 saplings on the eve of Earth day. "I promise to keep all of them alive. A tree can give us life. A tree gives us free oxygen. Only a green environment has the power to save the earth where we live," he said.
Molai Kathoni, the forest made by Payeng, is located near Kokilamukh of Jorhat in Assam. The forest is spread across nearly 1,360 acres land. Payeng said he had started the "journey" by planting around 20 bamboo seedlings in 1979. In the same year, Golaghat district social forestry division launched a tree plantation plan on around 200 hectares of land at Aruna Chapori, near Kokilamukh, where Payeng was appointed as a labourer.
After the project, Payeng also started to plant trees in Molai Kathoni with an aim to transform the area into a forest. Now Molai Kathoni is home to several wild animals, birds and trees.
It may be mentioned that Sudhir Kumar Sopory, vice-chancellor of JNU named Jadav Payeng as the "Forest Man of India".
Papon song: On Earth Day popular singer Papon released a new song titled "Paar hobo aei xomoy (This time will pass)" online on YouTube channel.
"I did everything _----- from writing the lyrics to the last touch of editing the video, during the lockdown," he added.
The Assamese lyrics was written by the singer himself, while the English subtitles were given by Preetom Borah. Papon said, "This is a song I created, performed, and even shot the video on my own during this lockdown. I hope it will be a sweet song! Something, I never imagined of doing all by myself. This lockdown period has taught us a few extra things."
According to the singer, the song reflects how to hold on to hope and faith even when all the odds are against anyone.
Meanwhile, before releasing the song on YouTube on Wednesday, Papon went online for a three-day live concert on Facebook, Instagram and YouTube at the very time of Rongali Bihu which went viral.