Institutions in Assam wilt in the heat
Have schools but no electricity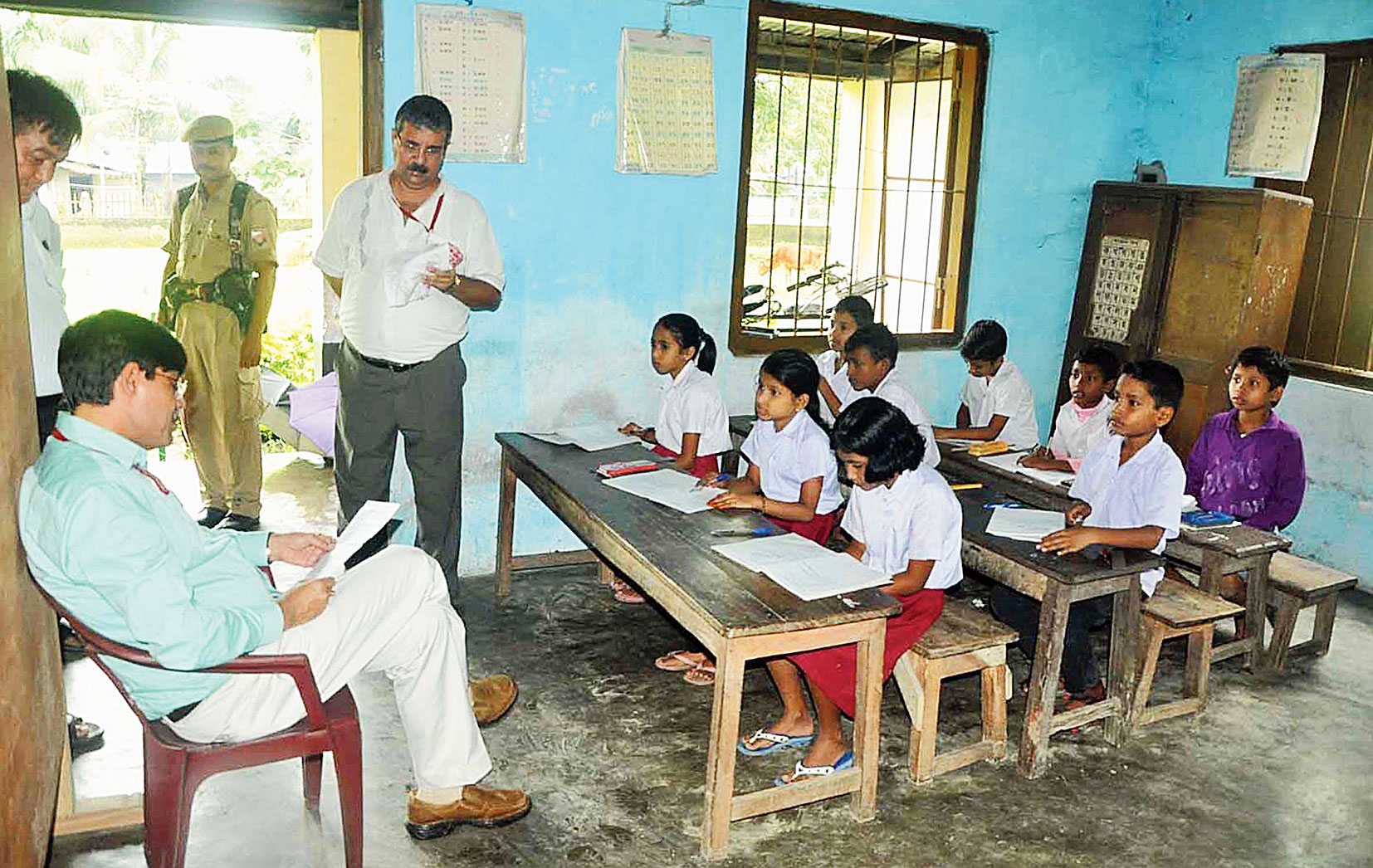 A primary school in Assam
Telegraph file picture
---
Guwahati
|
Published 22.08.19, 07:10 PM
|
---
Children in 86.57 per cent of government primary schools in Assam do not even have the minimum comfort of a fan in this unbearable heat as their schools do not have electricity connection.
A report prepared by the National Institute of Educational Planning and Administration (NIEPA), set up by the ministry of human resource development, says with only 13.43 per cent of its primary schools having electricity connection, Assam ranks the lowest among all states. The all-India average is 54.97 per cent.
The revelation comes at a time when the Centre and the state government are harping on illuminating every household with electricity and more and more government offices are opting for the comfort of air conditioners.
Although Dispur declares summer vacation in schools in July, the heat continues to grip the state throughout August. According to the Regional Meteorological Centre here, the maximum temperature in Assam in the past 24 hours was over 30 degrees Celsius. It was 37 degrees Celsius in Guwahati, 34 degrees Celsius in Dibrugarh and Tezpur, 35 degrees Celsius in Silchar and 35 degrees Celsius in Dhubri and Jorhat.
Although the report, made available recently, was prepared based on data collected till September 30, 2016, a senior state government official said the situation had hardly changed in the past two years.
"At present, the Assam education department does not have any scheme to provide electricity connection to schools," a senior official of the state education department said.
The general secretary of Assam Rajyik Prathamik Sishak Sanmilani, Ratul Chandra Goswami, said in 2015, Dispur had provided Rs 14,000 each to some schools to install electricity connection. "After that no such funds have been given," he said.
If a school wants electricity connection, then the school management committee depends on donation or support from parents. Moreover, the government does not pay the electricity bills of the few schools which do have power connection. The principal of a school in Sivasagar district of Upper Assam said, "Our school does not have electricity. From where will we arrange money for getting the connection and subsequently pay the bills? Some students bring bamboo hand fans to get respite from the heat. There is no other way but to learn to live with the heat."
States with highest electricity connection in schools include Andhra Pradesh, Delhi, Gujarat, Haryana, Himachal Pradesh, Karnataka, Kerala, Maharashtra, Punjab, Tamil Nadu, Telangana and West Bengal.
Assam is also at the bottom of the list of primary schools having electricity and computers, with 0.30 per cent, when the all-India figure, according to the report, is 9.57 per cent.