Illegal arms worry for Assam cops
Trends highlight that the movement of illegal arms has shifted hands from insurgents to criminals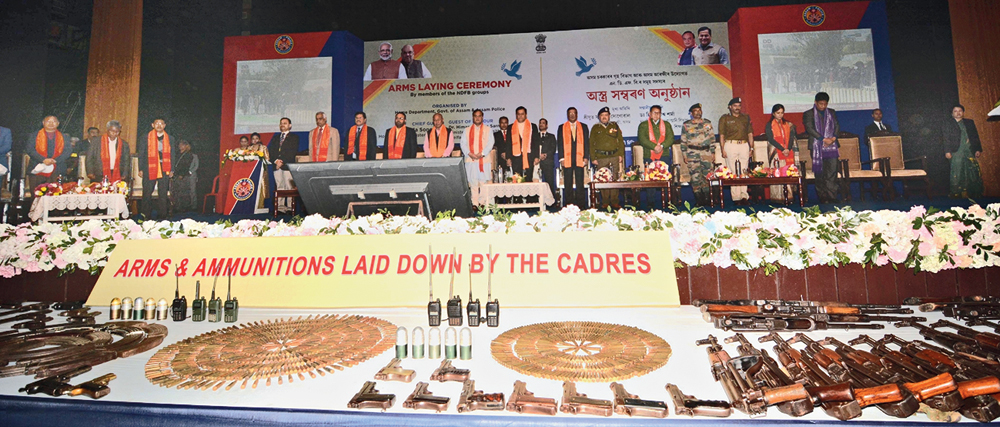 ---
|
Guwahati
|
Published 03.02.20, 07:48 PM
---
Despite most militant groups in Assam having laid down arms over the last couple of years, the latest being the four NDFB factions, availability of arms among criminals continues to be a concern for state police.
In 2018, security agencies in Assam had seized at least 305 arms and 2,342 rounds of ammunition, mostly from criminals, according to the latest National Crime Records Bureau (NCRB) report.
"Of the total seizures, 163 illegal arms were seized from criminals and 119 from anti-nationals or militants. Similarly, 862 rounds of unlicensed bullets were seized from criminals and 359 rounds from anti-nationals. Besides, 23 licensed arms and 1,121 rounds of licensed ammunition were seized," a police official said.
Till May last year, the state police had recorded 117 cases under the Arms Act, he added.
Trends highlight that with most rebel outfits either declaring ceasefire or laying down arms, the movement of illegal arms has shifted hands from insurgents to criminals.
A police investigation has revealed that arms smugglers of the region use the railways to transport illegal arms and ammunition. More than arms, they smuggle ammunition, especially of the AK-series rifles, via the railways.
"Of the 11,824 rounds of ammunition seized by the Government Railway Police (GRP) since 2012, at least 970 rounds have been of AK-47 assault rifle. Besides, there have been 391 rounds of ammunition of 9mm pistols followed by 126 rounds of ammunition of 7.62 pistols and 120 rounds of ammunition of 7.65 pistols," a GRP source said.
Besides, ammunition of bore guns, Insas rifles and others weapons have also been seized.
It was also found that most of the arms and ammunition seized in the state were made in China and those have been entering the state from Dimapur in Nagaland, known for its thriving underground market of illegal arms and ammunition.
"The consignments of such arms and ammunition were sent unattended. Some 'ghost' carriers, having information of its whereabouts inside the train, collect them at Guwahati or other railway stations from where these items reach their destinations. Payments are made through hawala network, a traditional word-of-mouth banking where a customer transfers funds without any transaction record," the GRP source said.
The state government has been trying to reach out to the militant outfits of the region to invite them to join peace talks.
In January alone, at least 2,259 militants of at least eight outfits, including the four factions of the National Democratic Front of Boroland (NDFB) and the Paresh Barua-led Ulfa (Independent), have surrendered before chief minister Sarbananda Sonowal. They also surrendered some 355 sophisticated weapons, including AK-series rifles, snipers, Heckler & Koch, SLR rifles, besides hundreds of ammunition and explosives.
On Monday too, Sonowal, while visiting the Krishnaguru Sevashram in Barpeta district of lower Assam, said, "We want Ulfa (I) chief Paresh Barua and his faction to join the peace talks like the other militant outfits. We are sure to hold a discussion with dignity to bring peace in Assam."