Hornbill Fest, Russia's V-Rox join hands
Nagaland event goes international to boost art & culture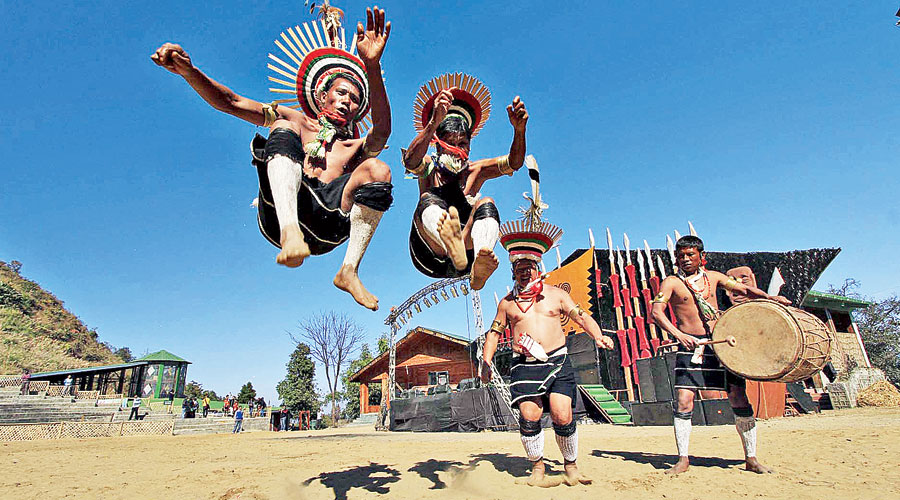 Zeliang Naga tribals perform a traditional dance at the Hornbill Festival.
File picture
---
Guwahati
|
Published 05.08.20, 02:33 AM
|
---
The Northeast's leading cultural and musical extravaganza, the Hornbill Festival of Nagaland, and Russia's V-Rox Festival have joined hands to explore avenues and platforms for the exchange of music, art, and culture.
Chief minister Neiphiu Rio broke the news about the international collaboration on his Twitter handle on Monday.
Rio, an official said, has been trying to promote music as an industry since 2004 with the launch of a music task force, rechristened the Task Force for Music & Arts (TaFMA) in 2019, because of the latent musical talent in the state.
Last year, TaFMA tied up with the A.R. Rahman Foundation, which is grooming 20 young musicians to become music leaders of the future.
Rio tweeted, "I am happy to know that V-Rox Festival — Vladivostok, Russia and Hornbill Music Festival, Nagaland, India, will be festival partners. Congratulations and I hope the collaboration will foster bilateral interest in music, art and culture and will be enriching for both the countries."
Rio had tagged among others the TaFMA, an arm of the Nagaland youth services and sports department, its adviser Theja Meru, the adviser to chief minister Rio, Abu Metha, and the Indian Council for Cultural Relations (ICCR). All of them had played a key role in the success of the 2019 edition of the Hornbill Festival, an official said.
The partnership with V-Rox, those associated with festivals, such as Meru and Metha, said will not only further boost the brand Hornbill Festival but also provide the talented musicians from the state an international platform to showcase their talent.
The annual 10-day Nagaland government-sponsored Hornbill Festival is held at Kisama, about 12km from state capital Kohima, from December 1. It showcases the best of Naga culture, arts and music.
Last year, it had a record footfall of 2.69 lakh visitors, both foreign and domestic, and generated revenue of about Rs 100 crore against a budget of Rs 5 crore, an official said, adding the growth of the festival will positively impact the local economy.
The Hornbill music festival, key component of the overall festival, has over the years seen performances by leading international and Indian acts such as Smokie, Boney M, Halloween, Indus Creed and Parikrama.
Held since 2013 around August, V-Rox, on the other hand, is an open international cultural festival held at Vladivostok, a port city in Russia, showcasing street art, music, gastronomy and sports to crowdfunding platforms and new music streaming, Meru said. Hundreds of artistes, painters and musicians from across world attend the festival.
Both V-Rox and Hornbill festivals are annual calendar events with similar objectives of promoting music, arts and culture, Meru added.
"I am personally very excited. This tie-p is to work closely for an exchange of ideas, musicians and artistes. In the days to come, we will look at how we can maximise cultural and music exchange programmes not only during the festival dates but also beyond. Culture and music are dynamic and there is always something new to learn from each other," Meru, 50, an accomplished musician, told The Telegraph.
An official said collaboration with other leading music festivals of the world is also being explored so that "our musicians get an opportunity to learn and thrive". There are also plans to stage the Hornbill Festival in other states.
Nagaland's association with V-Rox festival began in 2017 when its band Rattle and Hum was first invited to perform, the initiative supported by the ICCR.
"Since then we have always been in touch and felt it was a right time to enter into an agreement to support and promote each other. This collaboration with V-Rox could be a game-changer," Meru said.