Healthcare plea to private hospitals
All non-governmental hospitals have refused to implement Mizoram State Health Care Scheme, says Lalengmawia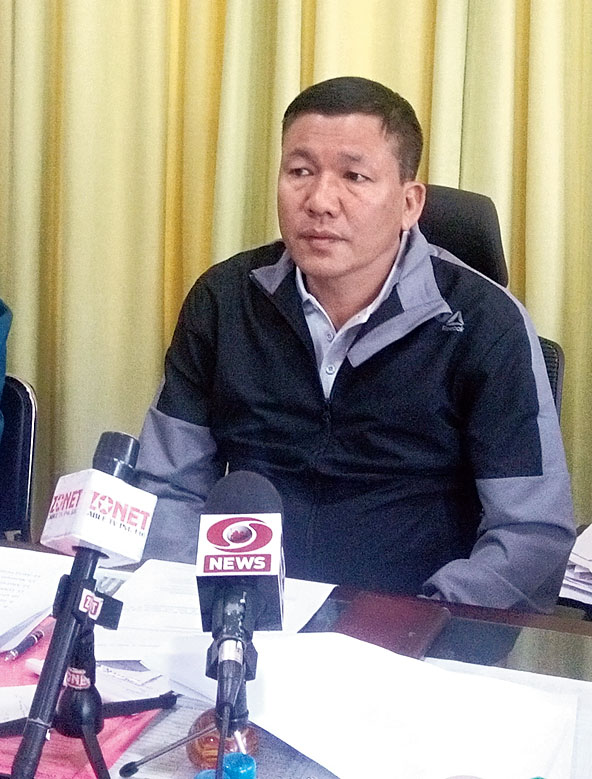 H. Lalengmawia in Aizawl on Saturday
Picture by Henry L. Khojol
---
Aizawl
|
Published 07.12.19, 08:04 PM
|
---
The Mizoram government on Saturday appealed to all private hospitals to implement the state healthcare scheme.
Speaking to reporters here on Saturday, state health secretary H. Lalengmawia said the government has held meetings with managements of private hospitals several times and they agreed to charge patients as per the notified rate of the government.
"However, all non-governmental hospitals have recently informed their inability to adhere to the notified rate and refused to implement Mizoram State Health Care Scheme," Lalengmawia said.
On Friday, the Non-Government Hospitals Association of Mizoram (NGHAM) had appealed to the state government to allow them to use their existing rates for patients, saying that the government should give medical reimbursements to patients in keeping with its norms.
Lalengmawia said the appeal was unacceptable as patients have to pay additional charges, beyond their medical reimbursements, if private hospital follow their own rates. He said the main objective of the government was to provide full medical assistance to the people.
Lalengmawia said the government was trying its best to increase accommodation and staff in government hospitals as the number of patients in government hospitals was likely to increase following the withdrawal of empanelment of private hospitals.
"Additional beds will be provided in all government hospitals and all urban health centres and public health centres will accommodate patients," he said.
He further said that all government doctors, nurses and medical staff on leave, barring those who took leave on medical ground, would be called back to join duty.
Lalengmawia said the government would implement Clinical Establishment Act from January. According to the act, no government doctor will be allowed to work in private hospitals.
The government had, on Wednesday, suspended empanelment of over 15 private and Church-sponsored hospitals.
The NGHAM alleged that the government was forcing them to use an imposed notified rate.