Hail spirit: Helpin' hand for sanitizers
The WHO and the central and state governments have suggested hand hygiene and social distancing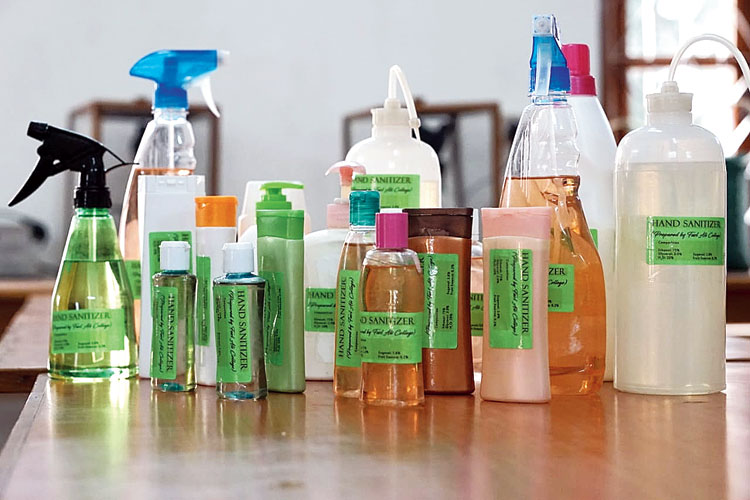 ---
|
Guwahati
|
Published 18.03.20, 09:23 PM
---
Is "out of stock" the only message you see everywhere when looking for hand sanitizers?
The Wildlife Genetics Laboratory of Aaranyak and other scientific institutions in Northeast have taken Plato's maxim, "necessity is the mother of invention", to heart and are encouraging their community in the region to produce hand sanitizers.
The World Health Organisation and the central and state governments have suggested hand hygiene and social distancing as the first line of defence against coronavirus. Frequent hand washing with soap and use of hand sanitizers are the two measures suggested. However, there is a shortage of hand sanitizers due to the sudden increase in demand.
Hence, the laboratory has produced hand sanitizers for office space and personal use. "The formula is as per WHO recommendations. Hand sanitizers and frequent hand washing, facemasks and social distancing are the first line of defence against Covid-19. Keeping in view the shortage of hand sanitizers we decided to make our own and provide for office and personal use," Udayan Borthakur, a wildlife geneticist at Aaranyak, told The Telegraph.
"The formulation consists of chemicals like ethanol, glycerol and hydrogen peroxide. It can be prepared in a very basic facility and a relatively clean and sterile environment," he said.
He said, "While this is not a commercial production, we will try to make sanitizers available to our staff for continued use in office space. We believe this practice should be adopted by every institution having a basic laboratory facility, at least for providing hand sanitizers to the closed community, if not for mass distribution. This can be made in any basic laboratory, like college labs. We should encourage making this at the local level."
He said 30 to 40 minutes are needed to make one to five litres of sanitizer.
The department of botany and chemistry, Fazl Ali College, in Mokokchung, Nagaland, is preparing hand sanitizers as well. "The product is five times cheaper than the commercial variant. It was packed in recycled cosmetic dispensers collected from the college fraternity, sterilised by autoclaving and distributed to the district administration, religious places and hospitals. It will be distributed to banks, commercial vendors and traffic police personnel. The college has the capacity to produce 200 litres of hand sanitizers per day," said P. Tiatemsu, assistant professor, botany, Fazl Ali College.
Kohima Science College is also working to produce hand sanitizers. "Necessity is the mother of invention — with every crisis also comes opportunities — an avenue for Made in Nagaland product," it tweeted. The chemistry laboratory of Government Polytechnic Seithekema, Dimapur, has also prepared hand sanitizers.