Golden langurs find home in Assam
Conservation centre for endangered primates in Chirang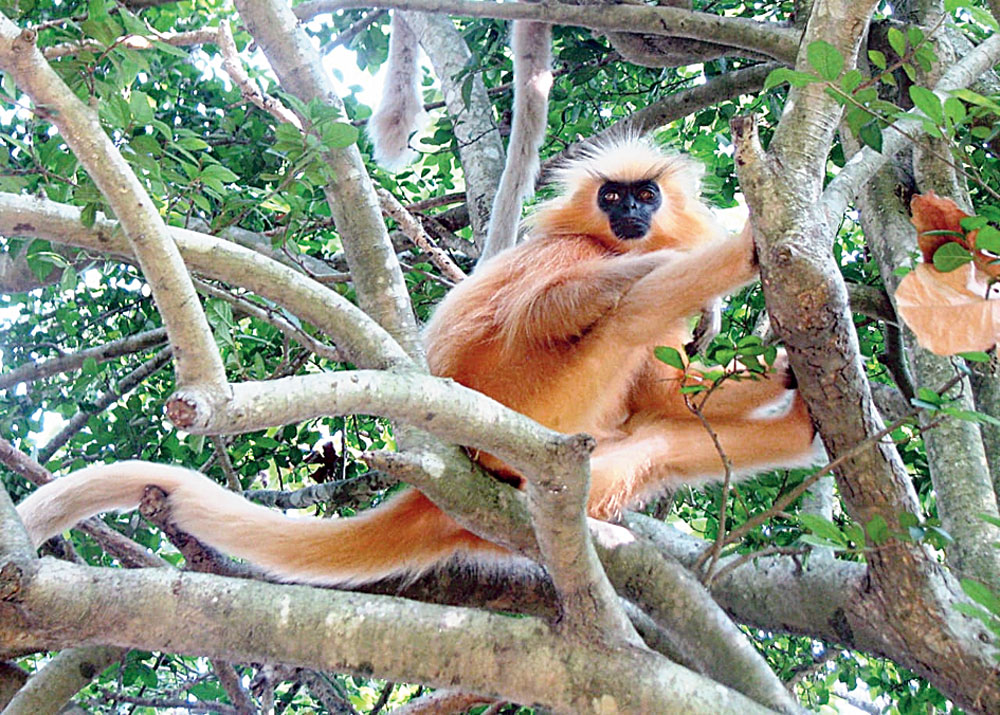 ---
Guwahati
|
Published 29.10.18, 06:57 PM
|
---
Golden langur, which are on the list of 25 most endangered primates of the world, have finally got a secure landscape of their own.
Villagers from 19 fringe villages, comprising an area of 23 square km, which is a contiguous forest patch having Manas National Park on the west and Royal Manas National Park of Bhutan on the north, have extended their support for the creation of Golden Langur Habitat Conservation.
On Monday, the first boundary pillar and welcome signage, Habitat Conservation of Golden Langur, was erected and the demarcation process of the area was started.
An event was organised at Salbari, a fringe village under Chirang district of the Bodoland Territorial Council (BTC). Officials of the Assam forest department, BTC, village-level committee, representatives of women's organisations and members of local NGOs attended the event.
The participants took an oath to conserve and protect the area for golden langurs, which is the official mascot of the BTC government.
The project was conceived by New Horizon, a community-based organisation, under the guidance of Chirang forest division, BTC and supported by the Wildlife Trust of India (WTI) and its international partner, International Fund for Animal Welfare (IFAW).
"Forest resources are facing immense threat from encroachment across Assam. In such a situation, an initiative taken by the community, the forest department and NGOs has come as a welcome step in Chirang reserve forest under Manas tiger reserve," WTI coordinator Bhaskar Choudhury said.
The International Union for Conservation of Nature (IUCN) has put the golden langur, found only in India and Bhutan, on the list of 25 most endangered primates.
An ICUN report, Primates in Peril (2016-18), released last year, had said habitat threat to golden langurs will worsen considerably despite a number of initiatives. The golden langur (Trachypithecus geei), discovered in 1953, is distributed over 2,500sqkm bound by the Manas river in the east, the Sankosh in the west and the Brahmaputra in the south. In Bhutan, it is distributed over 4,782sqkm. Golden langurs primarily inhabit wet evergreen and tropical semi-evergreen forests.
Choudhury said the villagers have agreed not to allow any encroachment in the area.
He said the area demarcation will be completed by the forest department soon in support of the fringe villagers.
"Subsequently, a proposal to declare the whole area a conservation reserve will be moved to the State Wildlife Board, Assam. The area, if approved by the board, will be the first conservation reserve in the state and also in the region," he said.