Gauhati HC directs Assam govt to submit action-taken on detention centres
Justice Achintya Malla Bujor Barua passed the order after hearing three petitions challenging illegal detentions and designating district jails as detention centres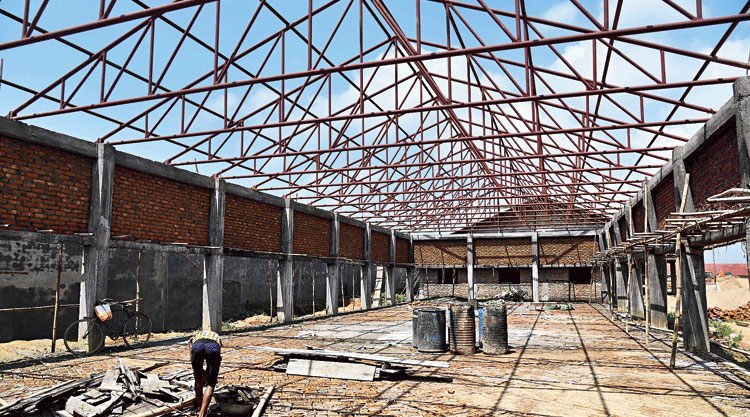 ---
|
Guwahati
|
Published 10.10.20, 02:47 AM
---
Gauhati High Court has directed the Assam government to submit an action-taken report by October 16 on steps taken to set up detention centres "outside" jail premises.
Justice Achintya Malla Bujor Barua passed the order after hearing three petitions challenging illegal detentions and designating district jails as detention centres where suspected illegal foreigners are kept and declared illegal foreigners are lodged till they are deported, among others.
"We require the authorities in the State Government, Home and Political Affairs to submit an action taken report within the next returnable date on the steps that have been taken to set up detention centre outside the jail premises and if necessary by following the requirement of the two communication dated 07.03.2012 and 10.09.2014 as well as the Clause 4.1 and 4.4 of the model manual which requires that if suitable government accommodations are not available for the purpose, the authorities may also be required to hire any private premises for the purpose," the order said.
The Union ministry of home affairs had issued the two communications on March 7, 2012 and September 10, 2014, to the states and Union Territories.
The order copy was uploaded on the high court website on Thursday evening. Senior advocate Nilay Dutta represented the petitioners.
There are six detention centres at Tezpur, Silchar, Dibrugarh, Jorhat, Kokrajhar and Goalpara, all housed inside jails. The first one opened in 2009 following a high court order in a 2008 illegal migrant case.
On September 1 this year, the state government had informed the Assembly that there are 425 detainees lodged in the detention centres. Tezpur has 140 detainees followed by Goalpara (98), Jorhat (83), Kokrajhar (47), Silchar (43) and Dibrugarh (14).
Justice Bujor Barua has cited the Supreme Court order in the Bhim Singh (Supra) case which "clearly provided that the detenues be kept at an appropriate place with restricted movements pending their deportation/repatriation and the places where they are to be kept may be detention centres or whatever name such places are called but must have the basic facilities of electricity, water and hygiene etc".
Clause 4.1 of the model manual prepared by the home ministry states that detention centres/holding centres/camps shall be set up outside the jail premises while clause 4.4 says pending acquisition of land and construction of building, state governments and Union Territories may consider hiring of suitable accommodation for this purpose.
In case of non-availability of government buildings, the administration may look at hiring a private building, subject to production of non-availability certificate and rent assessment by the central public works department or state PWD. If it is decided to hire a private building for the centre/camp, it may be ensured that all existing codal formalities under general financial rules are strictly followed.
The high court said "it cannot be accepted" that the respondents can still rely upon a September 2018 communication to project it would be permissible to declare a part of the jail premises as detention centre. The court said the September 7, 2018, communiqué is in "the nature of an enabling provision providing that in cases where the setting up of the detention centres/holding centres are pending, a specific area in the jail premises is to be earmarked for housing the foreign nationals/illegal migrants and that such earmarking of the jail premises to be the detention centres/holding centres would be purely as a temporary measure".
Based on the various ministry notifications, the court also observed that "it is discernible that more than 10 years have gone by, since a part of the jail premises in Goalpara, Kokrajhar and Silchar had been declared to be detention centres. Certainly a period of more than 10 years cannot be understood to be a temporary arrangement. Even in respect of Jorhat, Dibrugarh and Tezpur a period of 5 years is almost over which also again cannot be strictly said to be a temporary arrangement".
The court listed the matter for October 16 for submission of the action-taken report.
The Assam government is constructing a 3,000-capacity exclusive multistoried detention centre at Matia in Goalpara district, around 130km from here. The 25-bighas campus will have its own schools, hospitals and playground, among others. The detainees will be shifted to this centre, work on which started last year. There is a plan to construct 10 more detention centres, sources said.
In compliance of the Supreme Court direction in the Bhim Singh case, the home ministry had on March 7, 2012, communicated to all principal secretaries of states and Union Territories that such category of persons be released from jail immediately and they may be kept at an appropriate place outside the jail premises with restricted movement pending repatriation. The communication had also taken note of the apex court order that if such persons cannot be repatriated and have to be kept in jail, they cannot be confined to prison and be deprived of the basic human rights and human dignity.
The subsequent communication of September 09, 2014, after reviewing the state of detention centres, had taken some of the following decisions:
* All state governments/Union Territory administrations should set up sufficient number of detention centres/holding centres/camps for restricting the movement of illegal immigrants/foreign nationals awaiting deportation/repatriation after completion of sentence due to non-confirmation of nationality, under the provisions of Section 3 (2) (e) of Foreigners Act, 1946. The administrations concerned may decide on their numbers.
* Such centres/camps should be set up outside the jail premises and it may please be ensured that all the basic amenities like electricity with generator, drinking water (including water coolers), hygiene, accommodation with beds, sufficient toilets/baths with provision of running water, provision for kitchen, round-the-clock security arrangement, sentry posts and guard room, etc. are provided. There should be sufficient open space within the compound for detainees to move around in a secure environment. There should be properly segregated accommodation for male and female detainees. There should be a proper boundary wall with dense barbed wire fencing above the boundary wall. The staff posted should be well trained to ensure that the detainees are treated with due dignity. Provision may also be made for medical attendance for the detainees.