Four more Covid-19 cases in Assam
Assam has so far tested 1,267 samples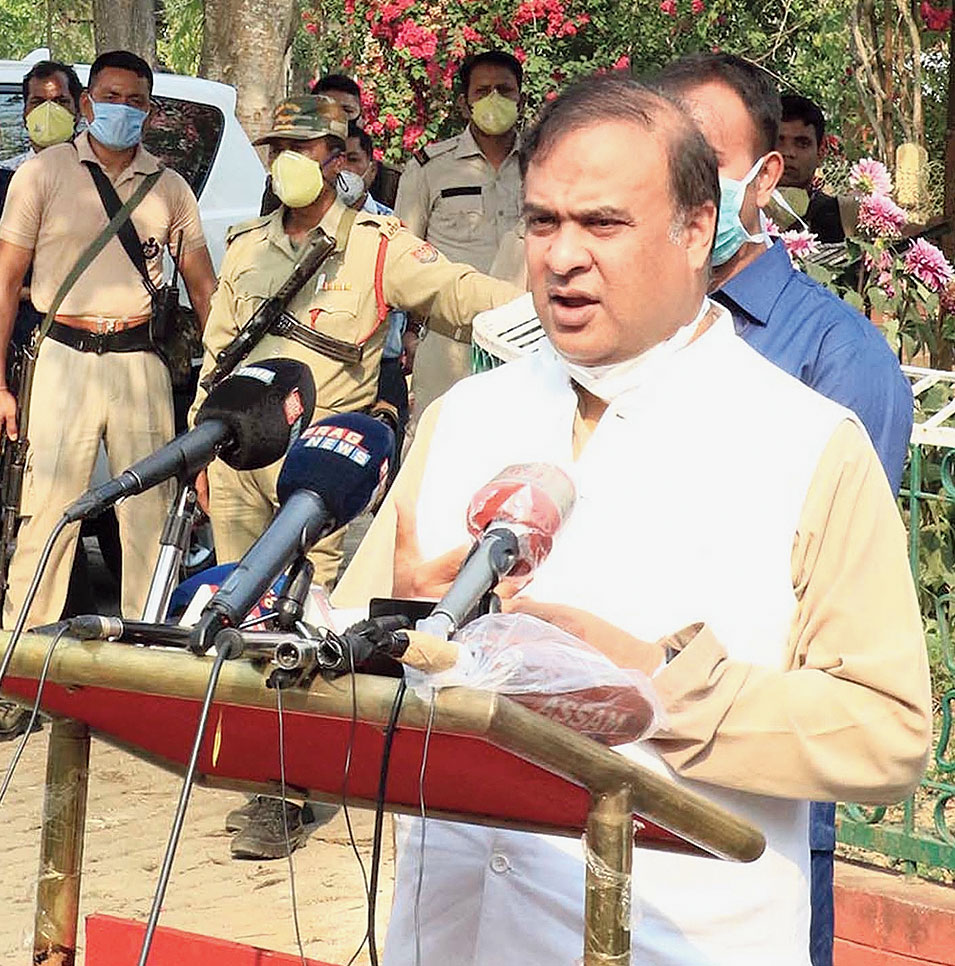 ---
|
Golaghat
|
Published 03.04.20, 09:28 PM
---
Assam reported four more Covid-19 cases on Friday, taking the total number of positive cases in the state to 20. Four persons from Assam are also being treated in New Delhi.
Assam health minister Himanta Biswa Sarma tweeted: "Four more patients have been found Covid-19 positive. Three of these are from Nalbari and one is from South Salmara". All the four were associated with the Tablighi Jamaat congregation held at Nizamuddin in New Delhi last month, he added.
Assam reported its first Covid-19 positive case in Karimganj district on March 31 and it took just four days for the number to reach 20. According to Sarma, all the Covid-19 positive persons from the state either attended the Delhi event or accompanied people who attended it.
According to government estimates, 503 people attended the religious congregation, of whom 488 were traced till Thursday. The results till Friday were reports of the samples of 361 traced people. A state health department official said the number could increase as the process to trace the remaining attendees and collecting and testing their samples was on.
Sarma told reporters in Golaghat that tracing of those who had returned to the state after participating in the Delhi event was almost complete and their tests would be completed by midnight.
The minister, accompanied by colleagues Pijush Hazarika and Atul Bora and Khumtai legislator Mrinal Saikia, visited Kushal Konwar civil hospital in Golaghat where eight Covid-19 patients are being treated.
Later, he visited Jorhat Medical College and Hospital where he interacted with doctors and administration and health department officials on their preparedness to combat the pandemic that has killed more than 55,000 people worldwide and 62 in the country.
He rubbished audio clips being circulated on social media that Covid-19 patients were not getting medical treatment or food and said that he was personally monitoring the patients' treatment and diet.
"We are videographing the entire treatment process. The patients are being provided the best medication and food. I appeal to people not to believe in such rumours," he said.
Sarma also said he was hurt to learn that Covid-19 patients were spitting outfrom the isolation wards in Golaghat. Khumtai BJP legislator Mrinal Saikia accused the patients of "deliberately" spitting out of windows "to spread the infection".
In a video clip being circulated on social media, Golaghat deputy commissioner Bibhas Chandra Modi is seen scolding the patients for spitting.
Nalbari deputy commissioner Bharat Bhushan Dev Choudhury said the three patients found positive in the district on Friday were preachers from Shamli district of Uttar Pradesh, He said 11 preachers, who had attended the Delhi religious congregation, had come to the district on March 21 by the Brahmaputra Mail to attend a religious event. They were in self-isolation at Mollapara mosque in Nalbari town since their arrival and were taken under medical observation five days ago. Four of them tested positive for Covid-19.
One of them, also an inhabitant of Uttar Pradesh, had tested positive on Wednesday, making him the first positive case in Nalbari. Mollapara remains sealed from 7pm on Wednesday to arrest the spread of Covid-19. Choudhury said at least 24 people from Nalbari were in isolation at Sarusajai.
The daily bulletin of the state health and family welfare department said 1,478 people who came in contact with Covid-19 positive cases have been identified. They are asymptomatic.
It said the state has 2,769 isolation beds in both government and private hospitals for treating critically ill patients. In addition, these hospitals have 435 ICU beds and 206 ventilators.
"The health and family welfare department, with the help of district administrations, has identified mass quarantine facilities across the state to accommodate 7,215 persons who are asymptomatic but suspected," the bulletin stated. Assam has so far tested 1,267 samples.
Mukhi conference
Assam governor Jagdish Mukhi on Friday apprised President Ram Nath Kovind and vice-president Venkaiah Naidu of the state government's preparedness in tackling Covid-19.
In a video conference for governors, he said deputy commissioners and superintendents of police have been asked to trace the unreported attendees of the Delhi congregation and put them under quarantine. "Public notice has also been issued, requesting them to come forward and report to the authority concerned for the government to take over the responsibility of their treatment," Mukhi said.
He said Assam Red Cross Society has been activated to create largescale awareness among the public, especially among the rural people, on adopting social distancing. The Red Cross Society is distributing hand sanitisers and masks to the people and demonstrating to them how personal hygiene should be maintained to combat the virus, he added.
He said the government has taken steps to safeguard the livelihood of 10 lakh tea garden workers and 26 lakh farmers of the state and ensured their food security.
Highlighting the preparedness of the state, he said it has buffer stock of all essential commodities, including medicines.
The President asked the governor to maintain strict surveillance across the state and ensure government intervention, especially in vulnerable areas, and help all service-providing agencies to bail the state out of the scourge.
Naidu, who also participated in the video conference, said Assam's economy was predominantly agriculture-based and the government should given top priority to farmers' welfare at this time and help them with cropping and harvesting.
Additional reporting by our special correspondent and Rokibuz Zaman in Guwahati