Former forest officer pens Manas memoirs
The book has 45 articles on 18 world heritage sites across the Central Asia region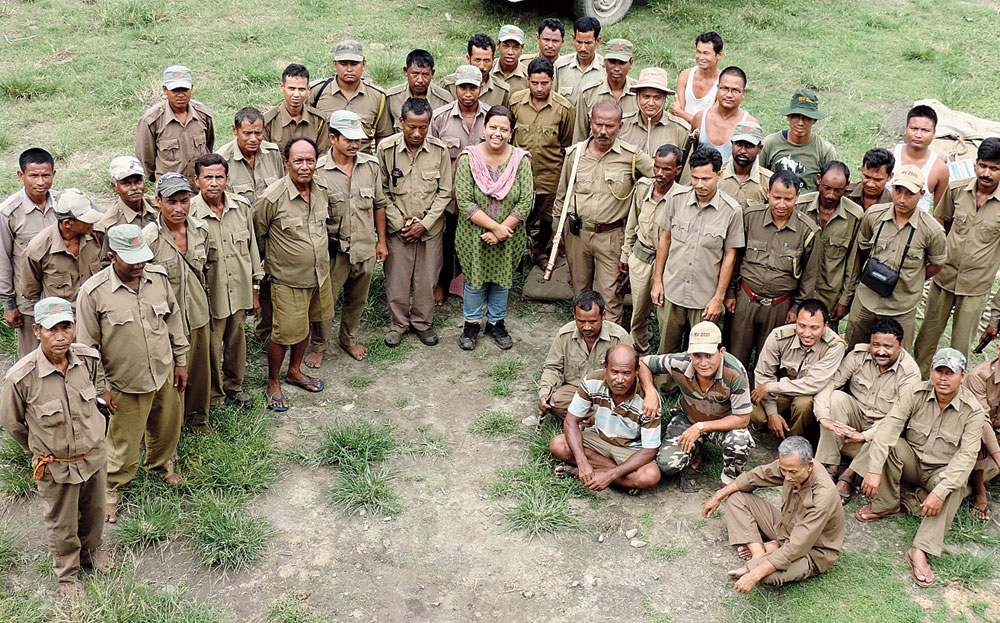 Sonali Ghosh with forest guards at Manas
Image sourced by the correspondent
---
Guwahati
|
Published 19.04.19, 07:09 PM
|
---
For Indian Forest Service officer Sonali Ghosh, Manas continues to engage old heroes and inspire new ones.
Sonali, who served as an officer at Manas National Park from 2007 to 2014, has penned down her memories in a book, Wild Treasures: Reflections on Natural World Heritage Sites in Asia, which was released on the occasion of World Heritage Day on Thursday at Wildlife Institute of India in Dehradun.
The anthology focuses on areas of exceptional natural value, around Asia, identified as world heritage sites by Unesco and is edited by Sonali, Prerna Singh Bindra and Anuranjan Roy. The book has 45 articles (a combination of historical and new articles) on 18 world heritage sites across the Central Asia region. Information about the natural and mixed category world heritage sites in Manas, Kaziranga and Khangchendzonga have been adequately captured through the stories.
She speaks of late Sanjay Deb Roy who began his career as a forest officer in Assam in 1956 and committed his entire life to conservation.
On building a "new' Manas, she says the main architect for reviving post-insurgency Manas is undoubtedly Kampa Borgayari, a former rebel-turned-elected political leader. He is now the deputy chief in-charge of environment and forests in the Bodoland Territorial Council.
She also talks about Dharanidhar Boro, who won acclaim for his exemplary courage as a range officer of Kaziranga, and has now retired but continues to engage with communities in the forest fringe villages of Manas.
"As for me, sadly as is the norm, I have moved on from being a field manager to an armchair policy-maker. But I remain indebted to Manas, as she has taught me to remain resilient despite momentary hurdles one may face in life. It was here that I learnt to put my textbook wildlife knowledge to practice, to be a witness to some delightful encounters with wild animals, an opportunity to work with post-war tribal communities, including one unfortunate incident of narrowly surviving a terrorist attack in April 2014. But those stories are for another day, and hopefully, they shall be augmented by more wisdom should I get the opportunity to serve Manas again," Sonali says.
She says field researchers like Bibhuti Lahkar and Deba Dutta brought in the freshness of youth and the scientific knowhow that helped the raw but able staff like Sairam Basumatary, Gobindo Boro and Dilli Boro adapt quickly and take to science-based monitoring, especially in the vulnerable areas of the park.
Writing on whether the World Heritage Site tag helped Manas, she said, "My simple answer would be yes. The heritage tag served its purpose by keeping the Manas issue alive in political memories both nationally and internationally. It also provided monetary assistance when regular sources had been withdrawn. The sound advice by monitoring missions, media reports, and official correspondences made governance accountable and brought in a semblance of restored order."
"For now, the memories of Mathanguri and the waters of Manas-Beki gushing through the night continue to delight me in my dreams. It is reassuring that the waters continue to flow unbridled," she says.
Sanjeev Chopra, director of Lal Bahadur Shastri National Academy of Administration in Mussoorie, was the chief guest at the function. He spoke of the importance of conservation of nature.