First Northeast tattoo festival begins today
The festival will remain open from 10am to 10pm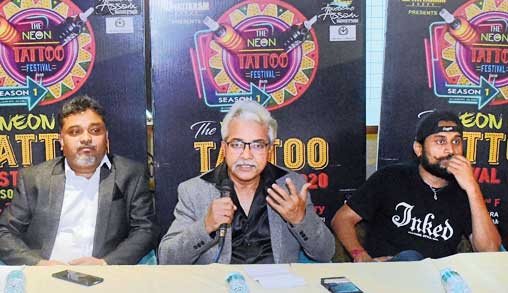 ---
Guwahati
|
Published 20.02.20, 07:02 PM
|
---
Neon Tattoo Festival 2020 Season 1, the first tattoo convention in the Northeast powered by t2, is set to host more than 100 tattoo artistes from across the country and abroad who will demonstrate the art of live tattooing while participating in competitions.
The three-day Neon (North East of Nation) Tattoo Festival, organised by Ripz Tattoo and Piercing, Tsthetic Progressive Work and Vicky Communication & Associates, at the North East Zonal Cultural Centre (NEZCC), Shilpgram, from Friday will also include live performances by bands, DJ shows, fashion shows, dance competitions, celebrity talk shows and panel discussions, B-boying, stunts and street dance, among others.
Visitors will have the opportunity to get body art like tattoo and piercing done by expert tattoo artistes and enjoy the tattoo competitions in different categories.
Tattoo artistes from Mumbai, Delhi and other parts of India, like Eric D' souza, Sunny Bhanushali, Chirag Jhala, Niloy Das, Lokesh Verma, Alex Shimrey, Sameer Patange, Micky & Vikas Malani, Mukesh Waghela and Nirmal Dias are participating.
International tattoo artistes Dave T from London, Bimal Rai from Nepal and Kate from St Petersburg, Russia, will be providing the artistic touch to this festival. The festival will remain open from 10am to 10pm.
"The idea is to create awareness among the youngsters and their parents on choosing tattooing as a career option and a profession. This first tattoo festival will also provide a platform to the artistes from the city," said festival creator Ripon Basak (Ripz).
Artistes from around 15 body art studios in the city will take part in the festival along with those from other places.
Popular Assamese actor Pranjal Saikia said: "In the past, body art was used by hunters to camouflage themselves in the jungles. Now it is a fashion statement. Film industry people are looking forward to this festival."
Managing director of Vicky Communication & Associates, Saumen Bharatiya, said: "It is a pleasure hosting the first-ever tattoo convention of the Northeast and we hope it will become an annual affair."
Several tattoo artistes from the metros lauded the initiative and expressed happiness at being able to enjoy the art and culture of the state.