Fake call centre busted, kingpin held in Assam
The CID seized 22 computer monitors, 40 CPUs, two pen drives, 32 mobile handsets and incriminating documents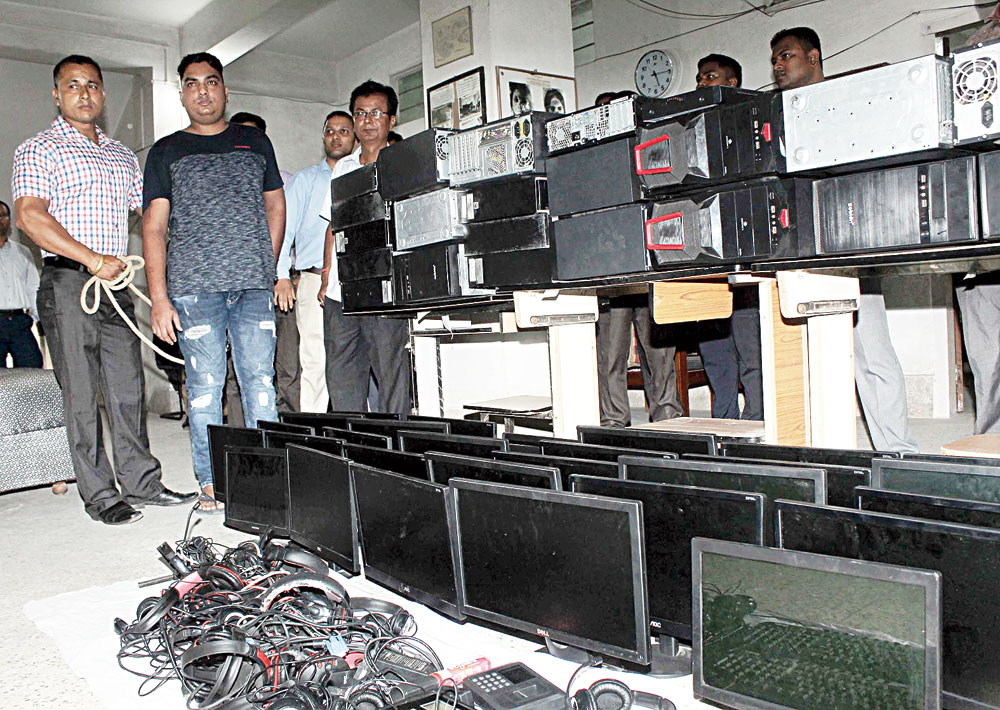 The accused and the items seized from the call centre at the CID office in Guwahati on Tuesday.
Picture by UB Photos
---
Guwahati
|
Published 21.05.19, 06:35 PM
|
---
CID sleuths have busted a fake call centre allegedly involved in defrauding American citizens.
Additional director-general of police (CID) L.R. Bishnoi said a CID team busted the call centre run by a bogus company called Avenir Pvt Ltd and located on the second floor of a house on Zoo-Narengi Road here late on Monday night.
The main accused, Rajesh Khan alias Rajesh Mukherjee, and his recruiting officer Naomi Changsan were arrested. Rajesh, who hails from Gujarat, was arrested from near Nehru Park here on Tuesday afternoon. Naomi was arrested from the call centre on Monday night.
The police also picked up 36 employees of the call centre including nine women, hailing from states like Meghalaya, Assam, Andhra Pradesh, Karnataka, Nagaland and Delhi.
Bishnoi said the accused had managed to get hold of a database of social security numbers of around 67 lakh people in the US.
He would call them up posing as an American government official from the Social Security Administration (SSA), say that their social security number was found to be associated with some illegal activity and extort money from them threatening legal action.
"Many fell for the trap. This way, they were earning around Rs 50 lakh every month," Bishnoi said.
The call centre was operating since February this year.
A case (number 12/2019) has been registered at the CID police station under Section 120B (criminal conspiracy), 419 (cheating by impersonation), 420 (cheating), 468 (forgery for purpose of cheating), 471 (using a forged document as genuine) and 384 (extortion) of the IPC and Section 66 of the Information Technology Act.
The CID has seized 22 computer monitors, 40 CPUs, two pen drives, 32 mobile handsets and incriminating documents from the call centre.
According to the CID, the fraudsters have accomplices in the US and other parts of the country who aid them.
"We will write to police in other states, seeking their cooperation in investigation of this case. After completing our part of the investigation, we will intimate American authorities for taking action at their end," Bishnoi said.
A source in the city police said the main accused was arrested by the city police in August 2017 for running a similar call centre at AD Tower in Lalmati under Basistha police station.
"From that call centre, they used to call people in the US impersonating IRS officials and tell them that they had committed tax offences and that they needed to pay to settle. They used to extort money by saying that a warrant had been issued and if they did not pay, their accounts would be frozen and they would be put behind the bars," the source said.
The IRS is the internal revenue service of the US.
Rajesh and eight others were arrested and 51 computer hard disks seized in the 2017 case.