Dulal Chandra Paul's kin firm on shunning 'foreigner' body
Paul's family accepted his body after nine days and that too on Sarbananda Sonowal's intervention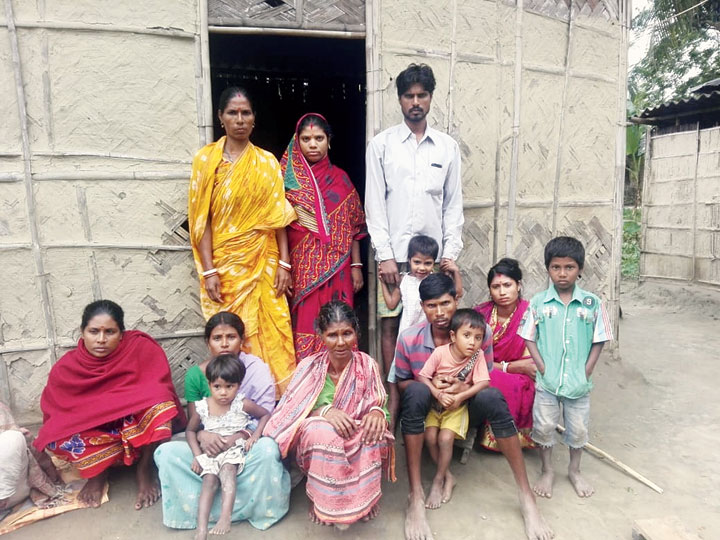 ---
|
Guwahati
|
Published 26.10.19, 07:13 PM
---
The Opposition Congress in Assam on Saturday waded into the controversy surrounding the death of two "declared foreigners" at the Gauhati Medical College and Hospital (GMCH) this month.
Senior Congress leaders on Saturday visited the residence of the first "foreigner", Dulal Chandra Paul, in Sonitpur district and also the detention centre in Tezpur.
The Nalbari district administration tried to convince the family of Falu Das, the second "foreigner", to accept his body, but in vain. Das died at the GMCH on Thursday morning.
The president of the All India Mahila Congress, Sushmita Dev, said: "Assam is now known for the deaths in detention centres and the Assam government is responsible for this. Chief minister Sarbananda Sonowal said he would attend the shradh of Dulal Paul. I want to ask him whether he will attend a foreigner's shradh or that of an Indian? When he was alive he was a foreigner and after his death he has become an Indian! Sonowal must declare that Paul is a Indian."
Later, she tweeted: "I condoled the death of Dulal Paul who died after spending two years at the detention camp in Tezpur. Another person died today from the Goalpara camp. Clearly there is no medical care. The BJP government has failed to give basic rights to people in the camps. It is inhuman treatment."
The Assam government on Friday notified the special review committee it has set up to examine the condition of detention centres and those detained there after being declared "foreigners" by the foreigners tribunals.
Paul's family accepted his body after nine days and that too on Sonowal's intervention.
The family of Das, a "declared foreigner" from Nalbari district, refused to accept his body for the second straight day on Saturday though officials tried to convince his "family members", asking them to collect his body. They refused, insisting that "his family members be included in the National Register of Citizens (NRC) first".
The families of Paul and Das will have to contest the rulings of foreigners tribunals in the high court. If the verdict goes against them, they will approach the Supreme Court.
"My father's name was there in the 1966 voter list. Only three out of 15 members of our family made it to the NRC list. We are too poor to contest against the foreigners tribunal order. We have sold our land. We are daily wage labourers. The government must declare him an Indian; after that we will accept the body," said son Duryadhan Das, a fish vendor.
Nalbari deputy commissioner Bharat Bhushan Dev Choudhury told The Telegraph that a medical team had been sent to the residence of Das so that the "family members" are not deprived of medical facility. "We will wait till tomorrow and the local MLA will visit his home to convince them. If a body remains unclaimed for 72 hours, it will be disposed of after an order from the district magistrate," Choudhury said.