Doctors' protest swells in Assam
Junior doctors to join 24-hour Monday strike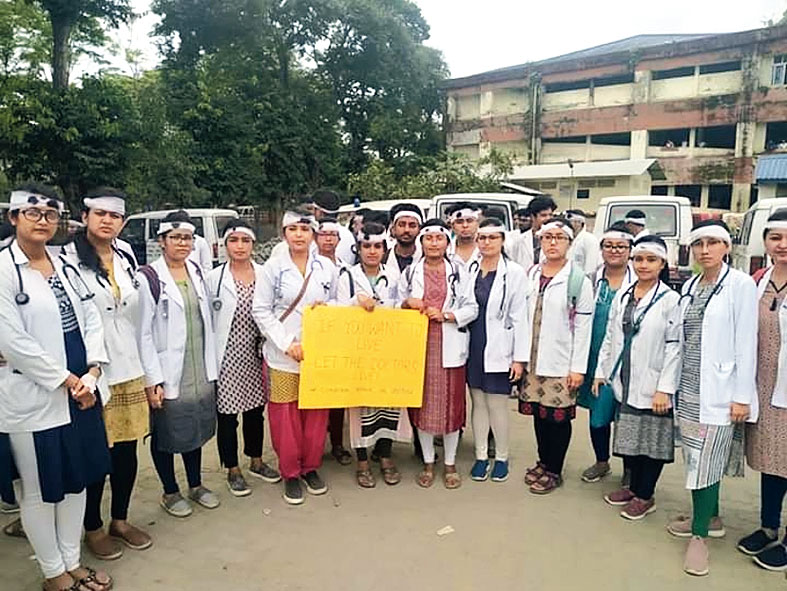 Junior doctors protest at Assam Medical College and Hospital in Dibrugarh.
Picture by Avik Chakraborty
---
Dibrugarh
|
Published 15.06.19, 06:38 PM
|
---
Doctors at Assam Medical College (AMC), Dibrugarh, are wearing red-stained bandages and black badges on duty since Friday in solidarity with their counterparts in West Bengal.
Without resorting to ceasework, the medical fraternity of AMC, the first medical college in the Northeast, is protesting against the assault on junior doctors in Calcutta, under the banners of Junior Doctors' Association (JDA), Assam Medical College Students' Association, Indian Medical Association (IMA), Dibrugarh branch, and Assam Medical College Teachers' Association.
The junior doctors of AMC have decided to participate in the nationwide 24-hour strike called by the Indian Medical Association from 6am on Monday.
"Except emergency services, which have been exempted from the strike, non-emergency services and routine diagnostics will remain suspended during the period," an AMC source said on Saturday.
A junior resident doctor said, "Like in West Bengal, the medical colleges in Assam too lack proper safety arrangements. Deploying security personnel at high-patient turnover places like casualty department is the basic minimum we can ask for. Security is of utmost importance because when doctors feel threatened, it is natural for them to avoid taking risks or even trying invasive life-saving procedures."
Doctors across the country have been protesting against assault of their counterparts at the NRS Medical College and Hospital in Calcutta on Monday.
Last month, doctors of Assam Medical College and Hospital had protested against the assault on a doctor at Dikom by agitated workers of Dikom tea garden following the death of a woman worker.
Health services will be paralysed in the state as hundreds of doctors will go on strike on Monday.
Demanding better security in hospitals, the IMA has called an all-India nationwide withdrawal of non-essential services, including OPDs, for 24 hours from 6am on Monday.
In a statement, the Assam branch of the IMA said, "Safety and security at hospitals are matters of great concern that need to be addressed and ensured. The Indian Medical Association has been demanding a national law against violence at hospitals. The IMA has declared zero-tolerance against attacks on doctors and healthcare establishments. The World Medical Association has also passed a resolution against violence at healthcare establishments, urging a stronger legislation against this menace."
It added, "A law has to be brought in urgently that will envisage minimum seven-year imprisonment for hospital violence. Hospitals should be declared as safe zones. Providing adequate security to doctors should be the responsibility of the state."
Additional reporting by Abinash Kalita in Guwahati